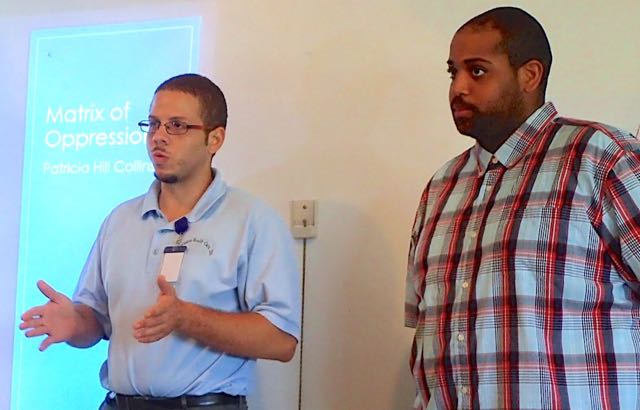 More than 50 stakeholders from throughout the Caribbean gathered to discuss women's rights and to advocate for lesbian, gay, bisexual and transgender equality this week at the Palms at Pelican Cove on St. Croix.
The fourth Caribbean Women and Sexual Diversity Conference included presentations by internationally recognized speakers and frank discussions by panel participants, many of whom were educators and administrators.
Kenita Placide of the Eastern Caribbean Alliance for Diversity and Quality started the conference four years ago in Curacao. She said the purpose is "creating and empowering, learning and teaching each other."
Topics over four days ranged from practical subjects such as proposal writing and building sustainable organizations to connecting the dots of racism, sexism, classism and homophobia, as well as anti-bullying initiatives.
On Thursday morning, Robert Thompson and Fabian Tobierre, students at the University of the Virgin Islands, talked about oppression, stereotypes, stigma and marginalization. Social oppression because of race, sexual orientation, nationality or looks dehumanizes the victims and perpetuates stratification of those in power, according to Tobierre.
People are oppressed through stereotyping, stigma, tokenism and marginalization, such as Apartheid, he said.
"Internalized oppression is when they condition you to oppress yourself," he added. "Being able to identify oppression makes it easier to fight it."
Diane Capehart, former V.I. senator, and Circa Burke, of Inspire VI, talked about bullying and hate crimes. Capehart described her legislation in 2013 that resulted in a law providing anti-bullying education and training for teachers and school administrators.
Burke, whose young relatives experienced bullying in school, said that, according to 2014 statistics, 65 percent of the students who identified themselves as LGBT were targets of derogatory remarks and 33 percent sustained physical harassment such as pushing and shoving.
She said LGBT students are more likely to use drugs, harm themselves and maintain low grades.
To combat bullying, especially cyber bullying, Burke listed several websites and smart phone applications for parents, students and teachers.
"Awareness and education are where I'm going," she said.
Friday's presenters include Beverly Bain and Carmen Leo from the University of Toronto.
Conference participants came from Columbia, Guyana, the Bahamas, Jamaica, the Dominican Republic, Belize, Barbados, St. Martin, Trinidad and other areas in the region.
Sponsors, some of whom also gave presentations, include COC Netherlands, Astraea Lesbian Foundation, Arcus Foundation and Outright Action International of New York, and ARC International with headquarters in Canada and Geneva.
"The conference is important because in the Caribbean, as in most of the world, women's issues are marginalized," said St. Croix event organizer Lavonne Wise. "Here everybody can learn something from everybody else."