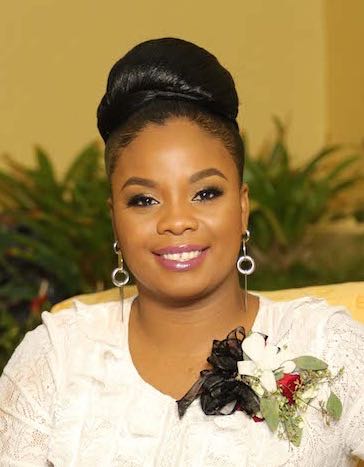 The Education Department named Ivanna Eudora Kean High School teacher Kendra Vicars the St. Thomas/St. John district teacher of the year at a luncheon at the Marriott's Frenchman's Reef Beach Resort on Sunday.
Vicars is a speech, AP English and composition teacher. She and four other finalists were lauded by Education officials, educators, family and friends at the ceremony. During her acceptance speech, Vicars tearfully expressed her gratitude and praised her fellow nominees.
"All four of you are fine examples of incredible educators who have made a world of difference within our schools and our communities. I am happy to sit among you today and celebrate our accomplishments, for we are all the teacher of the year," she said in a statement from the Education Department.
Vicars said she felt honored and humbled. "I am humbled because there are so many outstanding, passionate and dedicated educators out there who challenge, inspire and support their students every day," Vicars said.
While acknowledging the tireless work of teachers, Vicars also highlighted the many challenges educators face.
"Effective teachers are often lonely; you often wonder, 'Am I the only one that is working this hard or am I the only one that's planning?'"
She continued, "We are often fatigued, because in addition to teaching, we also have to explain to students why we have objectives to accomplish every day."
Vicars encouraged teachers to take heart. She said while rewards are not always instantaneous, they come "at 4 a.m. when your phone rings and it's a past student in college who has completed his or her 30-page dissertation. There is no greater cure than hearing a soft voice saying thank you."
The celebratory occasion also featured prerecorded video presentations highlighting the accomplishments of the nominees. Two Tones, a group comprising students from Charlotte Amalie and Ivanna Eudora Kean high schools provided musical entertainment. Education Commissioner Sharon McCollum and other Education officials gave congratulatory remarks.
The other 2017 St. Thomas-St. John District Teacher of the Year finalists included Arlene Ryan-Smith of Joseph Sibilly Elementary School, Elaine Jacobs of CAHS, Francine Emmanuel of E. Benjamin Oliver Elementary School and Leniese Mercer of Ulla F. Muller Elementary School.
Nominations for the District Teacher of the Year award are made by school principals or a school selection committee. Nominees are observed in their classrooms and are also required to submit an application packet, complete with a professional biography, community involvement, teaching philosophy, impressions on current events and the teaching profession, as well as an acceptance message, should they be selected as the awardee.
An independent selection panel of retired teachers, district coordinators and community members review the applications and conduct classroom observations in order to select a winner.
Later this year, Vicars will compete against the district teacher of the year from St. Croix, at which time one teacher will be selected to represent the territory as state teacher of the year.