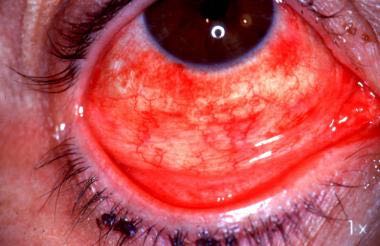 On Tuesday the V.I. Department of Health confirmed an epidemic outbreak of a viral eye infection known as Keratoconjuctivitis (EKC). In the last three to four weeks, Health has received reports of 30 to 40 suspected cases of the infection from multiple ophthalmology practices on St. Thomas.
Health sent five conjunctival swab samples to the Centers for Disease Control and Prevention. All of the samples tested positive for adenovirus, which commonly causes pink eye or conjunctivitis.
Conjunctivitis is also a symptom of Zika, but the kind that EKC causes is more severe and is highly contagious. There is currently no treatment for EKC, so prevention is the best measure.
Symptoms can last up to two weeks or more and include a feeling that something is in the eye, redness, irritation and itchiness of the eyes, swelling of the eyelids, sensitivity to light, clear or yellow drainage that may make eyelids stick together, blurred vision and eye pain.
According to Health, the most common symptom is extremely red eyes and swollen eyelids. Though the viral infection can cause corneal scaring, EKC rarely causes long-term effects and most cases are completely resolved within three weeks.
"So far mostly adults are affected and cases are associated with ophthalmology clinics," territorial epidemiologist Esther Ellis said. "No schools have reported cases yet, but the DOH is investigating all cases now to gather more information."
Ellis said that it's difficult to determine how the first case arrived in the territory. She said EKC is extremely contagious and there are usually a few cases this time of year, so that can lead to an outbreak.
"There have been sporadic cases before. I'm not aware of an outbreak of this size in the recent past," Ellis said.
Because the number of EKC cases has been significantly higher than usual in the past month, Health is asking the CDC to help with its investigation. According to a statement from the department, a CDC epidemiology aid has been requested to assist with the following tasks:
– case finding to describe the full scope of the EKC cluster;
– systematic collection of data to characterize better understanding of potential risk factors for infection;
– data collection, management and analysis;
– and helping local public health authorities with control of transmission.
If people think they have EKC, Ellis said they should see their doctor first and then the medical provider will report the case to the Health Department.
Health recommend that children with EKC stay home from school until their symptoms are gone, while adults can still go to work if they take the necessary precautions not to spread the virus. Health care workers, however, should not return to work unless they are free of infection.
Because EKC is spread easily between people and can survive on surfaces, including towels and doorknobs, for months, Health is urging those who are showing symptoms to avoid touching their eyes and to washing their hands and disinfect surface as much as possible.
Those who contract the virus generally don't show symptoms for a week, so they may unintentionally spread the virus during that in between time, which is why Health is encouraging all of the territory's residents to take the precautions.
Health recommends that those with EKC symptoms:
– Avoid touching your eyes whenever possible. If you do touch your eyes, wash your hands thoroughly with soap and running water;
– Avoid touching other people unless your hands are freshly washed;
– Avoid hugging or kissing with close face-to-face contact during an EKC outbreak;
– Dispose of or carefully wash items (hot water and detergent) that touch your eyes;
– Do not share eye makeup or other items used on the eyes (e.g., towels, tissues, eye drops, eye medications);
– Use a separate towel and face cloth for each member of the household;
– Cover your mouth and nose when coughing or sneezing;
– Use disposable tissues to blow your nose, sneeze or cough;
– If you visit a clinic for eye symptoms, tell them if your child's school recently had an episode of EKC so they prevent spread of infection within the clinic.
To report suspected cases, contact Ellis at 340-718-1311 ext. 3841.