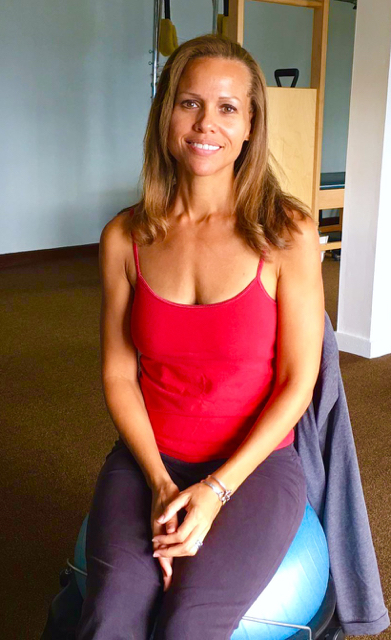 "Physical fitness is the first requisite of happiness" said Joseph Pilates, who developed the hugely popular method of exercise that now bears his name.
You might want to make an argument for something else – love, chocolate, a warm puppy, a warm gun – but it's hard to disagree with Pilates' explanation: "Our interpretation of physical fitness is the attainment and maintenance of a uniformly developed body with a sound mind fully capable of naturally, easily, and satisfactorily performing our many and varied daily tasks with spontaneous zest and pleasure."
One person who has dedicated her life to helping people strengthen their bodies so that they can live their lives with "spontaneous zest and pleasure" is Melissa Luterek, the owner of Pilates Worx in Cruz Bay.
Pilates Worx is the only fully equipped Pilates studio in the Virgin Islands, Luterek said. "Fully equipped" means the studio has the full range of devices developed by Joseph Pilates, including the Cadillac, the Universal Reformer, the Wunda Chair and the Barrel.
This equipment looks nothing like the kind of machines you find in most fitness studios today. Much of it is made of wood and looks simultaneously cleanly modern and quaintly old-fashioned. Several devices include springs, and straps and bars that attach to weights operated while sitting or lying down. There is nothing electric, and nothing that moves unless you move it.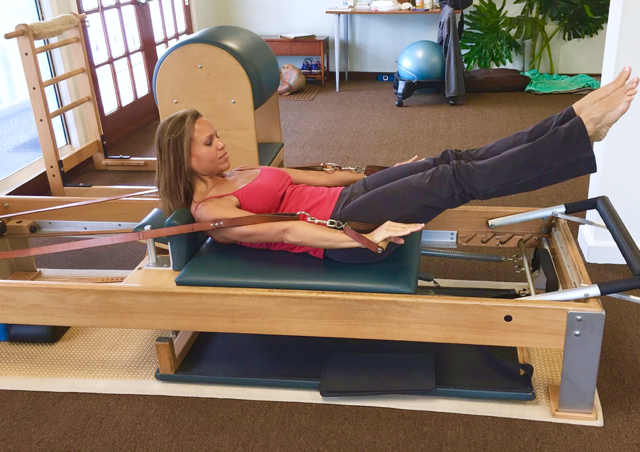 One piece of equipment looks suspiciously like an old-fashioned hospital bed, and that's not a coincidence. Pilates developed some of his techniques while working with bed-ridden prisoners of war during World War I.
A German national, Pilates had been living in England at the start of the war, supporting himself as an acrobat and boxer (and allegedly as a trainer in self-defense for Scotland Yard.) When the war broke out he was arrested and put in a prison camp with other German soldiers on the Isle of Wight.
Determined that the prisoners should maintain their physical fitness and mental well-being, Pilates insisted that his cell block mates follow an exercise routine that he led daily. Some of the prisoners were too weak or badly injured to get up, so Pilates took springs from the bed, attached them to the iron headboards and footboards, and directed these patients to use them in various ways for resistance exercise.
"These mechanized beds became the forerunners of the spring-based exercise machines for which the Pilates Method is known today," said Luterek.
Using these devices and following a time-honored sequence of exercises, Luterek works with clients, often in one-on-one sessions that are a form of physical therapy.
"You don't have to adapt to Pilates; Pilates adapts to you. All exercises are modified to adapt to your body because everybody's body is different," she said.
Luterek herself became a convert to Pilates as many people do—as the result of an injury. In 1992 she was a high school senior and an aspiring dance major. She had just received a scholarship to attend Marymount Manhattan College when she injured her knee. Her doctors recommended surgery, but knowing that it did not always lead to a cure, she decided to try physical therapy first. It didn't really work.
Luterek walked into the dance studio her freshman year wearing a knee brace.
"My teacher said, 'You can't wear that thing on stage!' She recommended a chiropractor named Howard Sichel, and I started doing Pilates in his office several times a week. My knee felt 10 times better in a month. After that, I decided to get certified."
Certification back then required 600 hours of apprenticeship with multiple practical tests, and Luterek was lucky enough to find a teacher, Romana Kryzanowska, who had been trained by Joseph Pilates himself. Luterek's proficiency led Kryzanowska to select her as a model for a book she was authoring.
"Romana was amazing to learn from," said Luterek. "She was intuitive. She would see a person walk in and assess them 'from the door to the floor' as we say. She was no nonsense. When you thought there was something you couldn't do, she'd find a way."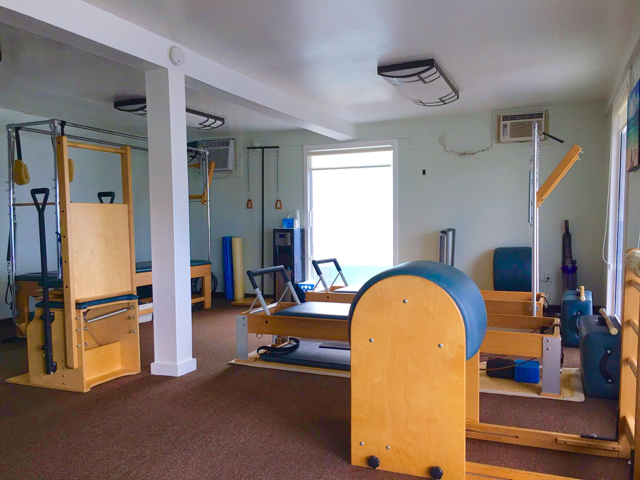 Luterek studied with Romana on weekends for three years to earn her credential while working as a dancer in New York. She performed in music videos and toured with MTV. When her career took her to Los Angeles, she began to find work as an actress until the Screen Actors Guild called for a strike in 2000.
"I needed to pay the bills, so I started teaching Pilates in a gym," Luterek said. Soon she realized she had a passion for the work and opened her own studio, the original Pilates Worx, in Northridge, California.
Luterek was content with her life when she came to St. John for Carnival in 2012 and met her late husband Peter.
"We had met, married, and I had moved within a year," she said. She opened Pilates Worx at the Lumberyard Complex in October 2013 after shipping down the expensive equipment and praying "that clients would come."
Peter died unexpectedly this past summer, but Luterek decided to stay and continue the business.
"Healing others has helped me heal myself," she said.
She now works with clients who suffer with a range of problems, including lower-back pain, knee injuries, scoliosis, arthritis, and sciatica.
"Pilates is a form of physical therapy. We focus on the abdominal muscles, the 'core,' because we believe if your core is strong, your entire body will be strong. And we work on alignment. We try to balance out the body."
Although many people find it as effective as physical therapy, Pilates is generally not covered by most insurance plans. The private sessions are expensive — $65 a session if purchased in a series of 12.
For the many who can't afford private or semi-private sessions, there is a more affordable option. Twice a week Luterek teaches Pilates mat classes, with techniques developed by Joseph Pilates, for $15 a session.
"In the mat class, you're dealing with your own body weight for resistance,' Luterek explained.
Those who practice Pilates swear by the results. "I met Melissa 14 years ago when I was an R.N. and had terrible back problems," said Deborah Gray, who knew Luterek back in Los Angeles. "Under her careful guidance I was pain free in a few months."
Gray continued to take classes with Luterek for eight years. "During that time I retired, and after a year or so I was looking for fulfillment in something. I thought about Pilates, but I was 60 years old and thought it was a silly idea. Melissa encouraged me and mentored me, and I became a teacher!"
Luterek isn't surprised that Gray has succeeded. She often repeats a famous quote by Joseph Pilates, "You're as young as your spine is flexible."