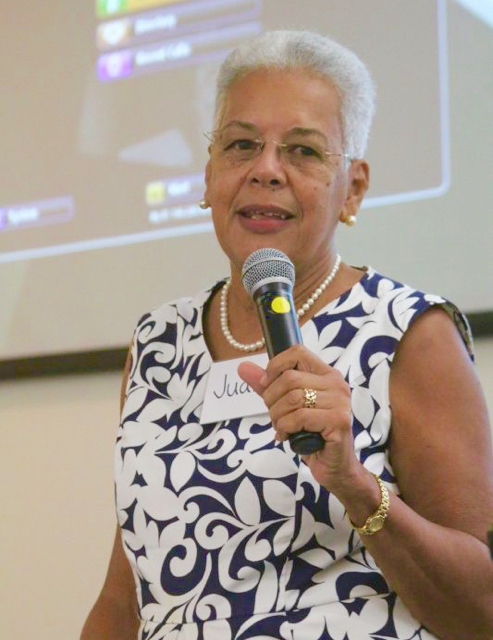 The annual Kids Count VI report released Monday highlights increasing poverty and dropout rates in the territory, information government officials could use to address those issues. But a look around the room at Monday's press conference announcing the report revealed those officials were in short supply.
Kids Count VI started in 2000 through the Community Foundation of the Virgin Islands. Initially it incorporated 13 different indicators for data, but has since grown to 26. Over the years it has grown to include more detailed reporting that officials said has shed light on some of the more pressing issues in the territory.
Most importantly, this year's data – reporting key findings for the year 2013 – shows, among other things:
– The population of children in the territory continues to decrease,
– The percentage of households headed by unmarried mothers continues to increase, and
– The child poverty rate increased by four percent, from 31 percent in 2012 to 35 percent.
"When we started in 2000, we found at the time that if we give the data to the community, then the community is going to do something with it. We learned a lesson there," Kids Count co-director Judi Richardson said Monday.
Looking around the room, it appeared that the only political representative was former senatorial candidate Janelle Sarauw, who also works for the Lieutenant Governor's Office, along with four representatives from Human Services and three representatives from the Department of Health. One official from the V.I. Next Generation Network, which heads the public computer centers, also attended.
But no one was on hand from Government House, the Senate, or the Education Department to hear the data on children's learning readiness, drop-out numbers and poverty rate statistics. Several representatives from the University of the Virgin Islands attended, along with registered nurses, psychologists, health care professionals, Family Resource Center officials, one volunteer teacher from Gladys Abraham Elementary, and a member of the clergy.
Monday, Richardson said in past years the data has been used frequently for grant writing and program planning. Organizers hope readers have begun to look at how it impacts the local community and act on the recommendations for policy changes and on the recent trends, which show increases in trouble areas.
To illustrate the findings, Richardson spoke about a hypothetical child, Amalia, who she said represents a majority of children in the territory. Like most nine year-olds her age, Amalie was born in the territory and lives on St. Croix (77 percent of children in her age bracket were born locally and just over half live on St. Croix) with her mother and two brothers. Her cousin, John, lives with his grandmother – like three percent of V.I. children – and even for a small family, they live in poverty.
"When annual income is less than $22,000 for a family of four, that's poverty," Richardson said. "Over 35 percent of the children in the territory in poverty. Amalia's mother works but the family's stability has been in flux, like it has for most V.I. families since the federal recession."
The stats about Amalia's academic progress within the local public school system is what alarmed many of those in attendance Monday. According to Richardson, by the time Amalia left kindergarten she was far behind in her reading and comprehension skills. Those deficiencies progressed to third grade, where, by the end of the school year, she was still not reading on grade level.
Richardson said those statistics were common for V.I. public school children; the data shows that in 2013, 40 percent of all V.I. children entering public kindergarten lacked the cognition skills expected for those in their age group.
Meanwhile, more than 40 percent of third graders in 2013 were reading below grade level, while almost half of 11th graders lacked proficiency in math. Dropout rates were also higher for those students making the transition from eighth to ninth grades, Richardson said.
Several attendees said Monday that even with this data, local policymakers have not really looked at the numbers and used them "to plan the development of young people."
"I hope everyone here will make a commitment to collaborate and engage the departments and agency heads, and the Legislature, to come up with a comprehensive plan to address juveniles in our community," one resident said.
Kids Count VI co-director Anna Scarbriel used the comment session to wrap up Monday's conference with a segment on how to actively engage policymakers so that they are "invigorated and energized" to become a part of the discussion.
"We need to think about what needs to be done, by whom, and what concrete steps need to be taken," Scarbriel said, giving the group 10 minutes to come up with "concrete, actionable items" that can be taken back to policymakers. Suggestions included:
– More parent training with the proper facilities to conduct classes,
– More qualified teachers, or at least filling current vacancies within the Education Department,
– Strengthening the private sector to create jobs,
– Stronger partnerships with health and human services agencies,
– Strengthening disciplinary policies, and
– Re-organizing the Education Department to including more non-traditional programs, such as life skills and theater classes.
"We have a letter that's going to summarize what we discussed today and we're going to be sending out a list of concrete, actionable items that we're going to be sending to all the elected officials," Scarbriel said after the press conference. "We also have an online system where people can write directly to those individuals. So we are starting broadly, but then we want to work more directly to say, 'we need this piece of legislation, or we need you to do x,y and z.' Unfortunately, the policymakers are not here, but we are