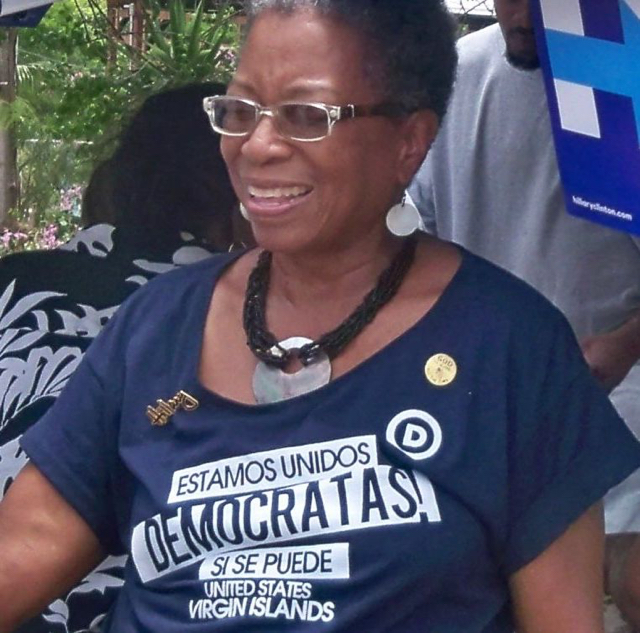 Many Democrats felt after the crushing defeat by Donald Trump and the Republicans in this month's election that the national party needed new leadership.
However, that did not happen when leadership posts were filled in the U.S. House of Representatives and the U.S. Senate, as Nancy Pelosi survived in the House and Chuck Schumer, a longtime member of the Senate leadership team, moved up to assume the Democratic leadership after Harry Reid retired.
The next battle is to see who will head the Democratic National Committee, and Virgin Islanders will have some say in that battle, albeit a small say. Democrats from the U.S. Virgin Islands will cast four of the more than four hundred votes that will elect the next chair of the DNC, but that is more votes than Virgin Islanders get in a presidential election.
Former Delegate to Congress Donna Christensen heard three candidates vying for the position speak at the Association of State Democratic Chairs meeting in Denver last weekend.
They were Rep. Keith Ellison, a liberal from Minnesota; South Carolina party Chairman Jaime Harrison; and New Hampshire party Chairman Ray Buckley. Christensen said the choice that will be made late February in Atlanta will be a difficult choice. She also knows that all the candidates for the position have not announced yet.
Of the three she did hear speak, she told the Source in an email, "I have known and worked with Jaime Harrison both on the Hill and in South Carolina where he is state chair. I have, of course, worked with Ellison as a member of Congress. Buckley is the current chair of the Association of Democratic State Chairs."
Some Democrats were hoping that Vice President Joe Biden or former chair Howard Dean would take the position. However, both have dropped out of contention. Christensen said the two "will be voices and advisors as we move forward but not as chair."
Christensen said she has heard former Labor Secretary Tom Perez will enter the race. ABC news this week said Perez was a favorite of President Obama's. ABC also said that was weighing whether to run for DNC chair or for Maryland governor.
Ellison was a reported favorite for the position early on as he won endorsements from Bernie Sanders and Sen. Chuck Schumer. Conjectures are that he lost momentum because he sometimes criticized Obama and Israel.
"What I hear is a concern that Ellison has not been supportive of Israel," Christensen said. "I do not know that to be true. He practices Islam, and as I recall has spoken up on behalf of Muslims, but he is not anti any group."
"We are all trying to figure out not only who, but what kind of leader do we need right now," she said.
Donna Brazile replaced Deborah Wasserman Schultz on an interim basis when the latter ran into trouble this summer over leaked emails. She reportedly is not seeking for a permanent position.
Ellison announced Thursday that if he is elected DNC chair, he will resign his seat in the House so that he can devote full time to the job. Wasserman Schultz split her time between the post and her House seat, but many Democrats have said the position needs to be given full-time attention.
The DNC represents the national Democratic Party, and its goal is to elect Democratic candidates across the country.
The DNC governing body has 447 voting members, most of whom are chosen in various state Democratic Party chapters. Since the full membership doesn't meet often, a chairperson can have a free hand to run things. Running things means raising money and doling it out to various campaigns.