Proceeds from Big Mac sales at McDonald's on international McHappy Day, Nov. 18, were donated Tuesday to My Brother's Workshops, a place where young men at risk get vocational and life skills training.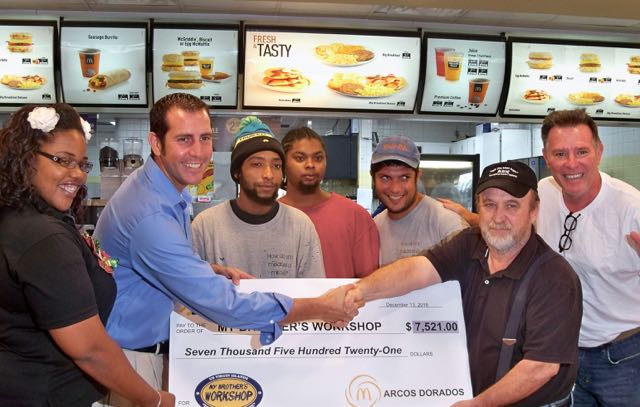 Scott Bradley, St. Thomas MBW founder and program director, and Gary McCracken, interim project director for MBW St. Croix, accepted a donation of $7,521 to be divided between the two workshops. Bradley said all of the funds will go directly toward training.
"We're very thankful for the donations," Bradley said. "McDonald's has been a wonderful partner." Bradley said it was the fourth time the St. Thomas workshop received the funds.
Michael Slezak, operations consultant for St. Croix McDonald's, said McHappy Day is a signature world-wide fundraising event for Ronald McDonald House and other charities. And since there isn't a Ronald McDonald House in the territory, they give the funds to My Brother's Workshop.
Slezak said McHappy Days is a great local event where the community can come out, have a Big Mac and show their support for charity.
"This is a good way to get locals involved," Slezak added. The restaurants also sold paper Helping Hands for a $1 donation.
Rose Marie Charles, manager at the Villa La Reine McDonald's where the donation was made, said they make the annual McHappy Day a fun and awesome event with a DJ and clowns.
"We make the day a big celebration and have fun," Charles said, adding they start serving Big Macs at 7 a.m. that day. She said Villa La Reine has taken part in McHappy Days for at least the last five years. This is the first time the store collected for MBW; in the past they have given to Lutheran Social Services and Therapy Associates Disability Advocates.
McCracken, also a workshop trainer, said as a nonprofit agency, My Brother's Workshops relies heavily on donations from local businesses.
"It's wonderful to see the community support us like this," McCracken said. "We're thankful and appreciate any and all donations."
He said since the St. Croix program began about a year ago, half of the first class of young men enrolled have gone on to work in the community. There are four still learning as many skills as they possibly can.
Participants learn woodworking, plumbing, electrical work and construction under the direction of McCracken.
My Brother's Workshop is a charitable corporation organized to provide hope, faith and purpose to at-risk and high-risk young men. Bradley founded My Brother's Workshop in 2009 as a mission of the St. Thomas Reformed Church.
Professionals mentor, train and counsel young men between the ages of 18 and 23. Participants receive vocational, educational and social skills training. They also get help in attaining adult tools like driver's licenses, diplomas and bank accounts.
"The organization is always seeking donations and benefactors," McCraken said, adding they have a list of tools and building materials they need. Call McCraken at 850-261-4182 to make a donation.