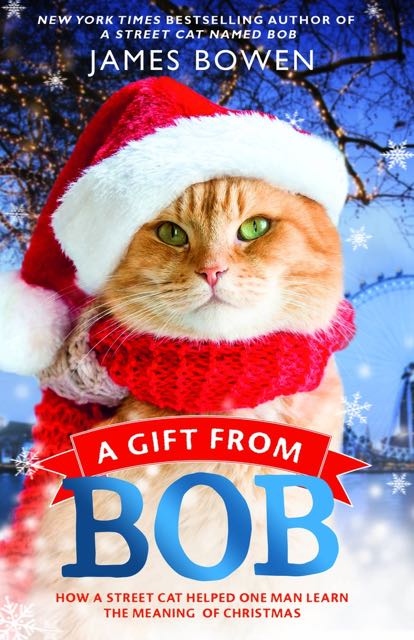 "A Gift from Bob" by James Bowen
c.2016, St. Martin's Press $14.99 173 pages
There isn't much on your Wish List this year. Like last year, there's nothing you need.
Clothes, maybe a sweater. Gewgaws for your hobbies, perhaps, or the start of a new project. Gift cards or money, both are nice, but you mostly want to be with the ones you love. And in the book "A Gift from Bob" by James Bowen, that includes those with fur and four feet.
Beep. Beep. Beep.
Just hearing that noise put James Bowen in a foul mood. Those noises indicated that he was running out of pay-by-the-minute electricity and gas in his London flat. That wasn't good on any winter day but Christmas 2010 was approaching. Bowen knew he'd have to hustle to make money, before commuters went home for the holidays.
As he usually did, Bowen's cat, Bob, went out with him. It had been six years since he'd found Bob lying in the hallway, injured and alone, and nursed the ginger cat back to health. Bob's love was unconditional; he never cared that Bowen had once slept on the sidewalk and in shelters, or that Bowen had been addicted to drugs.
Quickly calculating how much money he'd need to get by, Bowen grabbed his guitar, his wallet, his scarlet vest and a pile of newspapers meant for the homeless to sell, and he headed for the nearby Tube depot. At the end of a very nonproductive day, he returned home to a cold flat with not much in his pocket, ready to try again.
While the days to come weren't all rosy – Bowen fell on the ice, broke his guitar and lost a valuable gift for his best friend – he slowly began to see that life wasn't as bleak as he thought that first beep-filled morning. Friends he knew on the street included him in an impromptu party. Old customers stopped by to say hello and many of them left small gifts. Bowen even handed out Christmas cards but the true meaning of his holiday sat on a nearby box in a miniature Santa suit.
As much as you love the holidays, would you admit to moments of crabbiness at this time of year? Bowen has – but in "A Gift from Bob," he tells how it all turned out purrfect.
With an abundance of Christmas books on the shelves now, it may take something special to grab your attention, and Bowen's tale of nearly living on the streets of London and being semi-homeless seems to resonate a little stronger at a time when we're in a giving mood. And yet, this isn't a sympathy-wringer. Instead, inside a little grumping, there's gratitude and hope and a bit of humor, which makes this book a holiday joy to read.
Of course, cat aficionados and Bob's fans will want this book, now out in paperback. You don't even have to be cat-crazy to love it but there's this: if you want a quick read with a warm holiday message, "A Gift from Bob" should be on your Wish List.
__
The Bookworm is Terri Schlichenmeyer. Terri has been reading since she was 3 years old and never goes anywhere without a book. Her self-syndicated book reviews appear in more than 260 newspapers.