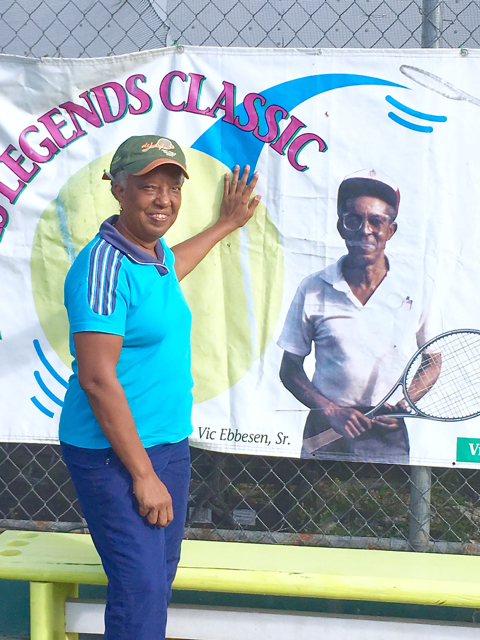 When the ringing bell signals the end of a school day on a Friday, it's often a race to see who can get away fastest – students, or teachers.
One veteran teacher who made good use of the pent-up energy from the week in the classroom is Patrice Harley. For more years than she can count, Harley has volunteered to teach tennis to children from 3 to 5 p.m. every Friday afternoon on the public courts in Cruz Bay – weather and school calendar permitting.
When they arrive at the courts, often still in their school uniforms, "the children are excited." Harley said. "They want to know, 'What's the drill for today?'"
For the youngest children, the drill may be something as simple as catching a ball ten times in a row. For the more experienced, it could be practicing a certain stroke and. for the more advanced, it could be a challenging game. They move from one skill station to another, enjoying the camaraderie and the exercise.
Harley's ability to find activities to keep a crowd of 20 to 25 kids ranging in age from five to 12 years old is something that amazes retired teacher Lee Hoerner.
"Pat teaches them about courtesy, manners, proper tennis etiquette. She gets them to listen without scolding them. She just looks at them and they just melt," said Hoerner, who assists Harley when she's on island several months each year.
Even bad turns in the weather offer opportunities.
"One day it rained. Pat pulled out some tennis magazines, so she turned the time into a geography lesson. 'Where are these players from? How do you pronounce their names?' She finds that teachable moment," Hoerner said.
Hoerner, along with Ed Oldfield and Kerry Frett, have volunteered with the Junior Tennis Program for years.
"It's a wonderful program, and Pat needs faithful help, not just help from those that drop in once," she said.
Harley got involved teaching tennis through her father, Victor L. Ebbesen Sr. A prominent tennis player, he was inducted into the African-American Ethnic and Caribbean Sports Hall of Fame in 2002. The St. Thomas Racquet Club named its tournament in his honor. Ebbesen, who died in 2013, played well into the age that others retire to their rocking chairs.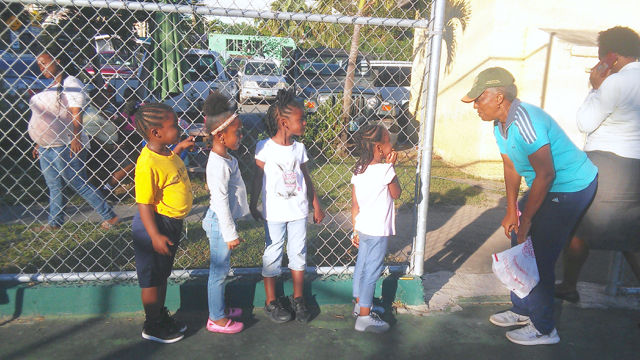 "Tennis was in my blood," said Harley, who added that her father took her, her brother Victor Jr, her sister Jeannette, and a group of cousins and friends onto the court to play from the time we were eight or nine years old.
"There was always a group of us at the old Long Bay cement tennis courts, where the Lucinda Millin Home is now," she said. Ebbesen brought his protégées to tournaments in Puerto Rico, and many, like Harley, continued to play in college.
When Harley came back to the Virgin Islands after graduating from Ball State with a degree in elementary education, she began helping her dad with his program for youth.
Ebbesen, who directed the Personnel Department for the Virgin Islands Government from 1959-1967 and then headed up the Maternal and Child Health Division, became a tennis pro at Cowpet Bay Resort upon retiring from government service. Throughout all the years, he taught tennis on St. Thomas, funded by a grant from VITELCO.
As VITELCO increased the funding, he expanded the program to St. John. This location worked well for Harley, who had married Julien Harley from St. John and began teaching at the Guy Benjamin School in Coral Bay. She retired after teaching for 33 years in the public schools in 2008.
Two of her children, Julice and Jaurel, went through the Junior Tennis Program, as did many other St. John youths, now in their 20's and 30's, including Oswin Sewer Jr., Audrey Penn, Shawn and Ryan Costanzo, and Keenan George.
"It was fun," said Oswin Sewer Jr. "I played from the time I was 12 to 16, and then again in college. I still play sometimes."
The Junior Tennis program created opportunities for talented players such as Tomas and Luca del Olmo to participate in tournaments. The brothers also assisted Harley, working with the younger ones in the tennis program.
Harley said she learned to teach tennis by watching her father, who was an inspiring teacher.
"He could pinpoint exactly what a child needed to do to improve his stroke. He taught Turhan Berne from St. Thomas, who now runs big tournaments in Atlanta."
Throughout the years Ebbesen sought ways to help players develop their skills, bringing down such experts as Chandra Rubin, Zena Garrison, and Katrina Adams (who became the first African American woman to head up the United States Tennis Association) to teach tennis clinics on St. John.
When funding ran out, Ebbesen and Harley kept the Junior Tennis program going with their own funds – and a little help from the community. Dr. Gilbert Sprauve has sponsored a fun-day tournament for several years. Harley said every week she fills up a five-gallon jug with water and ice from St. John Ice, "and they've never charged me."
Ruth "Sis" Frank, one of the co-founders of the St. John School of the Arts, would hand the tennis teachers a $20 bill each time she passed the courts and saw them playing, Harley recalled. "I'd buy the children snacks – bananas, strawberries, apples – to promote healthy eating," she said.
Unlike many after-school programs, Harley's tennis program receives no funding from the Department of Sports, Parks, and Recreation.
She keeps boxes of junior-size racquets that she lets children use. When they've attended her Friday sessions for two months, she gives them a racquet to take home. If they continue to play, she gives them an adult racquet. Much of the equipment has been donated, some by visitors to the island who have watched the children play on the public courts and have gone back to the states and collected equipment from their own clubs.
Harley constantly tries to think of ways to get the children to practice on their own. She was thinking of challenging them to play 100 games in celebration of the Centennial.
She hopes to find ways to get her students to participate in tournaments.
"Without tournaments, they don't have the drive to play better. They just want to have fun." she said.