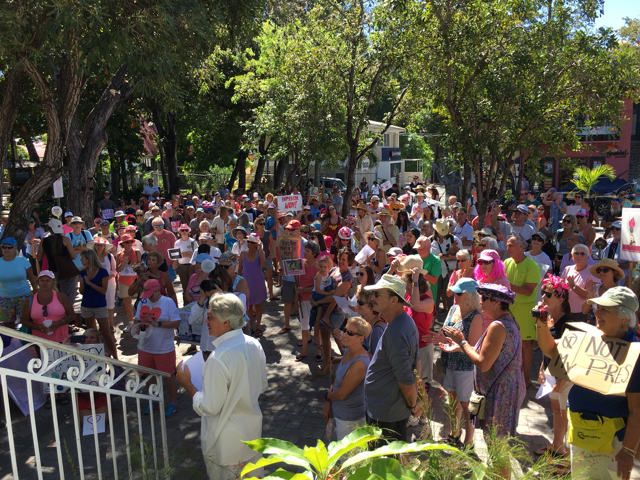 More than 200 women, men, children, and a few outstanding dogs, marched from the Freedom Statue in Cruz Bay's Frank Powell Park to the National Park ball field starting at noon Saturday.
They marched in one of the 673 "sister marches" around the world held in solidarity with the Women's March on Washington. That march drew an estimated 500,000 participants, according to the New York Daily News, double the number of those estimated to have attended the inauguration of the 45th president of the United States on the previous day.
Locals, longtime residents, tourists, and snowbirds came together in the peaceful event.
"I wouldn't be doing anything else today," said the Rev. Allen Wells, the visiting minister at the St. John Unitarian Universalist Church. "A fight for one of us is a fight for all of us."
Lisa Lee, a resident of Washington, D.C., said she was on island with others who wanted to get away from the capital during the inauguration. They came to St. John for vacation, but wanted to be a part of a march. "This will be for the long haul," she said, referring to the activism necessary in response to the new administration.
"I'm marching for all our women and men friends around the world. We'll keep fighting," said Linda Blair, who splits her time between St. John and New Hampshire,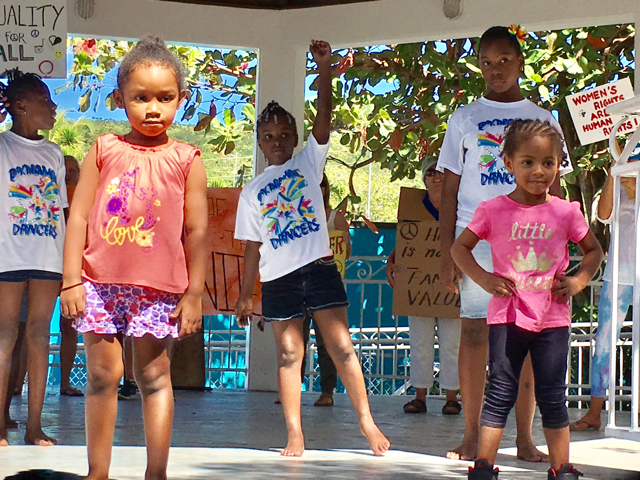 The march was launched by Erin Lieb, an architect and environmental activist on St. John, whose mother was attending the march in Washington. After being asked by a number of St. John women to let them know if there was anything planned locally, she contacted the national website. On Jan. 8 she posted a Cruz Bay Women's March Facebook public page, and word of the event spread on social media.
Martha Toomey, who worked with Lieb, said she contacted the V.I. Police Department to see if a permit was necessary.
"They said we didn't need a permit. We have the right to free speech, and freedom to assemble. They've been extraordinarily kind and generous to us. This is definitely Love City."
To accommodate the marchers, St. John police officers temporarily blocked traffic coming into Cruz Bay from the Northshore Road. They calmly assured a Jeepful of tourists that normal traffic would resume soon, and the tourists would make the next ferry with no problem.
The spirit of tolerance reigned supreme as Toomey's son, Jeffrey McCord, read a part of a peace prayer by St. Francis of Assisi, "Make me an instrument of peace. Where there is hate, make me love."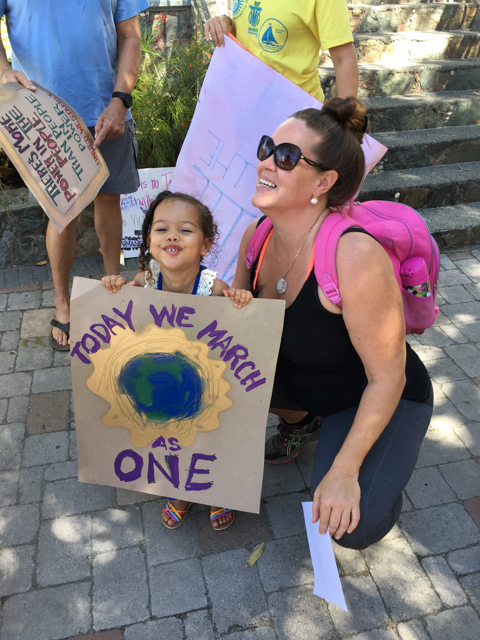 Toomey said her son lives with physical disabilities, and she had worked with the Democratic Party's vice-presidential candidate, Tim Kaine, to establish a disabilities rights group. This is just one of the groups that wanted to make their voices known to the new administration.
One man carried a sign that read, "Protect and defend all people." His friend, however, carried a sign with a more satirical message, "Yesterday I wuz a racist thieving con man and sexual pervert. Today I am prezinut. Oppose me and suffer. Support me and suffer."
Although some bore signs reading "Impeach Now," the majority of people spoke in favor of protecting the rights of all Americans. One man's T-shirt was emblazoned with the following: "In our America, All are equal; Black lives matter; Immigrants and refugees are welcome; Women are in charge of their bodies; People and planet over profit; Diversity is celebrated."
"I was thinking about what we can do, and not what we're against. It's all about hope,' said Melody Smith.
The crowd sang Woody Guthrie's anthem, "This Land Is Your Land," led by Faye Fredericks, Pam Gaffin, Kristin Carmichael-Bowers, and Nancy Liburd.
Almost a dozen St. John residents, including one man, gathered together on Tuesday before the march to make hats which were distributed to marchers on Saturday.
The hats were a Caribbean version of the pink, knitted-wool hats worn by women at the march in Washington. The St. John group cut out paper plates to make sun visors with cats' ears, which were painted in shades of pink and decorated with slogans such as "Women's right are human rights."
"We're marching for unity and community, said June Mays. "It's nice to see people come together."
Mays' preschool daughter proudly held a sign that read "Together we march as one."
Following the circuit through Cruz Bay, the marchers reassembled at the gazebo in Frank Powell Park. The Dynamic Dancers, a group of girls ranging from preschoolers through pre-teens, impressed the crowd with their cartwheels, flips and splits.
At the end of the gathering, the crowd held hands and sang "We Shall Overcome."
"Love trumps hate!" declared Alecia Wells as she helped carry the banner leading the parade. Wells later cradled the smallest participant, a three-month-old baby girl.