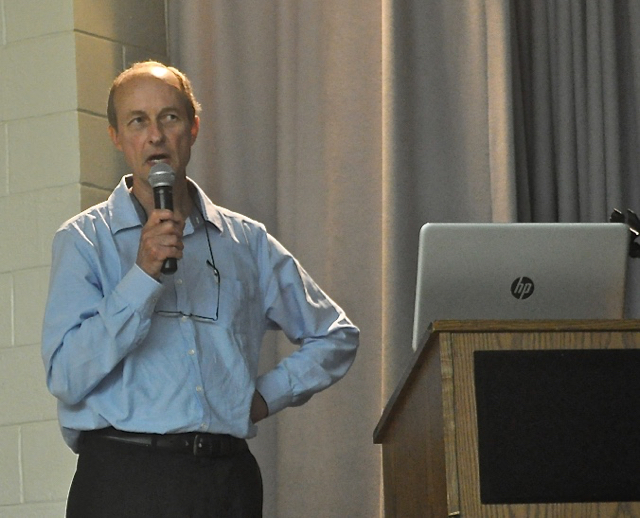 A series of centennial-themed lectures by visiting and local researchers wrapped up on Friday with presentations that focused on the St. Thomas neighborhood of Savan, mixed-race identity in West Africa, and the question of citizenship in the Danish West Indies.
The lecture series, titled "Histories of a Shared Past: Exploring Our Complex Heritage," was presented by the V.I. Friends of Denmark and sponsored by The Danish West Indian Society of Copenhagen, the Danish National Archives, the Solar Fund, and the V.I. Transfer Day Centennial Commission.
On St. Croix, the lectures were held at the University of the Virgin Islands's Great Hall on Monday and Tuesday. The presenters then traveled to the auditorium of the Bertha C. Boschulte Middle School for two evening sessions on Thursday and Friday.
Friday's closing session began with a presentation on Savan by local historian Nadine Marchena Kean, one which she described as "a call to action." Kean, who is also director of the Enterprise Zone Commission of the V.I. Economic Development Authority, said that the built heritage and individual histories of the historic Charlotte Amalie neighborhood of Savan are in need of care and preservation.
"We must preserve this culture and the individual stories of each one of our historic towns," she said. "In order to do this, we as a community and everyone who cares about the future of these communities, need to do something to preserve our built infrastructure and record and share the histories of those who lived within these buildings, not for these people but for our children."
Kean said she first became interested in Savan when she learned that her own fourth great grandmother, a woman born in Africa and enslaved under a Free Colored family, lived in the neighborhood.
In her presentation, Kean stressed the importance of understanding why Savan, a 40-acre area of northwestern Charlotte Amalie that was parceled out for the Free Colored community in 1764, has the distinction of having produced such a "healthy list of successful Virgin Islanders."
Many of St. Thomas's most noted musicians, journalists, athletes, educators, politicians, scientists, artists, attorneys and judges grew up in Savan, Kean said. Every St. Thomas-born governor of the modern era had ties to Savan with one exception.
Kean said that a history of excellence and competitiveness in education, a sense of neighborhood solidarity, a communal "yard culture" and a history of tolerance and diversity made Savan a center of Virgin Islands intellectual and cultural life in the 19th and 20th centuries.
"There were families from Africa, France, St. Eustatius, Guyana, Curacao, Denmark. In Savan, we had families from Baltimore, Havana, Flensburg, Gibraltar, Corsica, Scotland, Prussia and the Canary Islands. That's just the 1841 census," she said.
University of Copenhagen lecturer Gunvor Simonsen shifted the topic of conversation to Africa with a presentation on two individuals who lived on the Gold Coast, in present-day Ghana, during the 18th century.
Simonsen recounted the stories of Christian Jacob Protten and Frederik Petersen Svane, both men of mixed African and European heritage who lived complicated trans-Atlantic lives during the period of the Danish slave trade.
She said that histories written about men such as Protten and Svane, who traveled between Europe, the Caribbean and Africa, have sometimes optimistically focused on their "particular genius for intercultural negotiation." But Simonsen partly disagrees with that approach.
"I'm less optimistic. And I suggest we focus more on the cultural barriers that formed historical subjects as trans-cultural in the first place," she said. "The racial ideologies of Atlantic slavery established various conundrums which people who were in-between cultures would have to struggle with and comes to terms with as best they could."
Another University of Copenhagen lecturer, Per Nielsen, also presented on Friday evening. Nielsen has recently published a book titled "Mrs. Jensen and other Caribbean Danes; Danish-West Indian sailors, servants, and workers in Denmark, 1880-1920," and he is interested in how the Danish state and society treated people born in the Danish West Indies when they migrated out of the islands. Were they Danish citizens or not?
Nielsen said that in investigating the question he focused on Danish West Indians of African heritage, but he added that this was not hugely important to the research because in Denmark, unlike in the United States, there were no separate laws for people of African and European descent during the decades surrounding transfer.
"I have noticed in my travels to the Virgin Islands over the years, the question about the status of people in relationship to the United States today is something that you are concerned about. It's a matter that's up for discussion and it seems like that's been the case since 1917. Therefore I think it might be interesting to look at how things were before the transfer," he said.
Nielsen used sources from the Danish and U.S. national archives to look at individual cases of Danish West Indians who traveled to Europe or elsewhere. He also studied parliamentary commission reports from the late 19th and early 20th centuries, and the 1916 Treaty between Denmark and the U.S. regarding transfer.
Nielsen said the cases he has studied have lead him to believe that people born in the Danish West Indies before transfer were treated as equal Danish citizens in Denmark, and that the Danish authorities respected that citizenship. Questions posed by the audience after the presentation, however, reinforced that the issue of status is a contested one both historically and presently, and that opinions on the subject vary widely.
Previous presenters and topics in the centennial lecture series included: Joshua Torres on pre-colonial V.I. culture; Linda Rupert on maroons; Aske Stick on the legal system during slavery; Mark M. Smith on natural disasters; and Bolette B. Blaagaard on transfer-era journalism.