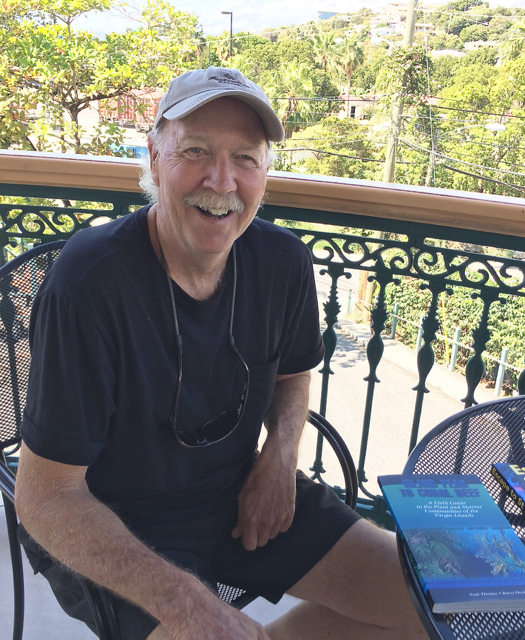 Anybody who's lived in the Virgin Islands – and reads the news– will tell you that local writers of fiction don't have to stretch their imagination too far to come up with ideas for stories. The truth is often much wilder than their most bizarre imaginings.
One writer who has taken this notion to heart is Barry Devine, best known for his work as a respected scientist and environmentalist. In his new novel, "Escape to St. Johan – The Last Jewel," Devine has written what he says is novel based on "thinly disguised, real experiences with composites of many people, good and bad. It's a wildly exaggerated story about schemers and developers."
Devine has used his 18 years in the islands to gather material to produce a plot-driven farce that gleefully lampoons characters like financier Allen Stanford, who's now serving a 110-year prison term for fraud; Roberto Tapia, the former Department of Planning and Natural Resources official who pled guilty to drug trafficking; and various developers who've come to the islands with dreams of making a fortune by paving paradise.
Devine started writing the novel in 2014 soon after the developers of the Yacht Club at Summer's End presented their plan to build a mega-yacht marina in Coral Bay, a relatively sleepy community on the eastern side of St. John. That plan resulted in a backlash from the community.
"I told the developers, 'You're not dealing with a bunch of bozos out there, although they might look so,'" said Devine.
In the prologue to the novel, he introduces such characters as "the Conch, his brother the Coot and a local misanthrope called Pirate [who] were limin' in the cockpit of the 42' Cowhorn finishing their second joint of Mango Madness. Looking up and seeing yet another rich jerk surveying paradise for profit, their morning smiles turned grim."
The plot involves their clever computer hacking techniques to thwart the plans of Rick "Slick" Stanford and Charlize Winters, "his curvaceous and steamy consort, dressed in a tiny red Ralph Lauren number with red stiletto Prada's hanging like daggers from her feet [as she] leaned close revealing a deep mysterious cavity that ran from her cleavage to who knows where."
Readers who take the stereotyping of women seriously, or who tire of bad things repeatedly happening to the villain's private parts, may find a lot to object to in the novel.
"It does have some profanity. It's not for everyone," Devine acknowledged.
But like any farce, the intention is to use comedy and exaggeration to reveal the truth.
"In the Virgin Islands, there are so many interests from so many diverse groups, and people are always taking advantage of the situation," said Devine.
Devine has a wide range of experience that he drew from to create the novel. He taught solar technology to teens in the Youth Conservation Corps, built boats, and worked in home construction for 15 years.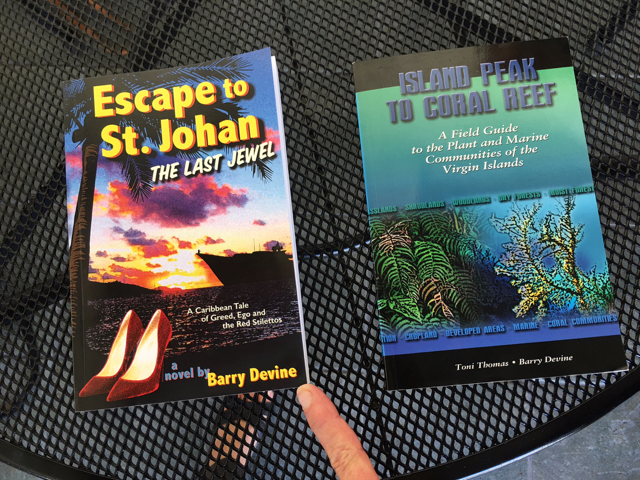 Born and raised on Long island, New York, he earned an undergraduate degree in business and accounting, a second bachelor's in biology, a master's degree in plant science, and a doctorate in conservation biology and geographic information systems.
"I'm a naturalist with a geek side. I've used all my science and technology, but it's not a technical book," he said.
A first-time novelist, Devine has sought to emulate the likes of writers Carl Hiaasen and Herman Wouk to tell his tale of Ponzi schemers who escape from fictional St. Bert's on a yacht known as the Mega Pussy and encounter cultural resistance and natural disaster in Punta Coral, St. Johan.
The novel is the direct opposite of Devine's previous publication, "Island Peak to Coral Reef, a Field Guide to the Plant and Marine Communities of the Virgin Islands."
Co-written with Toni Thomas, an agent with the University of the Virgin Islands' Cooperative Extension Services, that book is a beautifully illustrated overview of the various ecosystems in the territory and includes the work of many noted local scientists.
For anyone who's wanted to know what mangrove roots look like below the water's surface or the traditional uses of the endemic Teyer Palm, the book is indispensable.
"Island Peak" grew out of Devine's work using geographic information systems (GIS) software to map the territory's ecosystems while working for the Conservation Data Center at UVI's Eastern Caribbean Center.
They also developed the classification system to define and illustrate terms such as "Dry Forest" and "Shrubland."
The field guide comes with a detailed map showing the landscapes and seascapes of all three islands and surrounding cays. It also includes valuable information on the dangers of careless land clearing and effects of invasive species such as the sisal weevil, which nearly destroyed the islands' century plants.
"Island Peak" was first published in 2006 through an Urban Forestry Grant from the Department of Agriculture and sold several thousand copies when it was first released.
"Escape from St. Johan" is self-published using Amazon's CreateSpace, which Devine says guides the writers through all the steps needed to publish a book.
"It's a wonderful site. You don't pay for publishing. They only print when you order a book," he said.
Both of his books are available at the Friends of the Virgin Islands National Park Store, Chelsea Drug Store, Mumbo Jumbo, and Pickles on St. John.
Marketing a self-published book is tricky, and Devine said he left copies of his novel on windshields of cars parked at beaches in the Virgin Islands National Park until park officials asked him to stop.
However, Devine said he was heartened when he got a call from a stranger "who found the book and tracked me down and said he couldn't stop laughing."