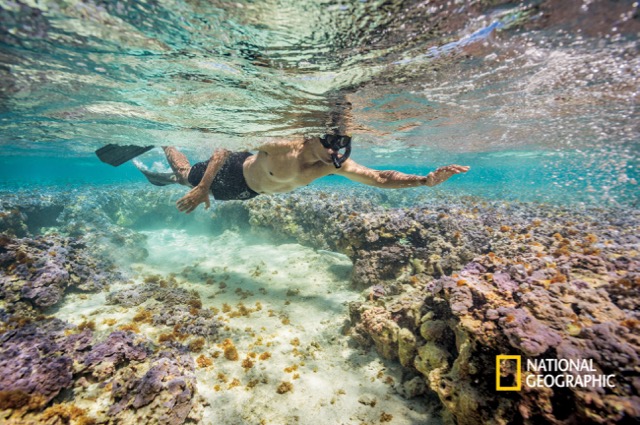 The photos in this article appear in the February issue of National Geographic. A link to the story can be found at the end of this article.
Last summer National Geographic explorer and underwater photographer Brian Sperry spent about three weeks on and around St. Croix, photographing the island's tropical marine life for a feature story called "Sea of Change" that hits newsstands this week.
To capture the island's diverse species and beauty, Sperry worked at Buck Island Reef National Monument just off the northern coast of St. Croix and at Sandy Point National Wildlife Refuge on the island's southwestern tip, taking photos for the article and a related film.
Directed by Robert Nixon, the National Geographic channel film "Sea of Hope: America's Underwater Treasures," premiered in mid January. The visually stunning underwater footages explores marine habitats in U.S. territorial waters, including around St. Croix, and features oceanographer Sylvia Earle and environmental rights advocate Max Kennedy, who is the son of Robert F. Kennedy, as the film's narrator.
Among the story's and film's goals are to encourage the U.S. government to conserve more underwater areas, since the bulk of conservation is done on land, as well as to inspire kids to be the future keepers of the environment.
The film feature two intercity youths from Washington, D.C., who are both champions for the environment in their schools. Neither had ever been on a plane or seen the ocean before coming to St. Croix to learn about the marine environment firsthand with National Geographic explorers guiding them along the way.
Sperry said that Buck Island is a model for conservation, since it was protected using the Antiquities Act of 1906, which was the first U.S. law to provide general protection for any general kind of cultural or natural resource. Only the president of the United States is authorized to declare an area a national monument under this act.
The act protects an area from any type of activity that could alter it, so there's not as much space for interpretation as there is with other protected area designations, according to Sperry.
That's why the magazine wanted to shoot at Buck Island ¬– to illustrate how important the Antiquities Act is in ensuring long-term, all-encompassing protection.
Sperry explained, "There are all kinds of protected places and state parks and layers and levels of protection and sanctuaries; but when you do what happened at Buck Island in 1961 with the Antiquities Act, it's a lot clearer."
With the 2016 centennial of the National Park System fresh in the public mind, it's a fitting time to turn the nation's attention to preserving more underwater areas.
Like the photographs that were taken to encourage protection of the nation's first national park at Yellowstone, Sperry said he hopes photography can inspire Americans to care about protecting the underwater treasures found throughout the country's coastal areas.
"In order to have a healthy planet, most scientists would agree that we need to be protecting somewhere north of 40 to 50 percent of the ocean, since more than 50 percent of the air we breathe is from the ocean, but globally only about 3 percent of it is protected," Sperry said.
While on St. Croix, Sperry worked in a few locations around Buck Island, since the idea for coverage was to show a variety marine life. To get a sense of the best places to shoot, he spoke with divers that frequent the area and National Park Service employees who study it.
Based on those tips and from doing a number of dives, Sperry felt it was most important to photograph elkhorn coral at Buck Island, since it's an endangered species that used to flourish in waters throughout the Caribbean.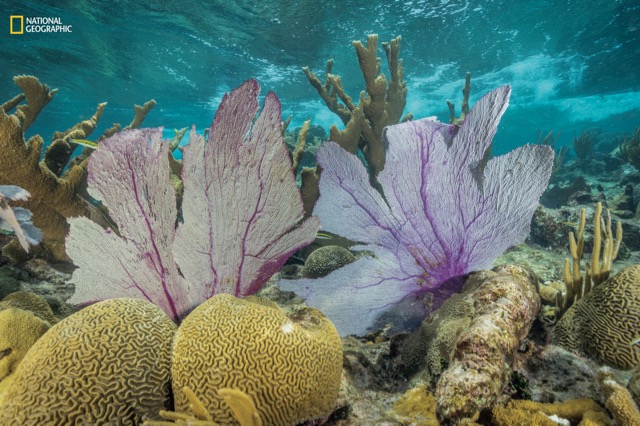 "Buck Island is one of the places where you can still find it, since its been protected there. It's still stressed there but has faired better than in most places," Sperry said.
For Sperry, seeing some healthy elkhorn corals and sea fans was reminiscent of a time long ago when most of the Caribbean's shallow waters were covered in it.
Photographing "haystacks" – reefs composed of stacked layers of dead elkhorn coral – was one of the most interesting subjects for Sperry, since Buck Island is the only known place where they occur around the world. Stacked in mounds 20 to 30 feet deep, these corals likely died and fell over when sea levels were much lower.
During his time on St. Croix, Sperry saw green sea turtles mating at Buck Island and leatherbacks at Sandy Point, the later of which is featured in the story. Sperry said the abundance of sea turtle speaks to the success of sea turtle restoration programs.
"I was very encouraged by the robustness of sea turtle numbers. Every day I was out there I saw so many turtles popping up – I've never seen that really anywhere else," Sperry explained.
He continued, "The whole idea is to show people who've never been there what exists, so we can put why it's being protected in context."
As for what Sperry hopes the impact of the article will be, he said he hopes the biggest takeaway is that no matter where you live, the ocean matters.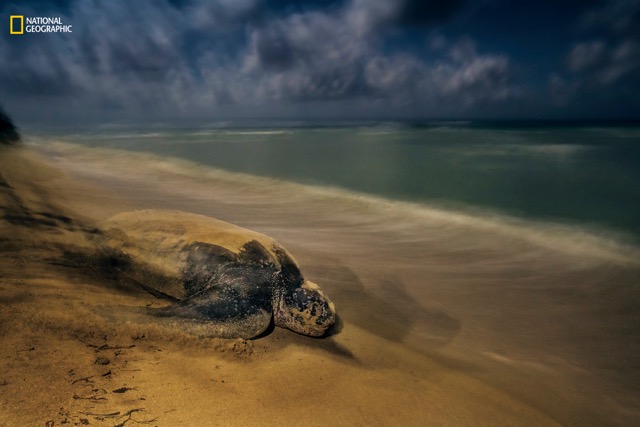 "When JFK protected Buck Island in 1961, we didn't know about climate change or massive extinctions or coral loss, but this type of coverage gives us a greater understanding so we can come up with a solution," Sperry said.
"People in the Virgin Islands can be a voice for the ocean by sharing what they've seen in their lives like parrotfish and grouper disappearing. We didn't know then but we know today and we need to speak up, since we aren't apart from nature or above it," Sperry said.
The story also took Sperry to Midway Atoll National Wildlife Refuge, to not only photograph the marine life there but to also capture President Barack Obama snorkeling in the crystal clear waters.
Located in the Northern Hawaiian Islands, Midway Atoll is on the western edge of Papahānaumokuākea Marine National Monument, which Obama expanded in August, making it the largest marine protected area in the world.
"He's hard to keep up with in the water," said Sperry of Obama, adding that the former president loves the ocean and that protecting it is of great important to him.
"Like Obama, I believe that all Americans have a stake in the ocean. Our own health and the richness of the environment depend on us being good custodians of the earth," Sperry said.
Editors note: National Geographic provided the photo captions for this story. The photo caption about the leatherback turtle at Sandy Point misstates that Buck Island is a few miles from Sandy Point; the distance between the two places is around 20 miles.