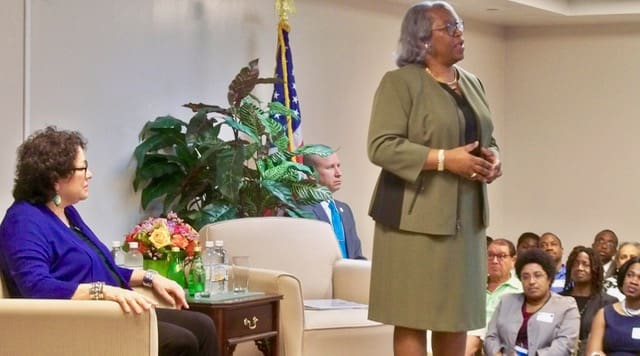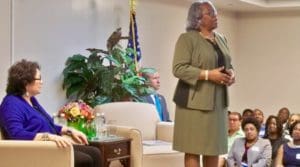 Sonia Sotomayor, associate justice of the Supreme Court of the United States, told more than 300 Crucians gathered at the Cardiac Center of the Gov. Juan F. Luis Hospital and Medical Center on St. Croix Wednesday night that she was a story teller.
The audience demonstrated their appreciation of her stories by many rounds of applause during the event sponsored by the District Court and billed as "An Evening with the Honorable Sonia Sotomayor."
Judge Curtis Gomez began the evening with a list of questions that would be prohibited during the question and answer session, including any about current events or about cases that are before the Supreme Court or might come before the Supreme Court.
Wilma A. Lewis, chief judge of the District Court, started off the program asking questions of her own. Sotomayor always had an amusing story to tell when she answered.
In answer to Lewis's first question, Sotomayor launched into a story about the days leading up to her nomination to the Supreme Court by President Barack Obama in May 2009. She said she was used to, often, being the youngest person in the room, but after her nomination, some pundits conjectured she might be a little too old.
"That really shook me," Sotomayor said.
She said the vetting process was exhaustive. She talked about a "moving violation" that was uncovered that she did not remember. She said questions were so extensive she wondered, "If next they were not going to ask what color underpants I wore."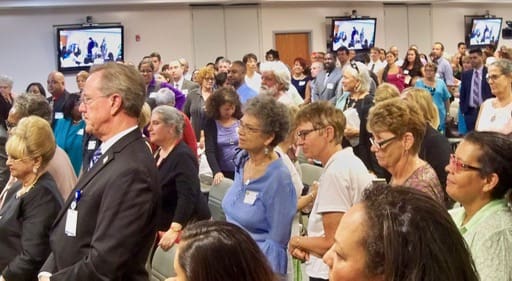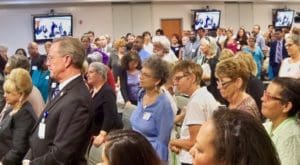 Sotomayor said she had her doubts in the days leading up to the nomination. "I really did not think it was going to happen."
She said she was told to notify her family about possibly making a trip to Washington, D.C.
Sotomayor's brother told her that her nephews did not have suits to wear for the nomination. She told him to buy them suits "but leave the price tags on them."
Her sister told her that her family could not make it to the nomination because her husband had to work that day and "he had never missed a day of work." She did talk them into preparing to come.
Sotomayor said, when she got the phone call from President Obama, that her heart was beating so hard she thought the president might hear it through the phone. She still thought his words might be "I am sorry but…"
Of course, those were not his words and she had to drive down to D.C. that night. The friend driving her was following his GPS and got lost. She had to be at the White House at 7 a.m. and arrived at her hotel at 2 a.m. But even the possible few hours of sleep escaped her, she said, because she was memorizing her acceptance speech.
When Sotomayor did get to the White House, the first lady's hair dresser and makeup person were available. She said she was very thankful for that.
She said the confirmation process was "daunting" and "hurtful." She said the press is always looking for something negative to say about a nominee. Sotomayor admitted she thought about pulling out because she had a good life and did not want to see her reputation destroyed. She said it was friends who "kicked her in the posterior" that kept her in the process.
Lewis asked Sotomayor if, as a Latino woman, she felt a special mission to represent women and Latinos.
Sotomayor answered, "No." She said that diversity of background is important on the court but "I cannot be the voice for one particular group." She said she brings a perspective from her life experiences and that is what is important.
She added, "I am a proud American. I bleed red, white and blue, but my heart is Latino."
The only question she received that touched on the political was why people in the Virgin Islands can't vote for president. Sotomayor answered, "You are not the only territory that feels that way."
She said that the reason was the "vestiges of an old constitutional system." She said that the founding fathers did not envision territories that did not become states, explaining that to give residents the right to vote for president would take a constitutional amendment because the present electoral process included only resident of the states having a right to vote.
Several residents prefaced their questions with a statement how Sotomayor's accomplishments were an inspiration to them and their families.
Attorney Tanisha Baily-Roka said, "Your being here is a big deal" during the celebration of the centennial of being under the rule of the United States."
Lewis said that Sotomayor was the "perfect person" to speak during the centennial celebration.
Sotomayor said the two questions she asked herself each night before going to sleep were did she learn something that day and did she do some good that day? She said, "When you do good, you don't think it is going to come back, but it often does. People remember kindness."
Adelbert "Bert" M. Bryan, a member of the St. Croix Board of Elections, said during the question and answer segment that he had problems with having served in the armed service for other people not willing to serve and also with the label "African Americans."
Sotomayor responded saying, "We don't grow perfectly. … I spend my time trying to figure out how to make this world, the world I live in, better."
Sotomayor said that after reading Nancy Drew as a child she wanted to be a detective, but was told in a form that she received after being diagnosed with childhood diabetes that she could not be a police officer. Later, after watching an episode of Perry Mason, she saw that the judge had the last word and she wanted to have the last word.
At the end of the event, she was presented by Trudi Fenster, president of the Virgin Islands Bar Association, with an honorary membership. Sotomayor also received a glass sculpture of the Three Kings from the Hispanic Community of St. Croix.
On St. Thomas, "An Evening with the Honorable Sonia Sotomayor" will be held Thursday at 6 p.m. at Marriott's Frenchman's Reef Beach Resort.
Sotomayor grew up in the Bronx. According to internet sources, her father died when she was 9 years old. Her mother, Celina, worked two jobs to support the family.