One protester objecting to higher tobacco, alcohol and soda taxes Wednesday on St. Thomas has social media pages on fire after making the incredibly poorly thought out choice to prepare a sign with a doll of a black baby with a hangman's noose around its neck, hanging from a stick.
For a white person to wave around a sign saying "V.I. Future" with a lynched baby tied to the sign handle was not a good idea. Lynching used to be a thing. White people did the lynching. It's a baby. What are you thinking? Why is it necessary to have to say, "Don't do that"?
Is this slightly better or worse than, say, trying to show your solidarity by protesting in blackface? Probably worse. Lynching was an act of terror used to control and dominate black people.
Sometimes it's astonishing how insular some white folks can be in the Virgin Islands, with so little appreciation for how other groups will see things. This will probably top the list of examples of this for the next few decades.
I assume this person is not actually a KKK sympathizer. The protest was hardly a whites-only affair. It would be weird in the extreme to try that sort of approach. Surely the woman imagined she was showing some sort of solidarity with the struggle against the past evils of lynching. One imagines she was trying to say something like: Remember this? This is what tobacco tax increases are like. They will destroy the future for new V.I. babies.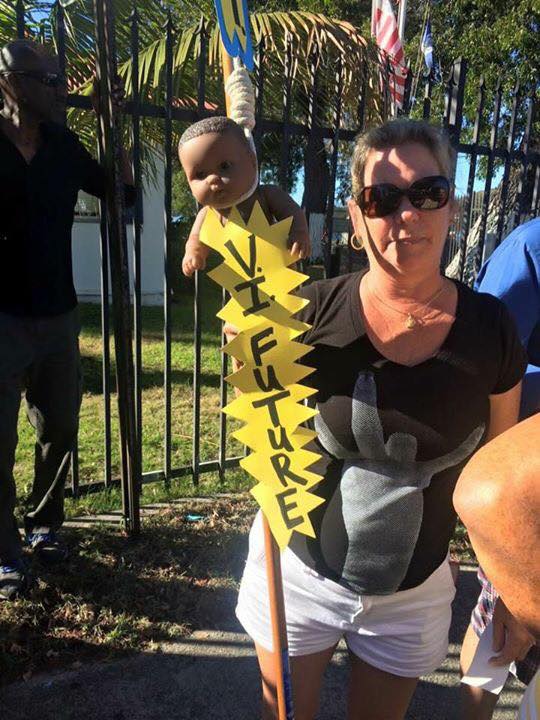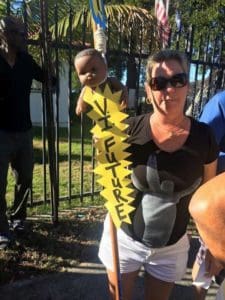 That is the most benefit of a doubt I can muster up. One hopes she regrets the decision at this point. She probably does. One wonders why no one at the protest stopped her and said, "Hold on there, what's this? That's not a good idea. Here, let's take the doll off the sign." One wonders that this didn't occur to her too.
At the risk of getting in trouble, I hope people are forgiving and try to see this HORRENDOUS decision as the lapse in judgment and BADLY failed attempt at solidarity that it seems to be, rather than as some sort of racist pro-lynching statement.
One could speculate it may reflect a blinkered mentality, unable to see the bigger picture of the financial situation of the territory and the need to pay teachers, just as they are unable to see the bigger picture of why this really, really does not convey to Virgin Islanders – or anyone else – what they thought it conveyed.
As the territory struggles with a severe structural budget deficit and an inability to borrow, Gov. Kenneth Mapp has proposed tax increases on luxury items, limits to property tax exemptions and anew time share fee.
Urged on by the business community, many came out to protest the proposed taxes. Some carried signs saying "no sin taxes," others saying the government needs to cut spending. Sen. Positive Nelson was there with a group of protesters holding signs advocating the territory legalize and tax marijuana.
I believe the taxes are unfortunate but necessary. But agree or disagree with the protesters, they have a legitimate point of view. It is unfair to tar the entire protest with this incident, however crazy it is.
Let's hope we see nothing like this again.