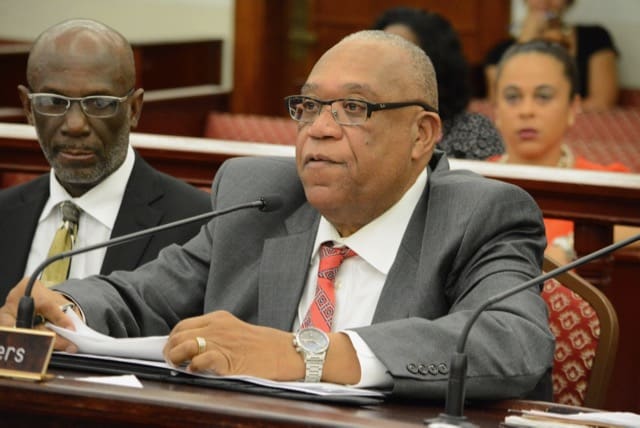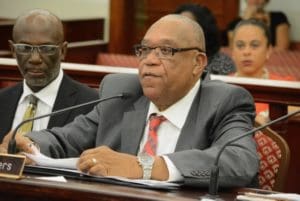 Schneider Regional Medical Center is struggling to make ends meet and may cut back on services at the main hospital and reduce hours at the Myrah Keating Smith Community Health Center on St. John, center officials told senators Friday.
Schneider Chief Executive Officer Bernard Wheatley requested an additional $7.2 million for the current year to help it make ends meet. Senators in the Health, Hospitals and Human Services committee hearing were blunt in saying the V.I. government as a whole is also facing a fiscal crunch, making more funding unlikely.
Senators urged hospital officials to improve billing and to work with Gov. Juan. F. Luis Hospital on St. Croix wherever possible to share costs. Sen. Nereida "Nellie" Rivera-O'Reilly, the committee chair, said territorial officials need to do whatever is necessary to try to get the Centers for Medicare and Medicaid Services to revise the reimbursement rates for the territory, suggesting they attempt to get an audience with several relevant members of Congress.
Rivera-O'Reilly said she appreciated that V.I. Delegate Stacey Plaskett had been working on this, as had her predecessor Donna Christensen, but since the rates were not revised, more needed to be done. Later, Rivera-O'Reilly joked about going to Washington, D.C., with placards and marching in the street, then emphasized that while that was a joke, it was urgent that V.I. officials get the attention of CMS and Congress.
By law, the territory's two hospitals are required to provide care without regard for ability to pay. In principle, the government's annual appropriation is meant to cover the cost of those who cannot pay, but with limited resources, appropriations for both Schneider and JFL Hospitals have consistently been millions of dollars less than the cost of care provided.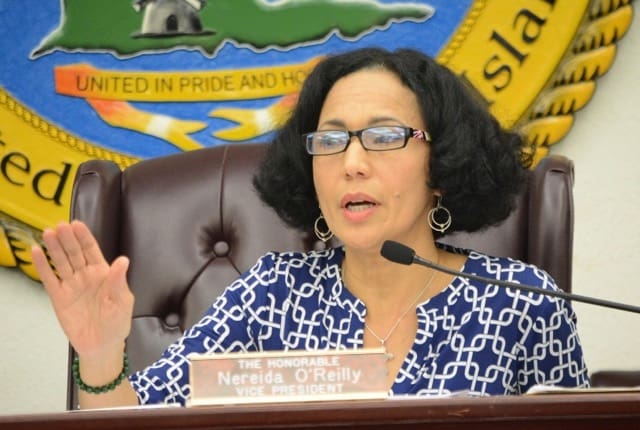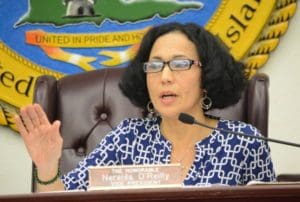 Wheatley said government appropriations for the hospital have declined over the past six years, from $31.53 million in 2008 to $22.47 million for fiscal years 2012 through the present.
Schneider Hospital's operating deficit over the past six years averages $36.88 million per year in losses standing on its own and $9.28 million per year after including the government's appropriation.
Medicaid and Medicare payments short the hospital by $27.68 million compared to the actual cost of
providing services to Medicaid and Medicare patients.
All in all, the hospital lost about $5.21 million for FY16.
As of Feb. 1, Schneider owed vendors $34.98 million and they were starting to only provide services and products on a cash-in-advance basis, Wheatley said.
Commercial business has dropped 21 percent over the past two years and lots of revenue generating patient services have migrated to outside, private facilities, eroding the hospital's revenues.
Since 2012, Schneider has seen a $2 million drop in cash collections for these patient services, leading to the hospital to suspend elective implants for hips and knees due to the organizations inability to purchase the implants.They are cutting hemodialysis too. The hemodialysis unit currently treats between 80 and 90 patients.
"We are planning to implement a cap of 65 patients and work with the two local dialysis centers to help meet the additional need for dialysis services," Wheatley said.
Myrah Keating Smith may switch from operating 24 hours a day to operating from 8 a.m. to 8 p.m., he said.
Rivera-O'Reilly pressed hospital officials about the continued high cost for traveling nurses. She said she had been in the Senate long enough to hear about plans to reduce traveling nurses over and over again, yet the numbers stay high.
A traveling, contract nurse costs about $120,000 per year, with much of that money going to the contracting agency, while a nurse who is a local, regular employee with four to six years of experience averages around $57,500, officials said.
Rivera-O'Reilly said JFL Hospital eliminated traveling nurses very quickly once it really began to press on the issue.
Sen. Kurt Vialet honed in on hospital billing, saying JFL was showing more revenue from billing even though it was performing fewer procedures for fewer patients.
"There have to be significant problems in terms of billing and collection," Vialet said.
Schneider Chief Financial Officer Scott Nothnagel said there was a history and culture at the hospital where many patients did not pay. Asked if the issue was patients not paying or the hospital not billing, Nothnagel said "both."
Generally self-pay patients are really non-paying, he said. The hospital is moving to true electronic billing, which should help. They have hired a contractor to help with collections and are working on training in-house personnel to help more systematically capture billing and follow up with patients who are late in paying, Nothnagel said.
No votes were taken at the oversight hearing. Present were Rivera-O'Reilly, Vialet, Sens. Marvin Blyden, Novelle Francis, Dwayne DeGraff and Janette Millin Young. Non-committee member Jean Forde also attended. Sens. Sammuel was absent.