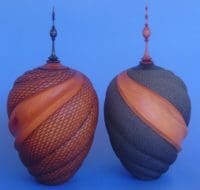 Bajo El Sol Gallery in Mongoose Junction will delight audiences with the forces of nature at the opening of its exhibition "Natural Poetics" at 6 p.m., Friday, March 3.
Curated by the Gri Gri Project, "Natural Poetics" features four artists practicing in the Virgin Islands whose works convey a strong identification with natural subjects and materials.
St. Thomas-born painter Shansi Miller will display new works from "The Nature Series," in which her human subjects become protagonists in an epic Creole history set amidst the natural environments of her home island. These recent oil paintings are a nuanced exploration of Virgin Islands mythology and identity.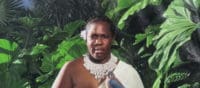 St. Johnian master wood turner Avelino Samuel will exhibit his latest hand turned bowls and vessels made from local woods including mahogany, genip, raintree, white prickle and others. His works range from highly ornate to naturalistic; they reflect his desire "to let the material be the dominant voice, or, in other instances, work to accent its character."
Accomplished St. Thomas batik artist Doreen Walsh will also display new works. She is drawn to the batik medium because it affords "a balance between pre-made plans, impromptu ideas and things beyond control."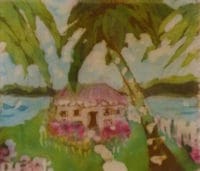 "Natural Poetics" will also introduce to the V.I. Italian painter Katia Montisanti, who has recently relocated to St. John. Her large canvases, depicting her garden on St. John, are vibrantly colored representations of new botanical encounters in the Caribbean.
The exhibit will run through March 31.
In addition to this exhibit, Bajo El Sol will be hosting several engaging events in March.
On March 9 at 7 p.m. — a screening of the Spanish language documentary "La Montaña (The Mountain)."The film recounts the adventures of the first Dominican and Caribbean expedition to climb Mount Everest.
On March 18 at 4 p.m. — sip & shop at a "Tea, Art & Champagne" event. This modern tea party will feature ceramics by artists Gail van de Bogart and Casey Giakas, who will create teacups and serving pieces that foster new traditions around a historic culinary custom. Afternoon tea will be served with a savory selection of confections and champagne.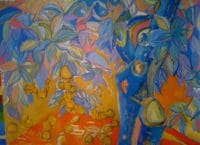 On Saturday, March 25 — Bajo El Sol will host the U.S.V.I. launch of Tortola's Richard Georges' first collection of poems, "Make Us All Islands," which was listed by the Trinidad Guardian as one of the four Caribbean books to look out for in 2017.
Bajo El Sol Gallery is located in Mongoose Junction on St. John. The Gri Gri Project curatorial team consists of Bajo El Sol's new owners: Priscilla Hintz Rivera Knight and David Knight Jr.