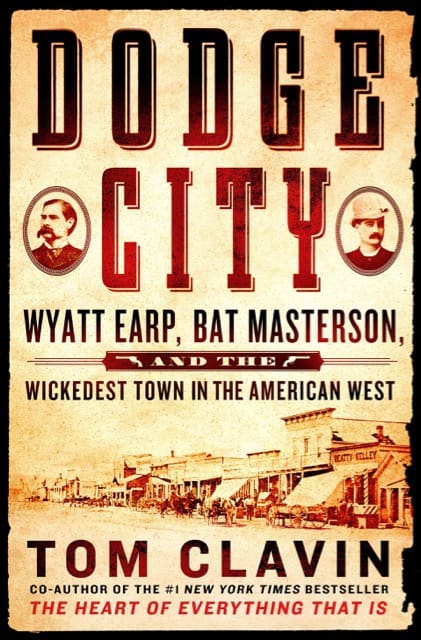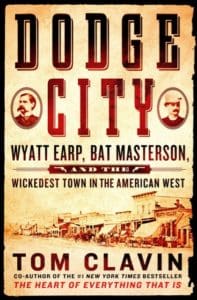 "Dodge City: Wyatt Earp, Bat Masterson, and the Wickedest Town in the American West" by Tom Clavin
c.2017, St. Martin's Press $29.99 400 pages
It's only a piece of metal. Star-shaped, circular, oval, or shield-like, it's so small, it could fit in your hand or your pocket. It's made of few letters, a few numbers and a high shine that reflects lights – particularly blue and red ones that are flashing.
It can call up respect. It sometimes attracts derision. It can calm turmoil, finish arguments and, in the new book "Dodge City" by Tom Clavin, a badge can be the stuff of legend.
Of all the towns that appeared in the West in the 1870s, why is there "immediate name recognition" for Dodge City?
The short answer, says Tom Clavin, was that Dodge City might've been unremarkable, except for three "uncontainable" things that came together in one Kansas spot: "buffalo, railroads, and longhorn cattle from Texas." The junction of the three made Dodge City "a totally lawless young town" and the perfect place for myths to be made.
But here's the truth…
Born into a large family and raised in Iowa, Wyatt Earp was "bold," even as a child. He would tolerate no foolishness and embraced an "adventurous life" that ultimately led him west. Though he lived and thrived in an area with a reputation for hard living and hard drinking, Earp was a near-teetotaler.
Bartholomew Masterson (who later took the name William Barclay Masterson) was born in Quebec, Canada, and never quite got around to becoming an official U.S. citizen. He, too, was born into a large family and was said to love a good prank and a better joke; he also loved to hunt buffalo, which is how he reportedly met Earp.
The two shared a type of Old West wanderlust and a sense of adventure. Both moved restlessly from city to territory; Earp married and was briefly a father, while Masterson gained a reputation for being a gunfighter. Both fell afoul of the law for various crimes before settling down and becoming peacekeepers themselves. Each seemed to know that he could call on the other for help when needed – which is what happened in 1883 when the "wickedest" city in the West was out of control.
Much as I enjoyed the bulk of "Dodge City," its subtitle is a bit of a misnomer.
This book is, indeed, the story of two historically iconic men in a dusty Kansas town, but that's not all. Clavin also writes of other Old West towns and about dozens of contemporaries of Masterson and Earp, which is necessary but can be overwhelming – especially since neither man stayed in place for very long.
Still, Clavin tells a lively tale that's both entertaining and informative, with plenty of action and little-known information to keep a reader around. It's those between-facts facts that prove the romanticism of the Old West is absolutely misguided.
Fans of Western U.S. history or lovers of Larry McMurtry novels should covet this nonfiction book; it's everything you want it to be. If you're unfamiliar with Old West history, however, "Dodge City" just might test your mettle.
__
The Bookworm is Terri Schlichenmeyer. Terri has been reading since she was 3 years old and never goes anywhere without a book. Her self-syndicated book reviews appear in more than 260 newspapers.