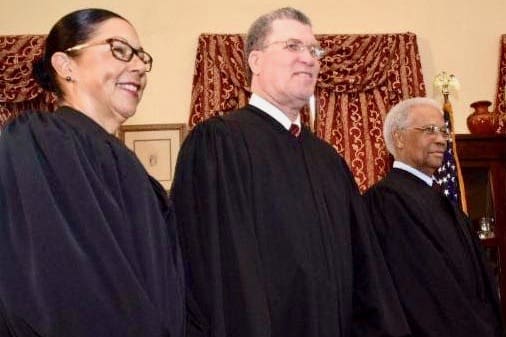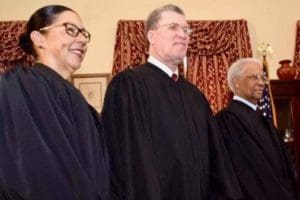 The three justices of the Supreme Court of the Virgin Islands were sworn in to new 10-year terms of office during a ceremony Thursday at Government House on St. Thomas. These are the second terms for the three justices, the first to serve on the 10-year old territorial high court.
Justice Verne Hodge, former presiding judge of the Territorial Court, gave the oath of office to Chief Justice Rhys Hodge and Associate Justices Maria Cabret and Ive Swan. The second floor ballroom of Government House was filled to capacity for the occasion with officials off all branches of government, employees, family members and British Virgin Islands Premier D. Orlando Smith.
Of the court's many accomplishments during its first 10 years, Hodge said he is most proud that it earned the confidence of the Judicial Council of the United States Court of Appeals for the Third Circuit. After only five years of existence, in 2012, the Judicial Council determined that appeals of decisions by the Supreme Court of the Virgin Islands should go directly to the Supreme Court of the United States. This appellate procedure established that the local high court's performance is on par with that of any state, marking a giant step forward in the 100-year march toward greater self-governance, he said.
Cabret praised the dedicated work by support staff, including clerks of the court, law clerks and the administrator, for the success of the Supreme Court. "Our work is a demonstration of our love for the people of the territory and our profession," Cabret said.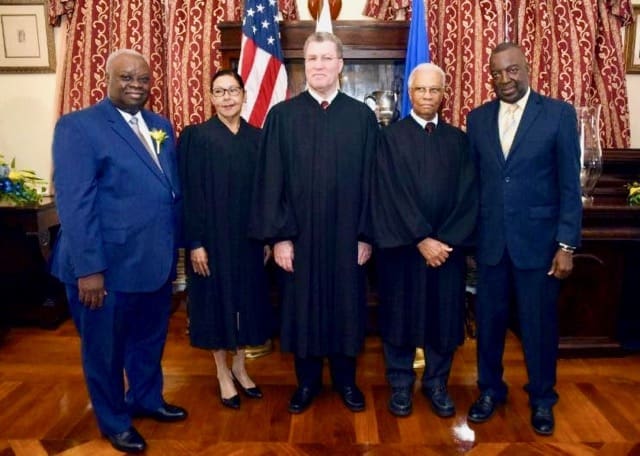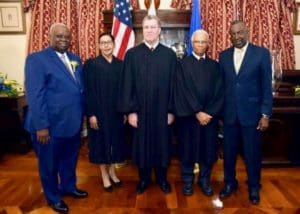 For his part, Swan said he is grateful to a member of a generation of Virgin Islanders who left home with a commitment to be educated and to return and perform public service. "Service to the people of the Virgin Islands is the highest honor to be bestowed. … Service is all I ask … and all I can give," Swan said.
Crediting excellence and self-determination for having advanced greatly the territory's institutions since colonization, Hodge said he believed the next milestone to be celebrated will be a local constitution.