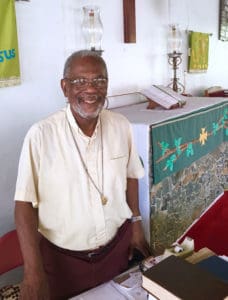 The doors to the Nazareth Lutheran Church in Cruz Bay are always open from early morning to sunset. That's because the pastor of the church, the Rev. Carlyle O. Sampson, believes in making himself available to anyone who seeks counsel.
"For me, it's a matter of being present for people. With the doors open, I'm accessible to the community," Sampson said.
Sampson is often seated quietly at a small desk to the left of the altar. It is there that he prepares his sermons, counsels congregants, tutors math, and greets tourists who wander in to see the church that houses a congregation dating back to 1720.
On June 1, Sampson will celebrate 30 years as pastor of the Nazareth Lutheran Church, but his roots the Virgin Islands go further back.
Born in Trinidad, Sampson became involved with the Moravian Church as a youth through the influence of Elva Kitson, the wife of the Moravian minister there. The Kitsons later moved to St. John, and Elva became a highly regarded teacher at the Guy Benjamin School.
"She invited me to join the Youth Group at the Moravian Church in Trinidad," said Sampson, "and I got more into it. I was very handy, so any work they needed at the parsonage, I would do. I started to spend more time there than home."
After graduating from high school and attending a Moravian seminary in Jamaica, Sampson began working with the Moravian congregation in Trinidad until he was transferred to St. Thomas in 1973. He assisted the ministry there and on St. John. To pay the rent, he took on a job as a probation officer/youth counselor from 1977 to 1986.
In 1986 when the Moravian Church committee asked him to return to his home country and take a position in Tobago, Sampson had reservations. He asked for a leave of absence, but his request was denied. In response, he decided to resign from the church.
But Sampson still felt a spiritual calling, so he applied to attend a Lutheran seminary in Philadelphia. He said the leap from the Moravian Church to the Lutheran Church was not as significant as one might think.
"Lutherans and Moravians are now enjoined in common fellowship in the U.S. and in the Caribbean," Sampson explained.
One difference is that, while the Moravian Church committee calls a pastor to head up a congregation, in the Lutheran Church the congregation itself chooses its pastor. As Sampson had become well known in the community of St. John, the Nazareth Lutheran Church congregation asked Sampson to return to the island and be their pastor in 1987, and he's been there ever since.
"What I'm wrestling with right now is how much longer should I continue to be here? Should we have a younger pastor to attract younger folks? After 30 years, you have to wonder."
Sampson said the declining attendance at church is a concern "that is not unique to Lutherans." Aside from the Catholic Church on St. John "which seems to be doing pretty well with their young folks," most churches on St. John which seem to have difficulty in attracting younger members.
"Our greatest problem is with our youth. You see them only when they're baptized, and maybe at confirmation, and maybe when their children are baptized. We try to appeal to young people. We ask their parents and grandparents to bring them in," he said.
Sampson is concerned that NLC's Sunday school is now mostly attended by adults who want to have a deeper understanding of the church's teachings, and not children.
Though its population is aging, the congregation remains strong. Bible Study is held at 5:30 p.m. every Thursday, and regular Sunday services are held at 9 a.m. The Fellowship Hall, which used to be a parsonage, becomes especially active after services, as the congregation shares a meal.
"They just love to cook, and they have some very good cooks," Sampson said.
The church and hall are often used by community members for concerts and meetings. Alcoholics Anonymous meets at the Fellowship Hall on Monday, Tuesday and Thursday mornings and on Monday, Tuesday, Wednesday and Friday evenings.
The St. John Singers has rehearsed at the church every Monday night for 35 years, and AARP holds monthly meetings at the Fellowship Hall. The Nazareth Lutheran Church members team up with the Catholic Church to provide lunch for the homeless on Tuesdays.
With the doors to the church open, a wide variety of people wander in, including the homeless. Some of the homeless are familiar to Sampson, and some are strangers who have recently arrived on the island.
"They're looking for a handout or something to eat. Sometimes I go to the refrigerator and find food to heat up for them. I try to avoid giving them money," he said.
Sampson is just beginning to contemplate what he will do if he retires. One option is to spend more time with his children. His son Kyle, a math teacher, lives in Newfoundland and has two sons of his own. His daughter Karen is a legal secretary in Toronto.
"When I visit her, my daughter complains that I come all this way and only stay for four days."
But Sampson still finds his work on St. John fulfilling, whether it's giving the blessing at a public event, tallying the scores for the annual Queen Show, or serving on a community task force to counter crime.
"I love St. John. The community has been very good to me," he said.