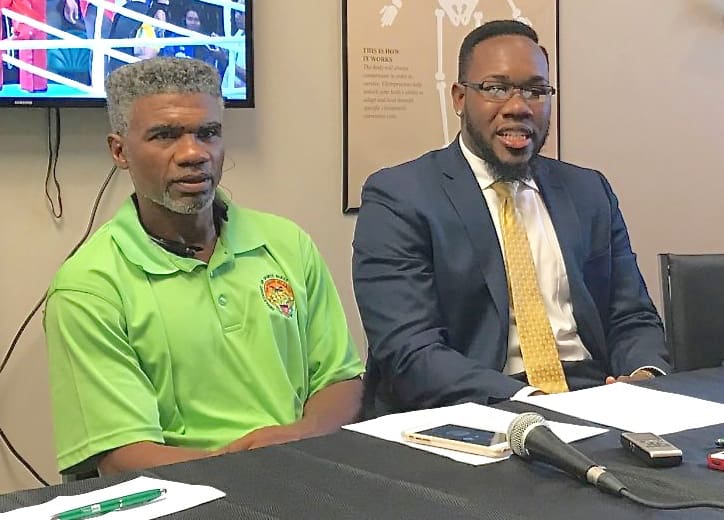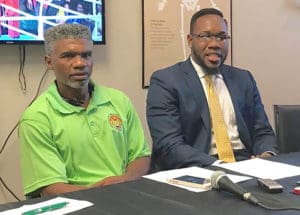 Calling himself "Mr. 340," nine-year amateur fighter Clayton Laurent Jr. announced Friday that he will soon make his professional debut on St. Thomas, in a fight tentatively scheduled for Aug. 19.
During a news conference Friday on St. Thomas, the 26-year-old Laurent said he had signed a management contract with Matt Clark of Exite Fight Promotions and Philippe Fondu of World Sport Promotions and is backed by sponsorships from FirstBank and St. Thomas-based Rock City Wellness, whose team will work to keep Laurent in top shape before and after his fight.
"I'm nervous, I'm like a kid here today," Laurent joked at the press conference. The 225-pound heavyweight puncher said that turning pro "absolutely the right decision," made at the right time. Backed by his father, three-time world champion boxer Julian "The Hawk" Jackson, and longtime trainers David Rogers Sr. and Susthens "Joey" Vialet, Laurent said he had contemplated turning pro years ago after he won the bronze medal in the qualifier for the 2012 London Olympics.
At the time only the silver and gold medalist advanced to the Olympics, Jackson explained. So, the team bided its time and saw Laurent through the 2016 Rio Olympic Games, where he caught the eye of Clark and Fondu.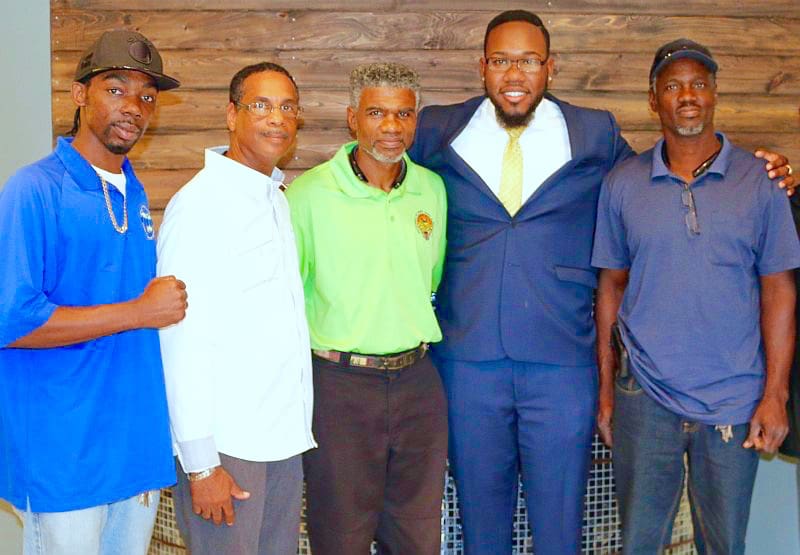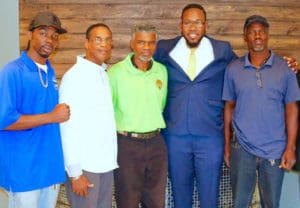 "Timing is very important and the timing is just right for us now," Jackson said. "Maybe it could've happened a couple of years ago, but we bided our time and used it to our advantage. Clayton is now much more mature, not only physically but mentally, and his skill set is a lot better."
Speaking over the phone Friday from Australia, Clark said Laurent's performance in the Olympic ring against Eric Pfeifer, the top contender from Germany in the 2016 preliminaries, made him and business partner Fondu look twice at the young V.I. boxer.
"He's a kid that has got plenty of potential," Clark said. Fondu, an international matchmaker from Belgium, currently manages the World Boxing Association's World bantamweight champion, Zhanat Zhakiyanov (27-1-0) out of Kazakhstan, while Clarke took Australia's Lucas Browne (24-0) to a heavyweight championship in Chechnya.
"I've taken guys to world title fights before so we know a good fighter when we see one and we certainly see one with Clayton," Clarke said. "So, buckle up, it's going to be an exciting ride because this kid can really fight."
Clarke said that he and Fondu have put feelers out for potential opponents to come and fight Laurent in August and will make an announcement closer to the fight date.
In the meantime, trainers Rogers and Vialet added, Laurent has shown his ability to do what it takes to come out on top.
"He has all the talent," Rogers said. "We've been into this a while now and we've gotten a lot of experience working with Clayton, and it's going to be easier than before (training V.I. professional boxers John and Julius Jackson) for all of us, because we were all green. Clayton likes to listen, he likes to improve and he tries his hardest. He's definitely a professional."
While Rogers said Laurent's training team will work on different things, he is confident in his fighter's work ethic. Laurent's skill is in his hands, Rogers said, and he's ready to work hard enough to improve the rest.
"Many heavyweights don't really have speed and good movement, but Clayton has that," Vialet added. "Too many hours of sparring have definitely worked their magic with his hands and I see a champion here."
Jackson added that Laurent's speed is also matched by his stamina.
"There are people that expected him to run out of gas many times, but for him the third round is almost like the first," Jackson said.
Laurent is backed by sponsors FirstBank and Rock City Wellness, whose teams will be covering Laurent's fitness regimen, gear, and community outreach efforts, among other things.
"The impact that Clayton has had on the community is amazing," Dr. Tylur Arvidson said Friday. "He can speak on that level to the youth about drive and achieving their goals, and that's one thing about Clayton, when he sets his goals he reaches them, and he sets more and he reaches those."