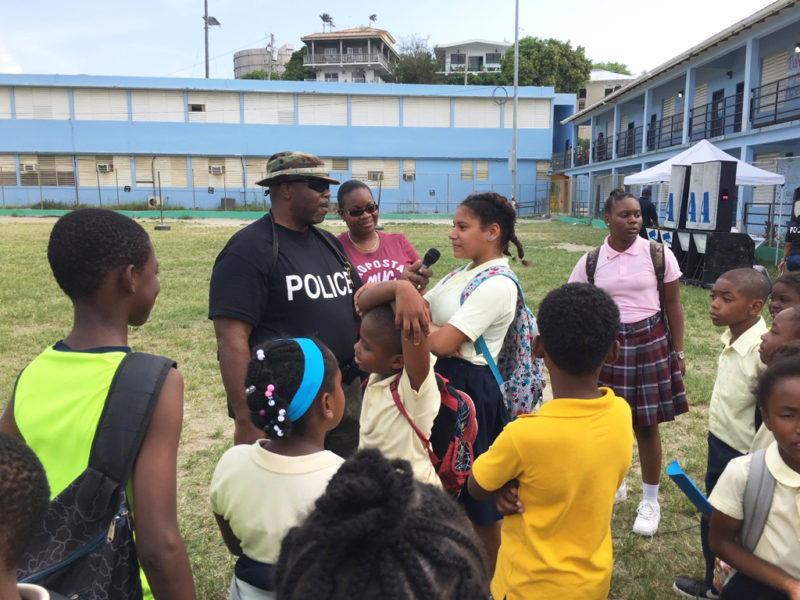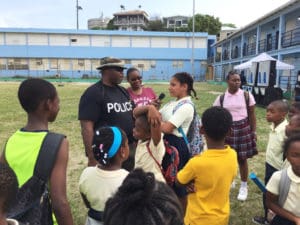 "Who let the dogs out?" called out Police Officer Ecedro Lindquist to a crowd of school children observing a canine squad demonstration during Police Week on St. John.
"Arf! Arf!" the children responded, echoing the opening of the well-known song. But they might have been chanting "Alf! Alf!' the name of the dog that zoomed across the Winston Wells Ballpark to apprehend an officer posing as an escaping criminal. "Hold him! Hold him!" chanted the children on cue.
The message was clear: if a police officer tells you to stop, please obey the order, the officers reminded the children.
Sgt. Aaron Hodge and his canine partner, Alf, were the stars of the after school events on St. John. Children cheered as Alf sniffed out a ball impregnated with the scent of marijuana and stopped immediately upon command from his human partner.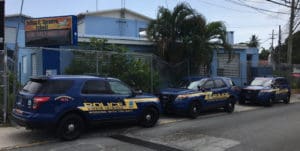 Following the demonstration, officers passed out snacks as well as pens and cool bags with logos promoting the Police Cadet Program.
One of the purposes of Police Week is to encourage young men and women from St. John to sign up to apply as candidates for the Police Academy with the intention to serve as police officers specifically on St. John.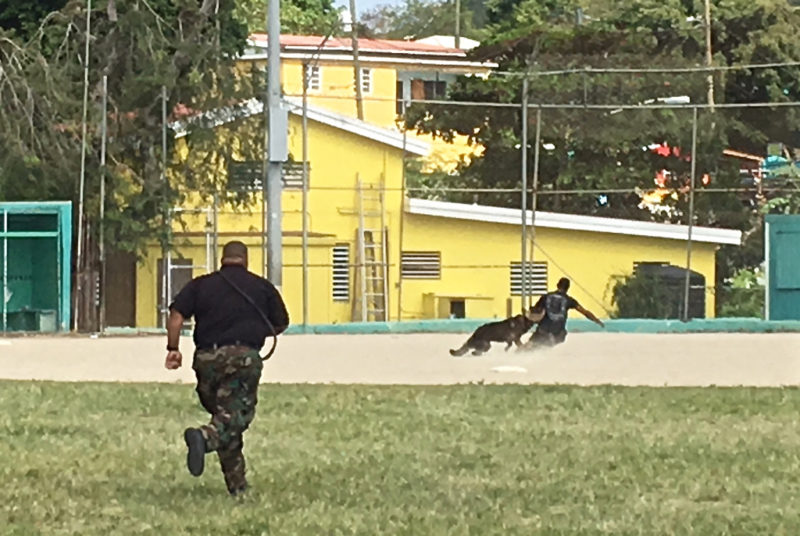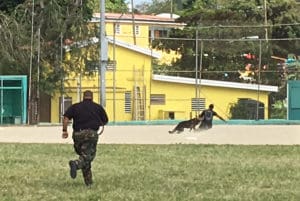 Sgt. Steven Payne said St. John recruits often balk at the idea of joining the police force because they have to move to St. Thomas for six months to complete the program, which involves rising before dawn for physical training. Because the ferry boats don't operate at those early hours, St. John residents are not able to attend that portion of the training program unless they find a place to live on St. Thomas.
Police Commissioner Delroy Richards has suggested that the former Guy Benjamin School in Coral Bay be used as a police cadet training center. The school, which was closed in 2014 because of declining enrollment, is evolving into a multi-use community center. The department hopes to enlist a sufficiently large pool of recruits on St. John to make it the site of a training academy.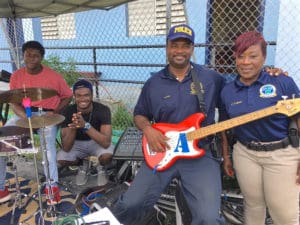 Following the demonstrations, the newly-formed police band Code Blue performed for onlookers. The group made their debut at the Adults' Parade during St. Thomas Carnival last month.
Members of the band who performed included Payne on bass, lead vocalist Danielle Greenaway, and vocalist Sgt. Charmayne Thomas. Because they had to appear in court, keyboardist Det. Gregory Coward and drummer Kevin Turnbull could not attend Wednesday's event, so young musicians Steven Payne Jr. and Ajon Thomas filled in for them.
Police Week is celebrated nationwide, Thomas said. "We honor all the fallen officers."
Other events on St. Thomas included a parade and picnics for officers and their families.