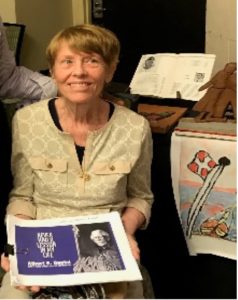 It took years of effort for author Magda Smith to hold her greatest work in her hand. It was an unbound proof of a book, "Never Had A Lesson In My Life, Albert E. Daniel, Dean of Virgin Islands Painting and Sculpture."
With frail fingers, she separated the unbound pages, admiring the images that made up Daniel's career. Smith and the artist first met when she was executive director of the Virgin Islands Humanities Council. His works so impressed Magda and husband Alan that several occupy the sitting room in their St. John home.
As head of the Humanities Council, Magda Smith offered grants and funding in support of cultural and educational programs in the VI.
As a self-taught artist, Daniel stands out as the first native born Virgin Islander to live and create his works exclusively on St. Thomas. He produced at least 400 works, including paintings, wood carvings, and sculptures in wood, clay and bronze.
Symbolism plays throughout those works, said Alan Smith.
"His art captures the spirit of the hard-working, God-fearing women and men of his native island with simplicity and bold grace," he said. "They represent the backbone and preservers of Virgin Islands society and culture. Through the market women, coal carrier, street sweeper, farmer, laborer and fisherman he chronicles the history from the Danes through modernity."
The book includes a forward by former Gov. Charles W. Turnbull, historian and professor emeritus of history at the University of the Virgin Islands.
"The author has given us a three-fold treasure: a history book, a biography of a folk-artist and an art book replete with iconic images. It is a book that should find a place in homes, schools, libraries and bookstores not only in the Virgin Islands but everywhere. It is a book for everyone," Turnbull said in the forward.
As the couple looked over the book, the product of a years of effort, they prepared for the next big event. A shipment of bound copies is expected to arrive in time for a meet the author gathering at Nazareth Lutheran Church.
"On Sunday, June 11 from 4 to 6 p.m., 'Never Had A Lesson In My Life' will be available for purchase. An exhibit of Daniel's works will be on display and there will be a brief presentation given about writing the book," Alan Smith said.
Proceeds from the sale of "Never Had A Lesson In My Life" will be used to cover the costs associated with its production, printing, promotion and distribution, including administrative expenses, and to support the promotion, preservation and permanent public display of Daniel works in the Virgin Islands.
Tax deductible contributions can be made to the St. John Community Foundation (SJCF), P.O. Box 1020, Cruz Bay, Virgin Islands 00831.