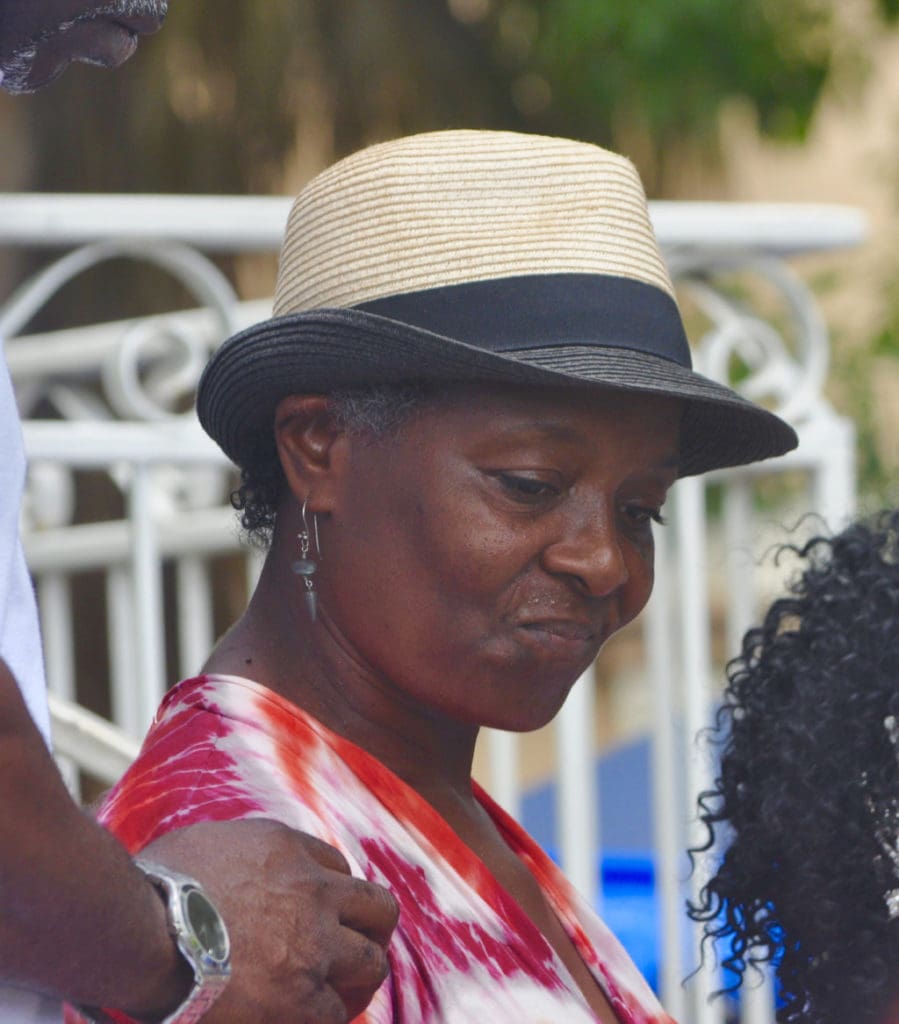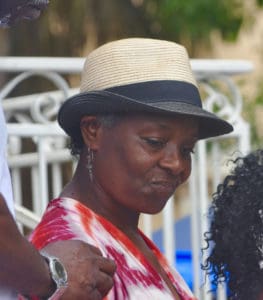 Karen L. Samuel, the honoree at this year's St. John Festival Food Fair, humbly accepted the recognition Sunday in honor of generations of family members who passed down valuable Virgin Islands recipes and cooking techniques.
Samuel, perhaps best known in the territory as a painter and clothing designer, said that although her homemade baked goods are in high demand, she was surprised that the St. John Festival Committee chose her as the 2017 Food Fair honoree.
"At first when they asked, I was like you guys don't have anybody else you can give that to," Samuel said. "It made me think about how I got into this baking thing."
During the Food Fair's opening ceremony, Samuel was introduced by her sister as someone who "approaches her cooking the same way she approaches her art: with great attention to detail."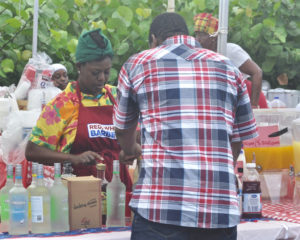 Long before Samuel pursued her bachelor's degree in art at George Washington University in Washington D.C., and before she returned to the territory to teach art at Ivanna Eudora Kean High School and the St. John School of the Arts, the first art forms she remembers being exposed to were culinary.
As a very little girl, Samuel said, she lived in Cane Garden Bay, Tortola under the same roof as generations of cooks in her family.
"At that time I was lucky enough to have a great great grandmother, and great grandmother alive. On Saturdays they used an outdoor masonry oven and they baked."
Samuel said one of her first memories is seeing people walking down the hillsides of Tortola with their bags, coming to get baked goods from the outdoor oven.
"The smell is like nothing else that I know of. Bread baked in an outdoor oven is sublime," she said.
Samuel said that after her mother married and moved to St. John, she was the head cook at Guy Benjamin Elementary School in Coral Bay. There she perfected recipes that many St. Johnians remember from their student days.
"Most of the kids who went to the school said she made school food taste good," Samuel laughed
St. John Festival Committee member Alecia Wells said she recalled Samuel's mother making special dishes for her son when he was a student at the school because there were certain things he couldn't eat.
"She truly was a person that looked out for the village," said Wells.
Samuel added that her mother also did baking demonstrations at Annaberg plantation, using an outdoor oven much like the one she remembered from her early childhood on Tortola.
"So I realized that with so many generations of baking in the family, it's kind of in the blood. We come from a family with very high standards, so while I'm feeling like I'm not supposed to be here because I'm not in my mother's league, and not in my great grandmother's league, I'm still working on it," Samuel said.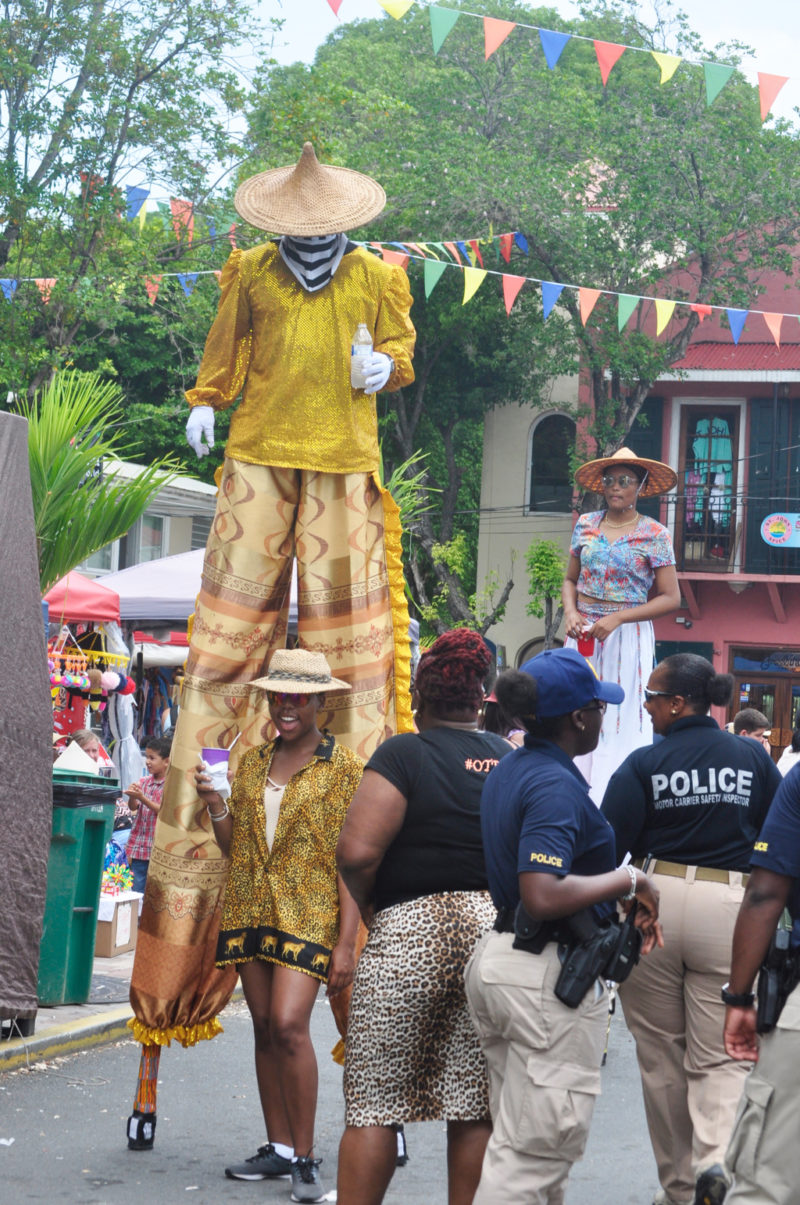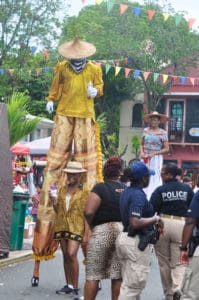 Food Fair was also the first public appearance of the newly crowned St. John Festival Queen and Princess. St. John's 2017 Festival Queen is Jeminie Niles. 2017's Festival Princess is Yamilette Diaz-Reyes.
Diaz-Reyes said her first duty as Festival Princess is to tell everyone to "enjoy our delicacies, jump up to sweet calypso music, and enjoy the festival celebration."
There was plenty to enjoy Sunday as booths selling fresh sugar cane juice, whelks and rice and dove pork lined the Cruz Bay waterfront near Franklin Powell Park. A few towering Mocko Jumbies strode through the crowds of fair goers, occasionally lifting up babies and posing for photos.
"We would not have a good festival without every single vendor," said Senator-at-Large Brian Smith. "We have a special environment on St. John. It's like no other. Every single person on St. John plays a role in this activity."
"Here we don't discriminate against anybody," Smith added. "We want to share our culture with visitors and also people from our neighboring islands, our cousins on St. Thomas and people in the BVI."
Artisan, herbalist and activist Delroy "Ital" Anthony, who was selling his "native crafts" at a prominently-positioned booth adjacent from the Cruz Bay ferry dock, had a different take on the status and place of St. John's culture on the island. According to Anthony, St. Johnian culture is becoming "buried."
"I think we've been brainwashed on a lot of different levels and we're not waking up," Anthony said.
He added that he felt that the Emancipation Day holiday on July 3 should be given more reverence during St. John's annual festival.
"90 percent of the people that come here might not know this was the emancipation. To me it's not being observed properly, it's not talked about, it's covered up," Anthony said.
The schedule of St. John Festival activities can be seen here.