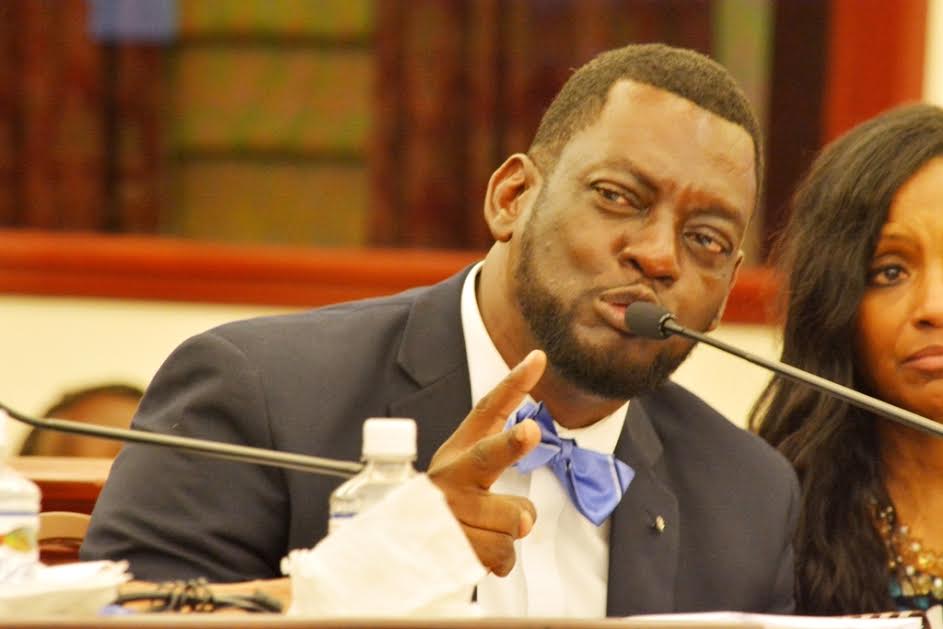 After months of uncertainty, the 32nd Legislature of the Virgin Islands voted Wednesday evening not to admit Senator-elect Kevin Rodriquez due to questions about his residency status during the 2016 election.
Eight senators voted not to admit Rodriquez while six voted to admit him. Sens. Marvin Blyden, Jean Forde, Novelle Francis, Myron Jackson, Neville James, Nereida Rivera-O'Reilly, Sammuel Sanes and Kurt Vialet – all members of the body's Democratic majority caucus – voted against seating the aspiring senator, a member of their party. Voting to admit him were Sens. Dwayne DeGraff, Alicia "Chucky" Hansen, Janette Millin Young, Positive Nelson, Tregenza Roach and Brian Smith – all members of the minority caucus except for Smith.
According to legal counsel for the Legislature, the next step in the process of filling the 32nd Legislature's empty St. Thomas-St. John seat is for a letter to be written to the district's Board of Elections informing them of the decision.
Counsel informed senators that the board can make one of two decisions. They can move to certify the April special election won by candidate Janelle Sarauw, who along with her campaign team asserted after the general election that Rodriquez did not meet the residency qualifications to be seated. Or they can call for a new special election if they determine that, because Rodriquez's win was never decertified, there was technically no vacancy at the time of the first special election. $90,000 was appropriated by the Legislature for that election, in which 14 candidates ran.
The Wednesday vote not to seat Rodriquez followed a 14-hour hearing on Tuesday at which senators heard sometimes contradictory testimony from three blocks of testifiers that included Rodriquez and Sarauw. Other testifiers included Supervisor of Elections Caroline Fawkes, Attorney General Claude Walker, Chairwoman of the V.I. Democratic Party Donna Christensen, and Rodriquez's former employer Ivy Moses, who also sits on the St. Thomas-St. John District Board of Elections.
Some senators expressed concern at Tuesday's hearing that the many hours of testimony had provided little clarity on Rodriquez's residency. Rodriquez claimed that multiple documents related to a 2016 bankruptcy case in Tennessee, on which he indicated he had no other place of residence but that state, were filled out by his lawyer and that he had not properly reviewed them. He said the Tennessee address was the residence of his estranged wife and his children, and that he had moved back to St. Thomas in January 2013 after being offered a job at medical non-profit HOPE Inc.
Contracts related to employment at HOPE also bore the same Tennessee address, a fact for which Rodriquez and Moses, the organization's director, blamed each other.
"There has been so much conflicting testimony that I can't really sit here and say I know for sure what went on," Vialet said. "You can't get a straight story from yourself, Mr. Rodriquez; you can't get a straight story from Ms. Moses; you can't get a straight story from your wife, who testified."
Meanwhile several testifiers stated that during the three years prior to the 2016 Election, Rodriquez had been on St. Thomas working, including at the Legislature as a legislative assistant. He also worked on multiple political campaigns.
Christensen said that it was her impression that Rodriquez was living in the V.I. when he approached her in 2013 about running her gubernatorial campaign, an offer she declined because she said she could not give him his desired salary.
"He then went to work on Stacey Plaskett's congressional campaign, but eventually also began to assist with mine in early 2014," she said.
At the end of Tuesday's hearing, which stretched into the early hours of Wednesday morning, no action had been taken except to subpoena St. Thomas-St. John District Board of Elections Chairman Arturo Watlington Jr., who had sent a letter to the Legislature declining an invitation to offer testimony.
Watlington said the board's position – that the challenges to Rodriquez's eligibility came too late for any action on their part – was well documented and any further input was unnecessary.
"It's the 32nd Legislature's show, other than my foregoing statements, I'm not a player therein," wrote Watlington.
Senate President Myron Jackson said later in the hearing that he found Watlington's response and refusal to testify, "most disgusting." He also suggested subpoenaing the entire District Board of Elections, although no motion was made to do so.
"It's very evident that the discussions that we've had this evening, the inconsistencies, the irregularities, the discrepancies deserves a response," said Jackson.
What was clear was that senators had the responsibility to make the decision on whether or not to admit Rodriquez.
On June 9, the U.S. Court of Appeals for the Third Circuit concluded months of complex legal proceedings on the Rodriquez matter by stating that it is the V.I Legislature who should make the final determination on the senator-elect's eligibility.
That decision echoed positions held by the Legislature's in-house legal counsel Yonne L. Tharpe since January, as well as arguments made by minority caucus members, and at times Rodriquez himself.
One reason that the matter of Rodriquez's eligibility was not easy to settle is that although the the Virgin Islands Revised Organic Act states that a member of the Legislature must be "a bona fide resident" of the territory for at least three years preceding his or her election, there is no definition of bona fide residency put forth in the document.
The V.I. Supreme Court determined that the term was interchangeable with "domicile" for which there is definition in the V.I. Code. That definition clearly states an individual cannot have more than one domicile and that a domicile is not given up until another is established.
Even those senators who felt the evidence pointed towards Rodriquez being a bona fide V.I. resident chastised him for signing legal documents with his Tennessee address when he was not living there, whether it was a simple mistake as claimed or an indication of dishonesty.
"Kevin you signed things you ain't read. Bad practice," said Sen. DeGraff. "You seemed suspect; when you were questioned you gave different answers. Bad practice.'
But Degraff ultimately decided Rodriquez was likely a bona fide V.I. resident in the three years prior to the election when he heard testimony about work contracts signed in the V.I. for which Rodriquez was being continuously paid.
Sen. Nelson similarly voted in favor of Rodriquez's eligibility to serve, despite some misgivings about some of the hearing's more confounding testimony.
"To me the matter is a qualification test, and in particular does Mr. Rodriquez meet the residency requirements," Nelson said. "There are numerous questions and concerns being raised about the character of the individual, and I'll admit there are maybe questionable behaviors and some inconsistent responses. But let me ask you another question, are any of us without fault?"
For Sen. James, the majority leader, the documents bearing Rodriquez's Tennessee address could not be overlooked, especially since they were filed in court in another jurisdiction.
"In effect he disqualified himself from being a bona fide resident in the Virgin Islands. He did it," James said. "I know that a lot of people are making this a case of 'Rodriquez vs. the Legislature of the Virgin Islands.' But it's not. It's 'Rodriquez vs. Rodriquez under oath.'"