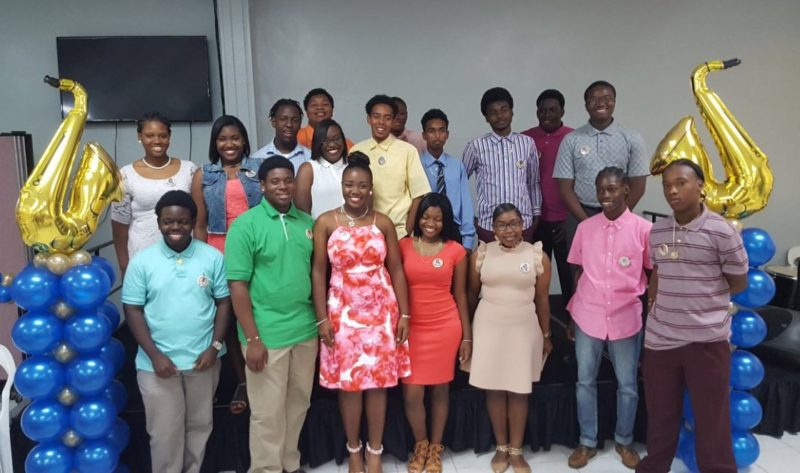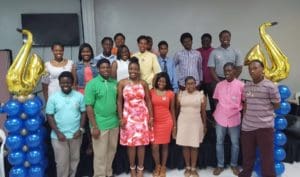 Be prepared. Stay focused. Make no excuses. Work to your fullest potential. These were some of the nuggets of advice members of the Charlotte Amalie High School (CAHS) Music Department's Class of 2017 offered the rising seniors. On Sunday, June 18, at the UVI Sports and Fitness Center, the group of 16 students were some of the first to walk into the arena and be seated stage right to provide musical accompaniment on the biggest day of their lives — their high school graduation.
These high-spirited seniors were interviewed inside the Music Suite for a candid discussion on being in the band, their final year in high school and their plans for after graduation. It was obvious that this was no ordinary school band, but a true family of musicians.
Many of the students started playing their instruments in elementary school, while others come from musical families. The one thing they had in common is the fact that they were all influenced by other musicians.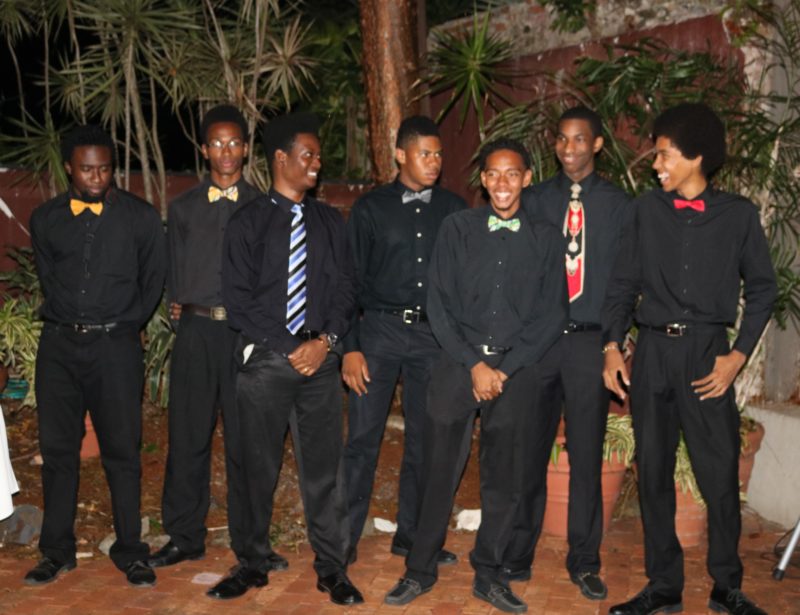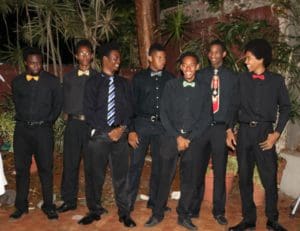 "I've been playing the drums for as long as I could remember," recalls Nyere Francis Jr., of his introduction to music. Francis, who goes by "Lil Nyere," is the son of local drummer Nyere Francis Sr., who has performed with Jam Band.
Eljhaie Brathwaite, a member of the V.I. Youth Ensemble jazz group, credits his musical influences to local musicians Victor Provost and Dion Parson. He is a trumpet player in the elite jazz combo and plays the steel pan.
The group revealed its collective appreciation for Zouk—a mix of African, salsa and jazz music popular in the French West Indies. As all true musicians do, the students said they enjoy all types of music and pay attention to a variety of sounds when listening to any one genre.
Drum Majors K'Risa Chesterfield and Khalil Finch spoke about their role leading the band in performance.
"Being a drum major is a huge job," Chesterfield said. "We are tasked with leading a group of our peers in the right direction. We have to be able to think on our feet and fill in when the band directors aren't available."
Finch agreed and further pointed out that drum majors take lead on performance specifics, such as attire and venue preparedness.
The group, which spent at least ten hours a week performing and practicing, argues that sports and music are more alike than many realize. This school year, all four of the public high school marching bands participated in both the 2017 St. Croix Festival and St. Thomas Carnival Children's Parades. The opportunity allowed the band students of both islands to connect with each other through a cultural exchange.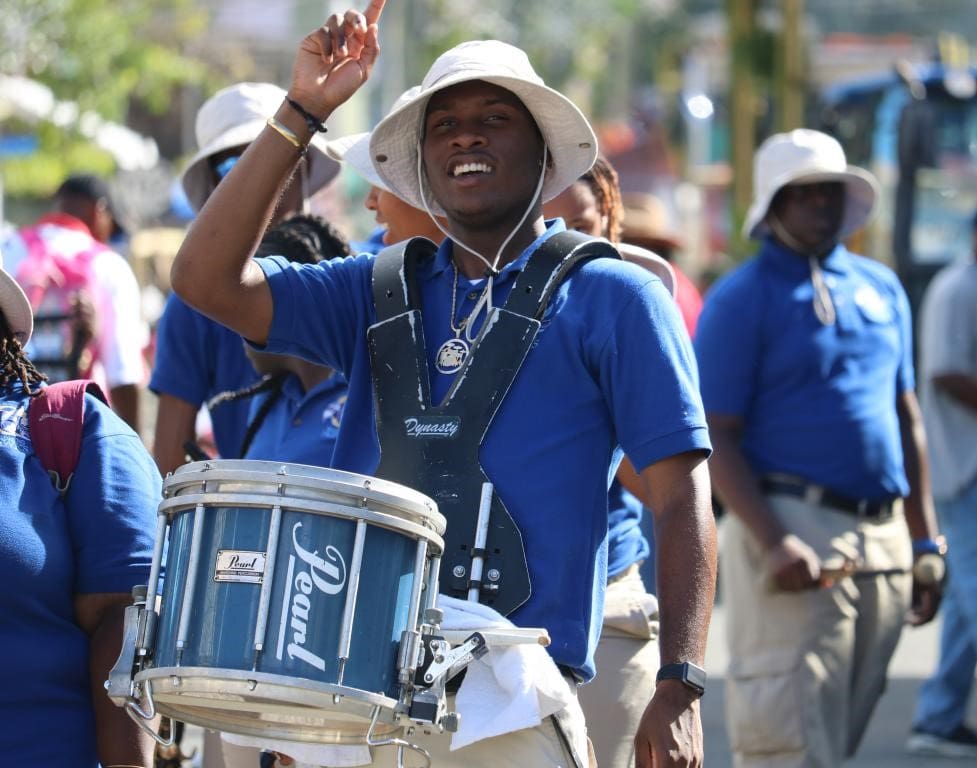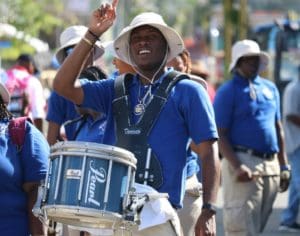 Without their instruments and obligations to the band, the students are simply a set of friends who share a common passion for music. This year, their friendship forged a first-time Band Weekend. During the four-day weekend, they enjoyed a beach day, caught a movie, attended a senior-recognition luncheon and supported their friends at the Ivanna Eudora Kean High School Spring Concert. In fact, the two high school music students regularly enjoy joint performances.
While most of the students agreed that balancing music and academics required skillful time management, Kianna Harrison, SCECHS clarinet player and drum major, considers music an integral part of her life. "Time management is important, but for me, music doesn't feel like an extracurricular activity; it's just a part of my life," she said. "Just as I wake every morning to go to school, I play music."
Harrison also revealed that her fellow bandmate, Keshawn Hardy, inspires her. She spoke highly of the skilled trumpet player, noting that he plays a large role in ensuring that all the students understand the music. Hardy, a member of the VI Youth Ensemble, recently received the Jerry Silverberg Trumpet Award presented by the United Jazz Foundation and the Community Foundation of the Virgin Islands.
SCECHS percussion section leader and member of the VI Youth Ensemble, Deon St. Jules said the band helped him develop character. "Being in the band brushed up on my leadership skills, especially when I became section leader," he said. "It also helps us with our sportsmanship, conduct, respect and gives us a sense of responsibility."
One of the later-blooming musicians, Omari Auguste, began playing the trumpet in the 10th grade and credits SCECHS band director Kevre Hendricks for his progress, love and understanding of music. He said joining the band was the best decision he's made in high school and that it has opened many doors for him.
Auguste plans to attend the University of the Virgin Islands – St. Thomas campus and major in music education. "I rarely hear about music teachers at the elementary level, so I want to teach the younger kids," he said. "I started playing music late and I regret it because I would be a much better musician if I had the experience of growing and evolving from a young age."
Brathwaite will attend George Mason University in the nation's capital to study music under the guidance of Victor Provost. Joseph plans to attend North Carolina Agricultural and Mechanical University and major in physical therapy. She is also interested in joining the university's award-winning band. Chesterfield will attend Virginia State University and major in political science with plans to join the marching band.
Tisean Paul, a CAHS saxophonist, sums up the students' whirlwind year, "We're just having a fun time showcasing our talents."