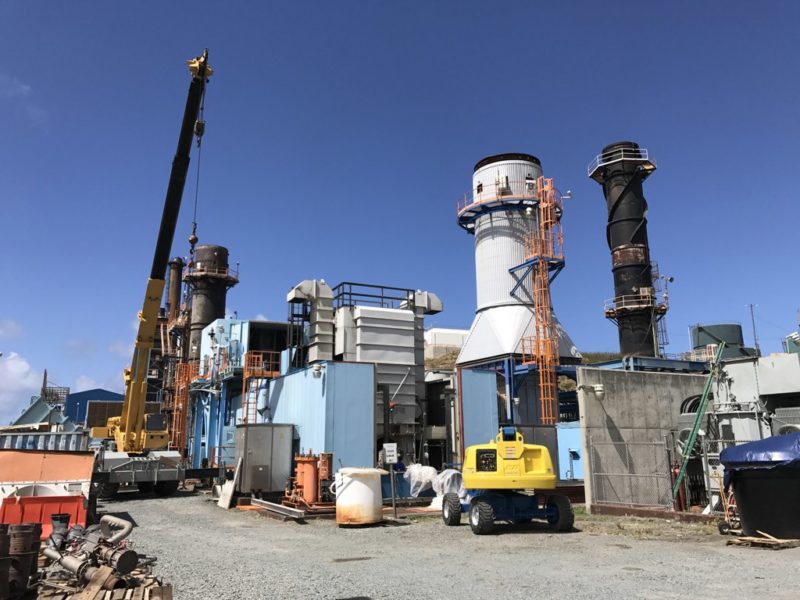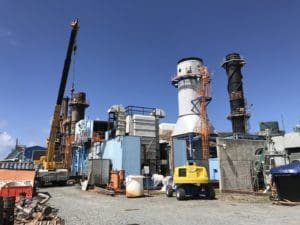 While unpaid bills have kept the V.I. Water and Power Authority in negotiations with its propane supplier, officials have established a plan behind the scenes to build the utility's reserves so that in times of low cash flow, operations can remain intact.
Right now the authority is building, officials said, and has been working on putting in new generating units, saving money with its ongoing streetlighting initiative and looking at growing its finances with a new base rate that will yield $15.8 million a year. The base rate and levelized energy adjustment clause rates work hand in hand – one covers fuel costs while the other covers operations – and WAPA head Julio Rhymer told the Source recently that the goal of all these initiatives to is grow its cash on hand reserves so that it can do small capital projects, pay bills and levelize spikes in fuel as they come up.
Base Rate and the LEAC
On the most basic level, Rhymer said that the LEAC covers what the authority spends on fuel, while the base rate covers "everything else," which includes everything from maintenance needs, capital expenses and the authority's bond debt, which totals more than $260 million.
The LEAC, meanwhile, is what pays for the propane or fuel that the authority is still burning as its negotiations with propane supplier VITOL continues. The LEAC is adjusted every six months and to obtain a rate increase, the utilty lobbies the Public Services Commission for a rate that's based on estimates that look ahead six months. The market fluctuates daily, sometimes even by the hour, Rhymer said, and based on the amount that the electric LEAC increases or decreases, WAPA is able to recover its costs or not.
WAPA is also mandated by law to petition the PSC for a base rate increase every five years, but has found it more realistic to seek one every three years.
"When you look at your operating expenses and you look at your debt, there are several things that lead to us wanting an increase in the base rate," Rhymer explained. "Your ability to cover costs is diminishing over time and your capital needs are driven by the base rate." Like most utilities, WAPA goes to the bond market to cover capital projects but has to be mindful that it does not default on its bond covenants, and Rhymer said that the utility pushes for additional rates in order to cover the infrastructure investments.
"Besides that, you look at operating expenses and over time there is inflation, prices of goods and services increase and to keep lock in step with that, the utility is required to basically come back for more operating cash to cover expenses and to build cash reserves," Rhymer added.
Building Cash Reserves
Sometimes, the LEAC and base rates can be exactly right, but if the authority's per kilowatt hour sales are low, or it is not receiving all the cash it is owed by customers – such as the territory's hospitals – then WAPA has some holes to fill. WAPA's goal in recently seeking a base rate increase is to pad its coffers with enough cash that it doesn't have to go back to the market to cover a small project or a spike in oil prices.
Meanwhile, the extra cash will actually put WAPA back into a good place, Rhymer said. WAPA currently has an agreement with Finnish power giant Wartsila to build three new generators that will be capable of producing seven megawatts each. He said the units are expected on St. Thomas in early 2018 and should be running by mid-year. As many as 12 new generators could be purchased from the company and Rhymer said that by year five or six, WAPA expects a $20 million per district savings.
Meanwhile, WAPA has continued to upgrade all of its old sodium streetlights to LEDs and has leased streetlight attached solar panels to further boost energy efficiency. With new generation methods like these in place, Rhymer said the investment is paid off quickly by the savings, which allows WAPA to increase reliability and efficiency, in turn lowering rates for consumers and adding to the utility's cash reserves.
The Domino Effect
The driving factor in every situation, however, is money. If cash is low, for example, WAPA has no ability to maintain its equipment, it becomes more inefficient over time as machines break down and there is an increase in costs across the board which forces the utility to choose between needs such as maintenance or fuel.
On a larger scale, Rhymer said, everything is also driven by the state of the economy and if the economy is bad, then the picture looks worse.
"Everything in the Virgin Islands is tied together," Rhymer said. "If the economy isn't right, customers' WAPA bills become high, and then it becomes a domino effect. We can't do major capital projects properly, I have to delay major maintenance or not pay a bill and what compounds the issue is if one of the larger customers, like the hospital, doesn't pay its bills. It all adds up to lower cash flow."
WAPA is trying "to fix these issues" by being more innovative, he added. New generation is key to the process because it takes out an older generating fleet that hasn't been maintained properly. Rhymer said that each generating unit should be scheduled for overhaul every five years but instead, machines such as Unit 23 – WAPA's workhorse generator – wait seven or eight years for repairs.
"We are really trying to be more efficient," he said. "We want to be in a place where we can do maintenance on a regular basis, be more reliable, and build up a capital reserve, but that takes time." Rhymer explained that the $15.8 million expected from the base rate increase will allow WAPA to secure more debt and add to its plan for new generation.
"In this base rate case, there is still a pending amount on the system for an additional $22 million," Rhymer added. "That will take us into the future and go toward the cash reserve. It also puts us in a better position so that we can withstand some of the ebbs and flows of the economy and also do other capital projects on the transmission and distribution side that will really harden our system outside of the plant."