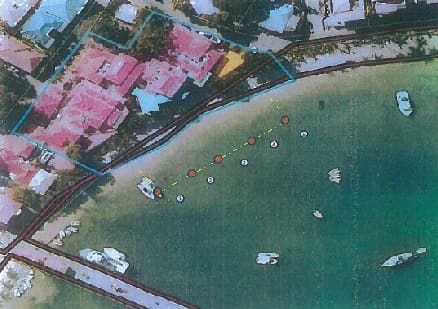 The 32nd Legislature's Committee on Housing, Public Works, Waste Management and Planning approved three minor Coastal Zone Management permits Wednesday, including a plan to create a swimming area at Cruz Bay Beach in front of Wharfside Village.
WVJD, LLC, the company that owns Wharfside Village, applied for the swim zone permit, which was forwarded to the full body of the Legislature after a brief committee hearing at Cruz Bay's Cleone Creque Legislative Conference Room.
Minor CZM permits, which cover developments valued at less than $66,000, do not require public hearings.
WVJD LLC's plans for the Cruz Bay beach include an installation of four swim buoys spaced approximately 40 feet apart, and one channel marker, which will create a 190-foot-wide swimming area. A 38-foot-wide dinghy access channel is included in the plan.
If the permit is approved, the swimming area will consist of the area of ocean immediately in front of Wharfside Village. Currently it is common to see powerboats, including charters, pull up to the shore.
The special conditions of the permit require the swimming area to extend to a minimum of 100 feet off the shoreline. The permit also authorizes the installation of two private moorings at a minimum of 15 feet beyond the swimming area.
The moorings are being installed for the use of charter vessels that will be no longer able to enter the swim zone. The vessels that will be allowed to moor there will be no larger than 25 feet according to the permit.
The annual rental fee charged to WVJD, LLC for the submerged lands used by the entire project is $1,300, a $500 charge per mooring and $300 for the use of the swim area.
Also being considered at Wednesday's hearing were two permits for small private docks, one to be introduced to a parcel in Fish Bay for the months of November through May, and the other already existing on Lovango Cay.
All three permits had been endorsed by the Department of Planning and Natural Resources' Division of Coastal Zone Management, and met with favorable responses from senators. All committee members present – Sens. Jean Forde, Neville James, Marvin Blyden, Brian Smith, and Janette Millin Young – voted in approval of moving the permits forward. Sens. Alicia "Chucky" Hansen and Sammuel Sanes were absent from the hearing.
Also on the committee's agenda was the consideration of a bill introduced by Sen. Dwayne M. DeGraff that would introduce a 50 percent discount on mooring fees for senior citizens, veterans, and persons with disabilities. The committee decided, however, to hold the bill in committee until their next meeting and heard no testimony on it.