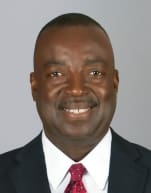 Lt. Gov. Osbert E. Potter departed the territory on July 25 to attend the National Lieutenant Governors Association (NLGA) annual meeting in Nashville, Tenn.
The NLGA is the professional association for the elected officials first in line of succession to the governors in the 50 states and five U.S. territories. At this meeting, participants will discuss state strategies in education and workforce; lieutenant governors' key initiatives and outreach; state strategies in public health and public safety; state strategies in energy, environment and agriculture; and state strategies on national, international and military affairs.
During the last NLGA 2016 annual meeting, Potter was successful in securing St. Thomas, Virgin Islands, as the next meeting location for the NLGA Business Meeting in November 2017.
In accordance with the Revised Organic Act, Senate President Myron Jackson will serve as acting lieutenant governor. Lt. Gov. Potter will return to the territory on July 28.