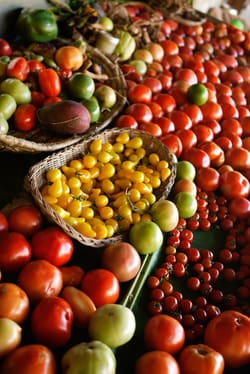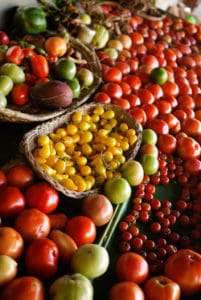 Community-Supported Agriculture (CSA) members now have the option to get local, certified organic produce on St. Croix through a Ridge to Reef Farm (R2R) mini-fall season. This means that — unlike their traditional 14 to 15-week season — this one will be only for eight weeks starting Aug. 19 and ending Oct. 7, a Saturday to a Saturday. It provides St. Croix residents who are reserved about trying a long season CSA with the opportunity to join other long term seasonal R2R Farm CSA members who are committed to:
eating healthful foods and preparing them for their families
supporting their local farmer
being kind to our planet
learning something new and
being adventurous in the kitchen.
What is a CSA?
CSA (community-supported agriculture) is a subscription to a season's worth of sustainable, locally-grown produce that is distributed to members throughout the harvesting season. It is a form of investment that allows small farmers to continue growing on a scale that may not be sustainable without the CSA model. CSA members enjoy the quality of fresh fruits and vegetables for their family, while supporting their local farmer.
How does it work? Getting food from R2R Farm: CSA is different from going to a farmers' market or using a grocery delivery service. A CSA member makes a seasonal commitment to a small farm, and the produce is either home or office delivered on Saturdays or available for pick up between 10 a.m. and noon, Saturdays at the 'Chan' Hendricks Market Square, next to the post office in downtown Christiansted. Members know where and how their food is grown, and they typically have an open line of communication with their farmer; they are getting local certified organic food directly from farm to their kitchen.
"Our fruit, egg, and meat share has been, literally, life-changing," said a Summer 2017 CSA member.
"CSA is all about getting 100 percent nutrition from the foods you eat that are grown in a sustainable way," according to Shelli Olive, the farm's fruit farmer and market coordinator, who is at the Christiansted pick up location. She walks a CSA member through the ingredients and teaches how to prepare new items, learning through recipes how to substitute with local ingredients.
Community Impact
One of the biggest community impacts of the CSA is that the farm also grows food for the public school system through the National Farm to School Program. This means that when a CSA member buys a share, they not only are feeding their own families, they are feeding students through the F2S program.
How to Sign up
To join the Early Fall CSA and support R2R, sign up for a share through the Web site: www.ridgetoreef.csasignup.com/members/types. You can also read more about the CSA at www.ridge2reef.org/csa for more information.
"Sign-up is easy and best part is it's affordable," said Shelli. "To learn more and to join us for the Early Fall 2017 season, you can reach us at 220-0466, www.ridge2reef.org ir csa@ridge2reef.org or visit the farmers' market from 10 a.m. to noon on Saturdays in downtown Christiansted. Payment can be done by check or PayPal.
About Ridge to Reef Farm
Founded by Dr. Nate Olive in 2010, Ridge to Reef Farm is the only USDA certified organic farm in the USVI that follow over 100 best practices outlined in the National Organic Program. No synthetic chemicals or pesticides are used to grow food. Produce is 100 percent GMO-free, powered by the sun.