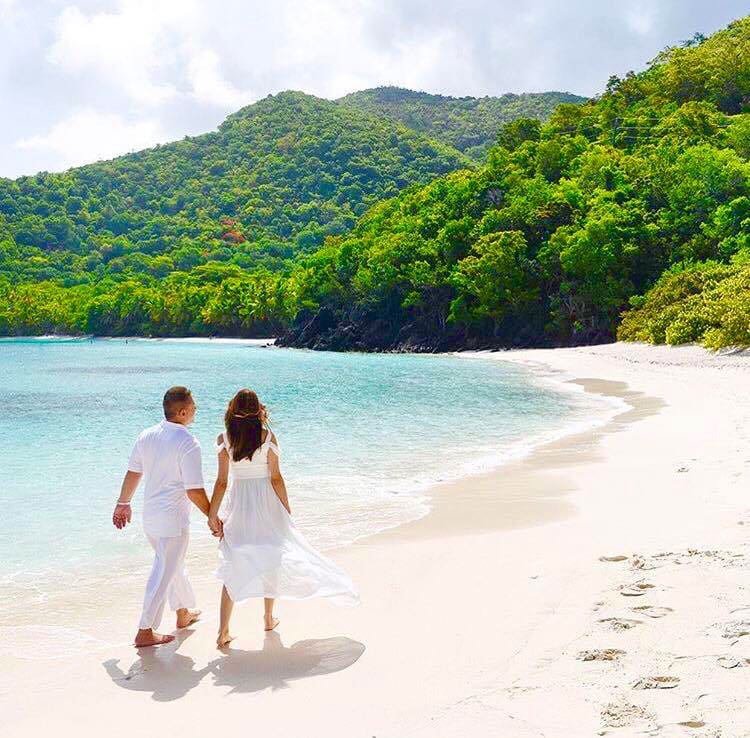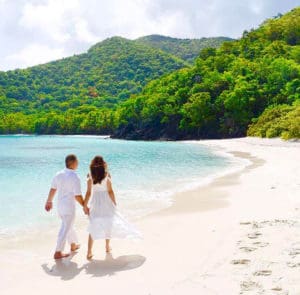 When the travel website TripAdvisor announced in July that St. John ranked among the top 15 honeymoon destinations in the United States, local wedding planners were pleased, but not at all surprised.
"I think it's been a destination for a long time," said Mary Bartolucci, owner of Island Style Weddings.
The "Wedding Moon" – where a couple comes to a place to have their wedding, and then stays for a honeymoon – has been a popular choice for visitors for the 16 years that she's been in business, Bartolucci said.
TripAdvisor did not try to separate out those who came to St. John to get married from those who came just for their honeymoon, according to Ashlee Centrella, the company's digital public relations specialist for vacation rentals.
The Family Court Division of the Superior Court of the Virgin Islands issued 1,894 wedding licenses in 2016, according to Brenda Monsanto, the court clerk supervisor. –Monsanto said the court does not keep statistics on how many marriage licenses are granted to Virgin Islands residents as opposed to couples from off-island.
Bartolucci said the vast majority of couples she works with live in the States and elsewhere.
"A lot more people know where St. John is now," she said. The island's nickname, "Love City," may be part of the appeal.
Although some couples elope and arrive alone, or with a few intimate friends or family members, many more couples now are bringing in groups of 40 or more.
"The beauty of a destination wedding is the guests get to enjoy the wedding, a family reunion, and a vacation," Bartolucci said. –"Usually, there's a series of events before when the guests get to spend time together, and then they leave after the wedding to give the couple time alone."
Anne Marie Porter, of stjohnweddings.com, has married approximately 5,000 couples in the 20 years that she's been "blessed to be in the destination weddings business." –She thinks St. John is an ideal location for many reasons.
"First, it's always summer, so couples can come here any month of the year and enjoy lovely, warm, romantic weather," said Porter.
Furthermore, the Virgin Islands National Park, with its hiking trails and pristine beaches, offers beauty and solitude.
"As most of the island has not been commercialized, it gives newlyweds a relaxed, private place to commune with nature and each other," she said.
Bartolucci said the type of people who choose St. John tend to "appreciate natural beauty and need less 'production.' –They're not into all the bells and whistles. –They've often been together for several years. –They're hikers and water enthusiasts who prefer understated elegance."
Porter also said the range of accommodations available makes St. John attractive to newlyweds.
"Some couples want to be within walking distance to the action – bars at sunset 'happy hour,' live music, great eateries – so they have choices of boutique hotels, in-town inns, bed and breakfasts, condominiums. – Other couples want quiet and privacy, and there are hundreds of vacation homes that offer that," she said.
TripAdvisor selected St. John as one of the top honeymoon sites based on customer reviews of vacation rentals, according to Centrella.
"Our data science team has a proprietary algorithm that crawls [through] every single rental review on our site, assigning certain themes to destinations based [on] how closely their reviews represent that theme," she said. –"These 15 destinations have some of the strongest honeymoon/romance related reviews across the whole USA."
Other sites chosen by TripAdvisor customers include the Smoky Mountains, Malibu, California, and Hawaii.
Of course, not everyone who gets married on St. John stays on island for the honeymoon. –One stateside couple, who organized a destination wedding on St. John several years ago, left their guests after the ceremony and flew off to Anegada, an even more remote destination, for their honeymoon. –They now operate a guest house on St. John that caters to newlyweds.
One of their co-workers said, "Newlyweds make the best guests. –They're always really happy."