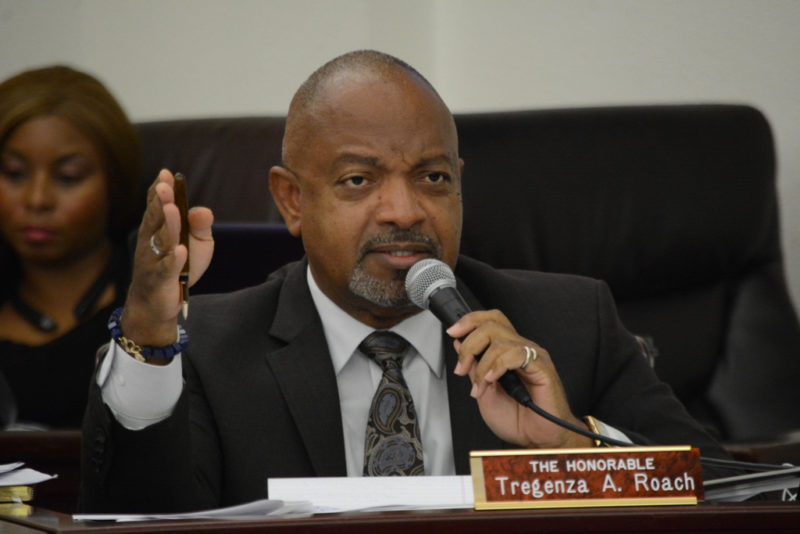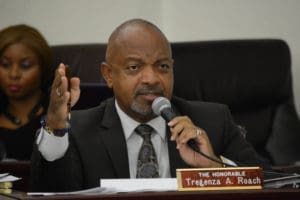 Senators peppered representatives Virgin Islands Public Employment Relations Board and Virgin Islands Labor Management Committee on three issues – government employees' dissatisfaction, rent payments and employee training – at the Committee on Finance budget hearing Thursday.
Sen. Tregenza Roach said that government employees have become increasingly frustrated because in recent negotiations employees hear wages can't be negotiated. He asked, "If money can't be negotiated what really can be negotiated?"
Avery Lewis, labor co-chair on the Labor Management Committee, responded that he too was constantly hearing complaints from government employees. He said that the complaints were especially significant because of the rising contribution employees were being forced to make for insurance and to the Government Employee Retirement System.
However, he added, "The government is not in a position to give salary adjustments."
Sen. Kurt Vialet, chair of the committee, said that the government was paying some "exorbitant amounts" for rent. Senators calculated that PERB was paying an average of $30 per square foot of space while VILMC was paying $44 per square foot. He placed the blame for high cost of rent to "every government agency believing it has to locate in the capital."
He added, "It would be more cost effective to find rental space on St. Croix instead of St. Thomas."
Sen. Nereida Rivera-O'Reilly brought up the subject of training for managers "so we don't end up with all those cases in PERB."
She cited a case where the government spent three years in litigation and lost because management did not document the employee's history.
The PERB budget request for fiscal year 2018 is $1.3 million. This amount represents $208,620 over the governor's recommended budget.
"Although the PERB is mindful of the current budgetary constraints, we must also be honest and realistic with our needs to ensure that we request adequate funding to, at a minimum, cover recurring operating costs as well to ensure costs associate with our legal requirements," Pierina Jacobs-Feldman, chair of PERB, said in her opening statement to the senators.
She added that PERB is a board independent of the government and the primary recourse for government employees to address labor matters. The board has five members and 12 employees whose salaries range from $31,000 to $92,000 and total $654,000. Its rental expense for 2018 is projected to be $114,329.
In a press release after the hearing, Zandra Peterson, executive director and certified officer of PERB, stated that PERB needs the additional appropriation of $208,620 to assist the board in continuing "to serve the employees of the government of the Virgin Islands while maintaining a positive relationship with our vendors."
Yirah Farrington, administrative assistant to the VILMC, noted that the committee budget of $175,000 would mean no increase for the agency in almost five years. In her written testimony she stated, "Due to the increased cost of salaries and operating cost of business in the Virgin Islands" a $5,000 increase was needed. She broke some of the expenses as follows:
– $96,000 for personnel, which includes one part-time employee and two full time
– $16,200 for health insurance and fringe benefits
– $63,000 for professional services, workshops, communication and rental space.
According to post auditor Jose George, the governor recommended the VILMC be cut by $17,000, to $158,000.
Lewis pointed out in his opening remarks that the VILMC teaches the use of mediation and arbitration as the preferred process for settling labor issues. He also said it works to develop the practice of conflict resolutions and improve management-employee communication.
Vialet, in his closing remarks at the ending of that segment of the hearing, told the two agency representatives. "I believe these two should be merged."