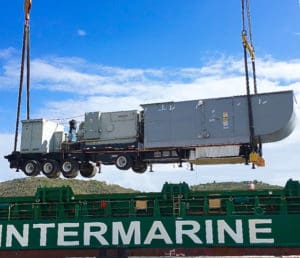 The acrimonious relationship between the Public Services Commission (PSC) and the Water and Power Authority (WAPA) was on exhibit at the Virgin Islands Senate Finance Committee budget hearing on Tuesday.
Donald Cole, executive director of the Virgin Islands Public Services commission, was expressing concern that WAPA had ceased using propane and gone back to using oil and had not informed the PSC that it had.
"We learned about it from the newspaper," he said.
While Cole was talking, Finance Committee Chair Kurt Vialet interrupted him and said he had just received a text saying that St. Croix plant was again using propane. Conversion to propane has been promoted by WAPA as the way to cut costs and residents rates.
Sen. Tregenza Roach commented, "I am very disappointed; this propane was supposed to revolutionize our power paradigm."
When asked how much more it was costing WAPA when it had to revert back to burning oil, Cole said he could not give a definite figure but added, "Without a doubt the cost of oil is higher than the cost of propane."
He said that a main duty of the PSC was to ensure that WAPA rates were high enough to keep WAPA solvent but low enough not to be "gouging the residents." He said that task was made more difficult when information was not forthcoming from WAPA. He said he expected WAPA would be asking for some "recovery" in a rate hike because the present rate was based on the power authority burning propane. He also said a request to double the base rate was being considered.
This alarmed a couple senators who said this was "serious."
Cole said that WAPA now had to pay for the infrastructure changes that enabled the conversion to propane. The cost of that conversion was projected to be $87 million but before the project was completed the price tag had almost doubled, to $160 million.
Cole told the senators that the PSC had not yet approved any recovery funds for the additional $73 million for the propane conversion.
"That figure pales what is owed by the government – $18 to $20 million," he said.
He said WAPA officials claim that what the government owes the authority is causing it to go broke, but WAPA officials just shrug off the $73 million.
Responding to a request from the Source Wednesday, WAPA spokesman Jean Greaux said "There has been no change in WAPA's plan to use both LPG and Number Two oil in the generation of electricity at both power plants. When the contract dispute erupted with VITOL, the LPG terminal owner/developer and LPG fuel supplier, the propane fuel flow was suspended in both districts. We have resolved the dispute with VITOL and our plant personnel will soon have the ability to tap either fuel source in the generation of electricity."
Concerning the PSC budget, Cole said that the projected budget for 2018 is $2.8 million, with expenditures at $1.8 million; personnel services and fringe benefits of $1.3 million; capital outlays of $9,200. $473,320.50 will cover electricity, water, office supplies, repairs and maintenance, automotive repairs, rent land/building, professional services, security, communication, advertising, transportation, insurance, travel and other services.
The PSC has 17 employees.
PSC is responsible for regulating all public utilities including: electric and water services; telephone and cable services; ferryboat franchise services; and the Waste Management Authority.
Valdamier Collens, commissioner of the Department of Finance, testified to the Finance Committee Tuesday morning before the PSC.
His recommendation for the general fund appropriation for his department is $4.9 millio. This is a 10 percent reduction from 2017. The proposed budget includes $778,095 for the Government Insurance Fund, $217,749 for the Indirect Cost Fund and $5.9 million for combined Appropriated Funds.
The department in 2016 had 54 employees but now only has 53 because one at the Board of Tax Review was found to no longer be needed.
The department budget breakdown is: $3 million for personnel services, $1.1 milllion for fringe benefits, $1 million for other services and charges, $94,000 for capital outlays, $360,000 for utilities and, $217,329 for supplies.
The Finance Committee Tuesday also heard from Nellon Bowry, director of the Office of Management and Budget. He stated that his office request for appropriation is $4.44 million, including $2.45 million from the General Fund and $1.99 million from the Indirect Cost Fund.