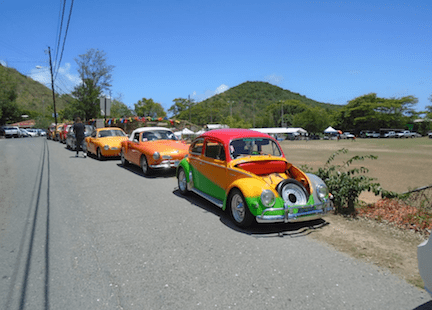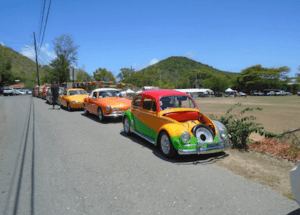 Fans of vintage cars are being invited to celebrate Labor Day in Coral Bay. Organizers of the 3rd Annual Love City Car Show say they expect to see hundreds of vehicles displayed on the Moravian Church Field.
Vintage bugs, muscle cars and sleek convertibles are among the entries expected at the show Sept. 4. This year organizers say they're adding children's activities.
Producing the show are two island residents who formed a friendship over their love of cars. Jay Swartley and Al Smith first put their vision for a car show together in 2015. This year, they said they're hoping to add entries from St. Croix and the British Virgin Islands.
"The show involves locals, tourists and most of all the young people. Expanding to include St Thomas was important and now this year 2017, we are inviting St Croix and Tortola in the British Virgin Islands," Swartley said.
Car hobbyists most recently brought their finely tuned machines to Veteran's Drive as part of the 2017 Carnival celebrations. Spectators admired engines, custom wheel hubs and air brush designs on the outside.
"For the Third Annual Love City Car Show the venue has been moved across the island to the Coral Bay Ball Field, where there will be space for over 300 vehicles," Swartley said.
Car owners are also being encouraged to join the Labor Day Parade, sponsored by the St. John Festival and Cultural Organization.
"St John Festival Committee hosts a Labor Day Parade and other family oriented activities in Coral Bay every year. So the decision was made to share the field and add some more attractions to the Labor Day Event with the help of the Love City Annual Car Show," the organizer said.
The short community parade is scheduled to start around 11 a.m. and leads to the show venue at Moravian Church field. The show begins at 1 p.m.
In addition to a live deejay providing entertainment, plans are set for a Hot Wheels model race track where children can indulge the need for speed.
"We have a Hot Wheels race track and will be providing a car for each child with their $2 admission to use on the track. Adult admission is $5. There also will be radio controlled cars and boats on display from our local community hobbyists," Swartley said.
An awards presentation caps off the day at 3 p.m.
A portion of the proceeds from the Love City Car Show were donated last year to a local youth organization. The Love City Pan Dragons received a donation from car show organizers in 2016.