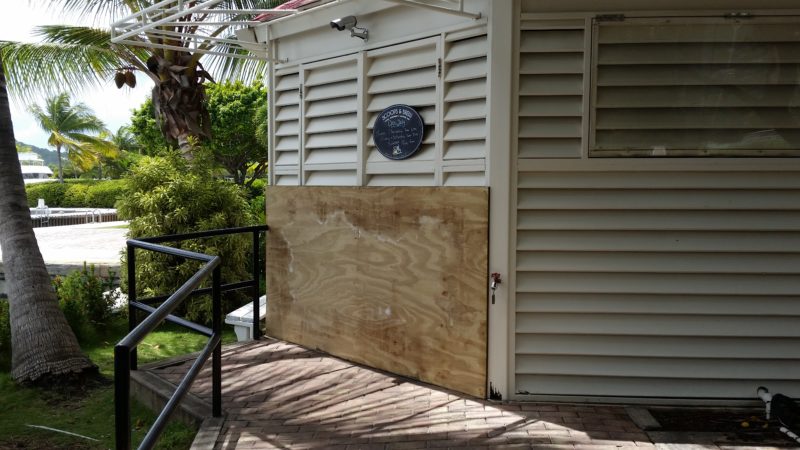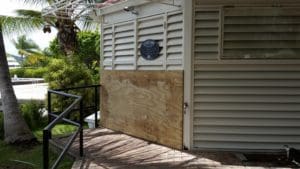 A wide array of V.I. government agencies and private businesses are closing or having reduced hours due to the approach of Hurricane Irma. Airports and seaports are preparing to close. Shelters are open. There is a curfew for all non-emergency personnel beginning at 6 a.m. Wednesday until at least 6 p.m. Thursday. Many other events and meetings previously scheduled for before, during and after the storm are being postponed.
Ferries:
There is no ferry service to the British Virgin Islands or St. Croix. There is also no ferry service to St. John from the Charlotte Amalie Waterfront on St. Thomas. The last ferry from Cruz Bay, St. John to Red Hook, St. Thomas departs at 6 p.m. Tuesday. The last ferry from Red Hook to St. John departs at 7 p.m. There will be no ferry service between St. Thomas and St. John until further notice.
The last barge leaving St. John to Red Hook, St. Thomas will depart at 4:30 p.m. Tuesday. The last barge leaving Red Hook to St. John departs at 5:30 p.m. Tuesday. There will be no barge service between St. Thomas and St. John until further notice.
Both the Cyril E. King Airport on St. Thomas and the Henry E. Rohlsen Airport on St. Croix will close 6 p.m. Tuesday and will not be opened Wednesday. They had been scheduled to stay open later. But the V.I. Port Authority has decided to close the airports earlier because the Federal Aviation Administration towers at the airport will also be closed at 6 p.m. Gov. Kenneth Mapp said in a statement that all flights scheduled to depart Tuesday will have left by that time; therefore, no flights will be affected by the 6 p.m. closure.
Flights:
Seaborne is not operating its seaplane service, but will continue its airport service between St. Thomas and St. Croix until 3:30 p.m. Tuesday.
Sea Flight and Cape Air have canceled all flights today, and until Thursday, September 7.
All flights from major airlines are arriving and departing as normal Tuesday, except for Spirit, which has canceled flights today and tomorrow.
All major airlines have canceled flights to the USVI on Wednesday.
Jet Blue has also cancelled morning arrival and departure for St. Thomas on Thursday.
Travelers are urged to contact their airlines directly for flight information:
American Airlines: 1-800-433-7300
Cape Air: 1-800-352-0714
Delta Airlines: 1-800-221-1212
Jet Blue: 1-800-538-2583
Seaborne Airlines: 1-800-359-8687
Spirit Airlines: 1-800-772-7117
United Airlines: 1-800-864-8331
US Airways: 1-800-428-4322
Government:
All government offices closed early Tuesday and remain closed through Wednesday, when the brunt of the storm is expected to hit. That includes all schools, libraries, courts, Bureau of Motor Vehicles and every other government office. Emergency services are still available by calling 911.
Sandbag distribution stopped at noon Tuesday.
The St. Thomas East End Medical Center closed at 1 p.m. Tuesday. The health center will remain closed on Wednesday and plans to resume services following an internal damage assessment and after an official 'all clear' is announced by public authorities.
The University of the Virgin Islands closed at noon on Tuesday until further notice. Students residing on campus, who have permanent residences on island, are advised to return home. University employees are advised to secure their work areas before leaving UVI by noon. Plastics and sand bags are available at Physical Plant on both campuses. Only essential employees are required to stay on campus for the storm. UVI has been preparing for the storm since Friday and will finalize storm preparation today.
UVI status updates will be available on the home page of the UVI website, www.uvi.edu, and in the News section of the site. Status updates will also be available on social media: www.facebook.com/uvi.edu and twitter.com/uvi_edu; and campus hotlines: (340) 692-4168 on St. Croix and (340) 693-1016 on St. Thomas. Please listen to local radio stations for updates as well.
The meeting of the St. Croix Board of Elections scheduled for Wednesday has been postponed until further notice.
Senate President Myron Jackson has postponed Senate hearings for Tuesday, Wednesday, Thursday and Friday.
Christiansted National Historic Site has begun shut down procedures for the three National Park units on St. Croix, including Buck Island Reef National Monument and Salt River Bay National Historical Park and Ecological Preserve. The parks are closed Tuesday, and will remain closed until further notice. All facility and concessioner operations will remain closed until further notice. Once Hurricane Irma passes, NPS staff will assess any damages and determine when the parks can be safely opened.
For further information on status of closure, and details on the reopening of facilities call 340.277.6794, visit the website at www.nps.gov/chri, www.nps.gov/sari, or www.nps.gov/buis, or their Facebook page at www.facebook.com/ ChristianstedNPS.
Businesses:
Banco Popular branches closed throughout the territory and the BVI at 2:30 p.m. All branch and unit operations will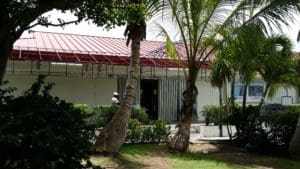 be closed on Wednesday, Sept. 6. Customers are reminded that they may access their accounts and conduct transactions through Mi Banco Online by visiting www.popular.com/vi or by calling Telebanco at 1-888-724-3659.
The St. Thomas branch of Merchants Commercial Bank will close at 4 p.m. Tuesday. The St. John branch will close early, at 3:30 p.m. Both branches will be closed on Wednesday and they will announce reopening after they assess any damage after the storm passes.
FirstBank VI closed all branches at 2 p.m. and all branches will be closed on Wednesday. But where resources allow, FirstBank ATMs will remain active 24 hours. Online banking and mobile banking services are available 24/7.
Postponements:
The annual Dollar for Dollar history tour, scheduled for Sept. 9, has been postponed to Sept. 30.
The Hebrew Congregation of St. Thomas' Taste of Judaism Sessions will be postponed until September 12, delaying the series by one week.
The new schedule will be as follows:
Tuesday, September 12th – Session One
Tuesday, September 19th – Session Two
Tuesday, September 26th – Session Three
All classes will be from 7:00 p.m. to 8:30 p.m. at Lilienfeld House. If you have any questions, please call the office at 340-774-4312.
There are numerous other closures that may not have been publicized to date. Residents should assume few, if any businesses will be open Tuesday. Collect cash, last minute groceries and any prescription medicines as quickly as possible.
WSTA radio AM 1340 has confirmed it plans to try to remain on air during and after the storm, fur updates on St. Thomas. Calls to several St. Croix stations were not answered.
For communication, ATT recommends limiting phone calls and suggests texts may be more likely to get through than phone calls.
There is a smartphone application called FireChat, available for both iphones and Android phones that enables phones to communicate to nearby phones without cell service. Downloading this app may enable smartphone owners to communicate with neighbors who also have it, enabling some emergency communication if cell service is down.