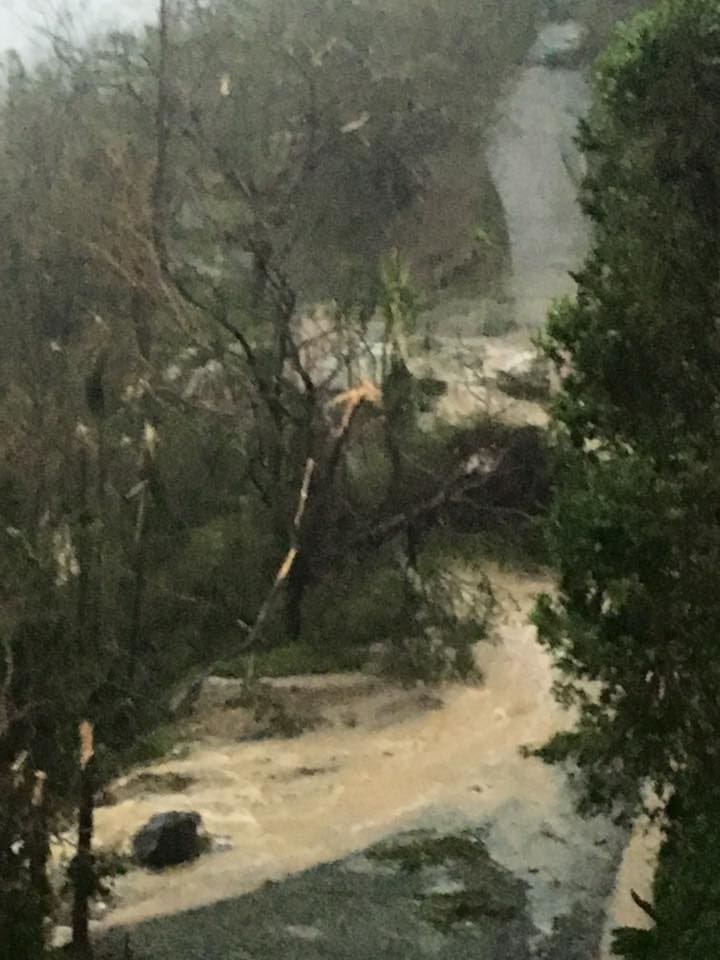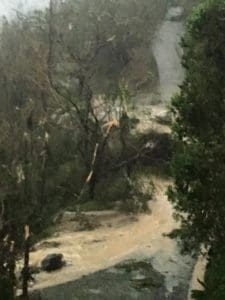 St. Thomas and St. John have received heavy damage from Hurricane Irma. Many homes and businesses have lost their roofs on St. Thomas and St. John and flooding is severe, preliminary reports indicate. There are reports of some injuries, but no fatalities reported so far. Power is out and cell services is down in most locations. The BVI, St. Martin, Barbuda and other islands are reporting major damage, as is Puerto Rico. St. Croix, further to the South, had much lighter damage, with some poles down, flooding and minor damage.
Communication is extremely limited on St. Thomas. The USVI Hurricane Irma Alert Facebook page is filled with dozens and dozens of messages asking for information on relatives. Few replies are given.
The same Facebook page has links to where someone has set up a "VI Safe" Google Document page with a spreadsheet of people requesting help locating individuals; individuals who have been located; those who have not and notices of people who need help. There is a link to that VI Safe document in Related Links below.
As of 4 p.m. two injuries had been reported, both to emergency personnel. There have been few details added in the hours since. A collapsing roof at the Lima Company Fire Station in Annas Retreat caused minor injuries to an Emergency Medical Technician and a Fire Fighter. The roof has collapsed blocking in Fire and Rescue Vehicles, according to a statement from the USVI Emergency Operations Command Joint Information Center.
The Joint Information Center also reported that more than 12 inches of rain had already fallen and another 5 or more inches were anticipated.
In the report, Gov. Kenneth Mapp said many homes and businesses have lost their roofs, particularly in the North Eastern Quadrant of St. Thomas. Individuals have posted photos online of extensive damage in Tutu and heavy flood damage on the north side.
The V.I. Water and Power Authority, which had cut power intentionally to most of St. Thomas and St. John, has reportedly lost its generating capacity. Schneider Regional Medical Center Hospital is currently generating its own electricity. Damage to the roof has caused flooding which has forced the hospital to relocate all patients from the third and fourth floors to the second floor.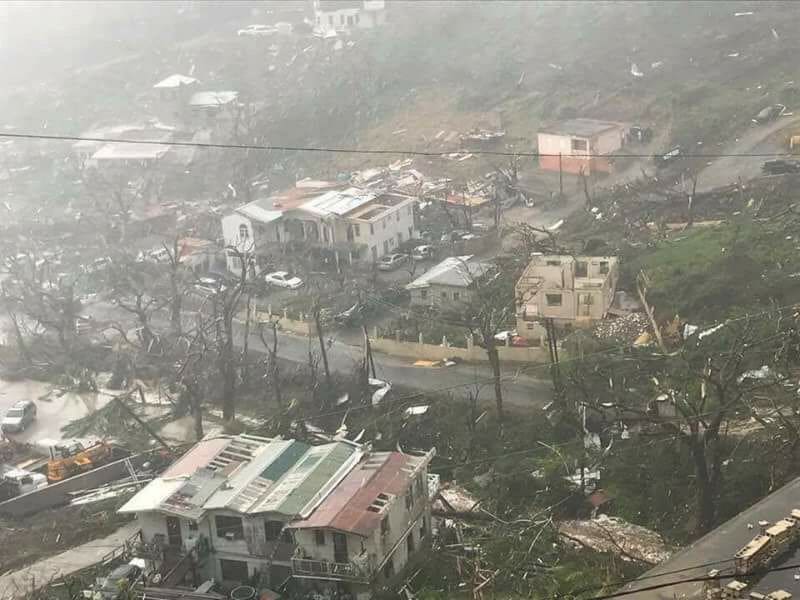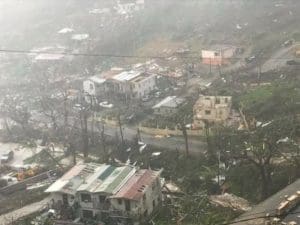 Two emergency shelters have been compromised. Reports indicate that at 4 p.m. water was rising at the E. Benjamin Oliver Elementary School Shelter and the Eldra Schulterbrandt Facility.
Neighboring BVI also had extensive damage. Residents have posted photos on social media of jumbled up boats in the harbor and damaged buildings in many locations.
WSTA AM 1340 had planned to stay on air through the storm but is apparently not broadcasting. However Delegate Stacey Plaskett reported on a Facebook comment that the UVI radio station WUVI is still broadcasting. A link to that station's live stream is in the related links below.
President Donald Trump declared an emergency in an emergency exists in the territory of the U.S. Virgin Islands and ordered Federal assistance to supplement the response efforts of the territory due to the emergency conditions resulting from Hurricane Irma beginning Tuesday, Sept. 5.
The President's action authorizes the Federal Emergency Management Agency to coordinate all disaster relief efforts. FEMA is authorized to identify, mobilize, and provide, at its discretion, equipment and resources necessary to alleviate the impacts of the emergency. The notice says "debris removal and emergency protective measures, including direct Federal assistance, will be provided at 75 percent federal funding." Given the territory's ongoing financial, fiscal and cash flow crisis, it is unclear how the territory will pay its 25 percent share.
FEMA Administrator Brock Long named William Vogel as the Federal Coordinating Officer for Federal recovery operations in the affected areas.
Plaskett issued a statement saying she is working to bring emergency federal dollars to the territory.
"The catastrophic destruction caused by Hurricane Irma demands massive amounts of aid to address the overwhelming needs of the countless victims who face the daunting task of rebuilding their lives," Plaskett said.
"Hurricane Irma is a historic storm of incredible magnitude that has ravaged islands of the Caribbean including our Virgin Islands and the magnitude of this hurricane requires the full attention and support of the nation. People have lost their homes, vehicles, important personal possessions as well as businesses that can never be replaced. Many areas of our Virgin Islands have been decimated and are in great need of help,"she said.
She said that in the next days she will be sending specific requests for reimbursements and immediate support from the Army Corps of Engineers and other facilities of FEMA.
"Right now, thousands of people are reeling with trauma from of the most catastrophic storms ever to strike the Caribbean region. Hurricane Irma has toppled buildings and leveled many homes. Making the Virgin Islands whole will require a massive and coordinated effort spanning the course of many months, and indeed years," Plaskett said.
"As we did following Hurricanes Katrina, Sandy and most recently Harvey, Americans must once again come together with compassion and care. The President and my colleagues here in Congress have said that Virgin Islands will have everything it needs. Moving forward, I remain hopeful that President Trump and Congress will deliver on their words to support the people of the Virgin Islands."
Plaskett also said on Wednesday that U.S. Health and Human Services Secretary Tom Price declared a public health emergency in the U.S. Virgin Islands Wednesday and "signed 1135 waivers that will provide additional flexibility to allow health care providers to meet emergency health needs."