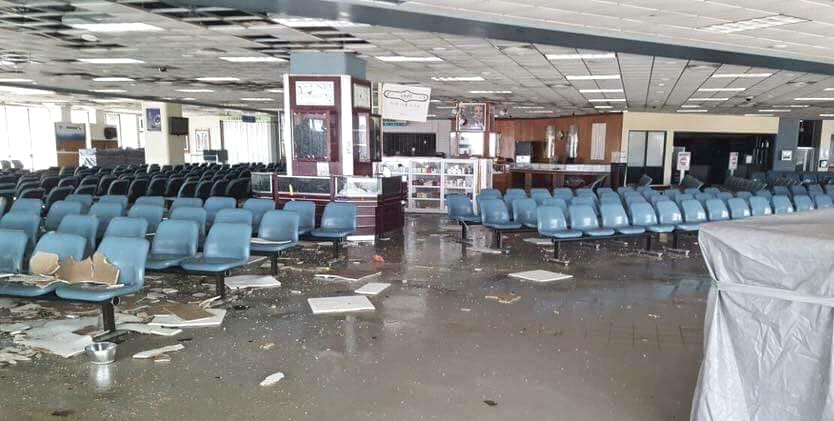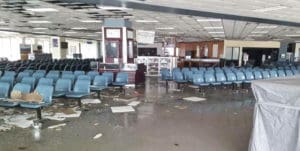 The Cyril E. King Airport was damaged and runways blocked with debris by Hurricane Irma, but opening it is a high priority and it is being prepared to accept military shipments of reliefs supplies and personnel within the day, Emergency Operations Command reported Friday.
As of 11:30 a.m. Friday, the U.S. Coast Guard announced the opening of the port facilities at Red Hook, St. Thomas and Cruz Bay, St. John. Its use is restricted to ferry traffic and emergency services only. No other vessels may use those ports yet. Other St. Thomas and St. John ports remain closed.
The Coast Guard also is determining whether required buoys remain in place before authorizing commercial shipping to resume in the port of Charlotte Amalie. The EOC expected that to happen later Friday. St. John has been largely isolated since Hurricane Irma struck.
The Coast Guard reported Thursday evening that the ports at Limetree Bay and Krause Lagoon on St. Croix are fully open, without restrictions. The Christiansted port is open for daylight operations only.
The V.I. Port Authority cleared the runway on St. Croix and opened the Henry E. Rohlsen Airport at 6 a.m. Friday.
The V.I. Police Department was in the process Friday of sending at least 10 officers from St. Croix to establish a Command Post on the island of St. Thomas.
Communication on St. John remains limited, with reports that most roads are impassable.
St. John's Myrah Keating Smith Health Clinic has a limited supply of fuel for its generator. The condition of emergency shelters on that island is unclear because of damaged communications lines.
The EOC reported Thursday evening that the health clinic is the only functioning shelter on the island and that about 100 people are being sheltered there.
With high demand for shelter space, due to the widespread destruction in the district, the government response teams are working to keep shelters supplied with food, water and electricity. Once the ports open, much more relief will begin to flow in. Distribution points on St. Thomas, St. John and Water Island are being established.
Security on St. Thomas and St. John will be strengthened today with the expected deployment of Virgin Islands National Guard troops and police officers from St. Croix. They will join in enforcing curfews and responding to calls for assistance.
Temporary medical facilities remain a priority. Relocation of hospital patients from St. Thomas to other facilities has been completed.
Residents are urged to observe the curfew in effect for St. Thomas and St. John and to shelter in place.
Shelters on St. Croix have been closed and individuals have returned to their primary residences. There are two operational shelters on St. Thomas; the Knud Hansen Complex is providing shelter for about 200 individuals, and people are being transferred from the Benjamin Oliver School to the Lockhart Elementary School. More shelter locations on St. Thomas and St. John are being sought and identified.
Meals and supplies are available at each shelter. Volunteers are needed to assist in managing the shelters.
The American Red Cross has established a helpline to aid with family reunification. The toll-free number is 1-800-RED-CROSS or 1-800-733-2767. To speak to an operator, choose option (1).