The territory's debt crisis took one more turn of the spiral this week as S&P Global Ratings, one of the three major institutional credit rating companies, placed $2 billion in USVI bond debt on "CreditWatch Negative."
S&P analyst Oladunni Ososami said the move was due to the V.I. government not providing information to accurately judge its financial condition. S&P lowered the territory's matching fund debt two notches, from "B" to "CCC+," and GRT debt from "B" to "CCC" in August and warned Tuesday it may lower both ratings again within 30 days if it cannot get the information it needs.
Matching fund notes are loans secured by federal excise taxes on alcohol produced in the territory. GRT loans are loans secured by V.I. gross receipts taxes. The territory has about $2 billion in combined GRT and matching fund debt.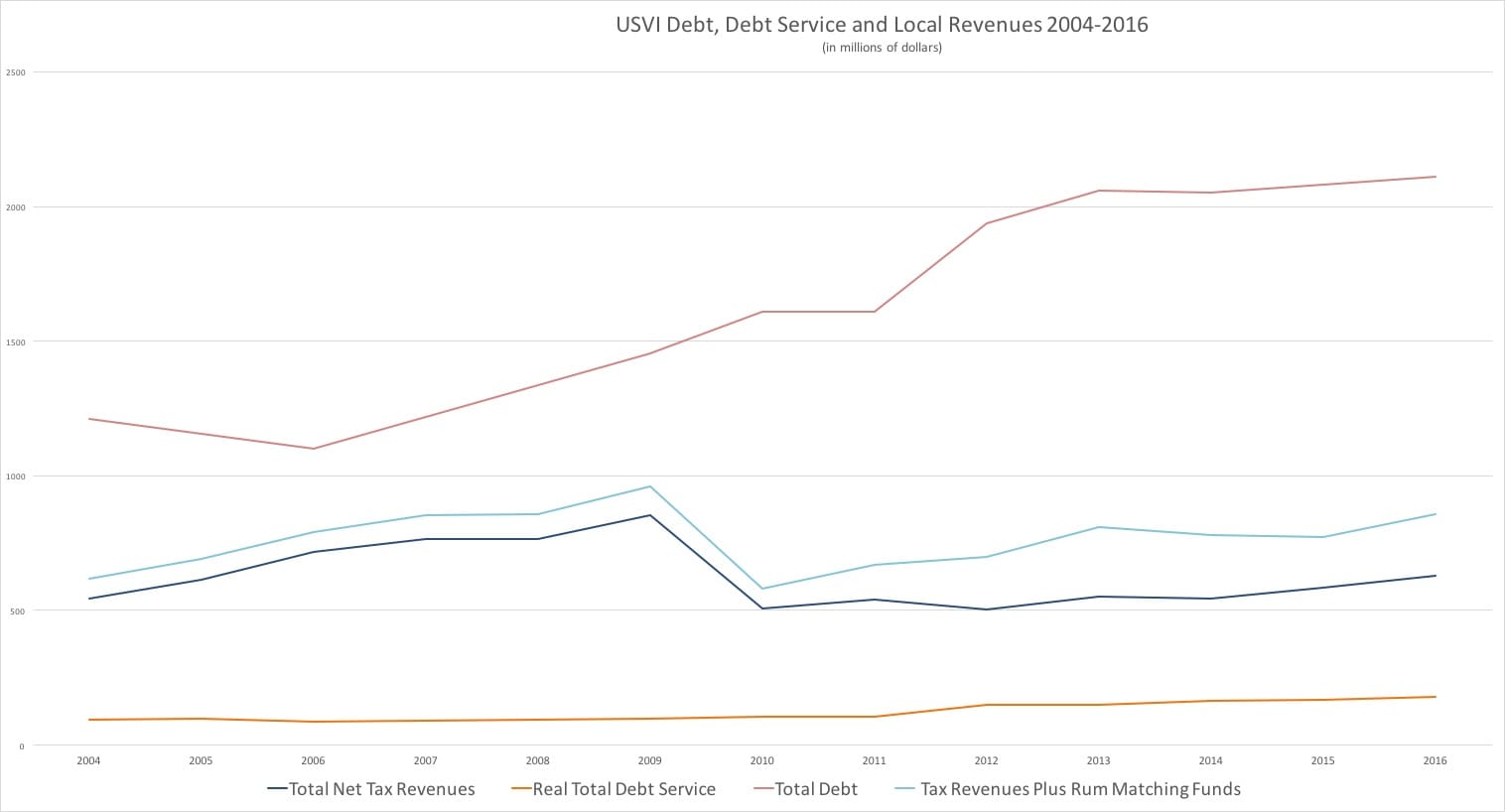 "The CreditWatch placement follows USVI's indication of its intent as of Aug. 25, 2017, to stop directly providing information to us to support the rating on the authority's matching fund notes and GRT loan notes," Ososami said in a statement from S&P.
Around that date, Gov. Kenneth Mapp said the territory has "severed our ties" with the rating agencies, while speaking on WSTA 1340 AM radio, according Reuters news service, which cited a quote from the broadcast printed in the V.I. Consortium.
"We have learned that the territory intends to no longer provide us with the information we consider necessary to evaluate its liquidity, including interim reports which show its monthly cash balances," Ososami added.
Both S&P and the Fitch ratings agency lowered the territory's rating in August, citing the territory's structural budget deficit, what Fitch termed its "extremely high liability burden," inability to sell bonds and rising levels of unpaid bills.
Ososami said "absent sufficient information, in our view, to reliably ascertain the territory's liquidity and cash position," S&P expects to "withdraw the rating" probably within the next 30 days. That would mean it is unwilling to rate the territory at all. That move may be "preceded at our discretion by a change to the rating that we consider appropriate given available information," she continued. So the territory could see a ratings downgrade from S&P before it withdraws its ratings.
"Our receipt of information on a timely basis from issuers and obligors and their agents and advisors is essential to the maintenance of our ratings in accordance with our applicable criteria and policies," Ososami concluded.
The territory's "CCC+" and "CCC" ratings are 17 and 18 spots, respectively, below the top "AAA" S&P rating, and four and five spots above its lowest rating of "D," which represents default or partial default.
Some V.I. officials have suggested ratings agencies are lumping the USVI together with Puerto Rico, which is in default.
"The rating agencies have just failed to look at the USVI separately from developments in Puerto Rico and that is not fair or accurate," Government House representative Lonnie Soury said in a statement after the downgrades.
S&P also lowered ratings on current and future bond debt by two notches, from "B" to "CCC," for the same reasons.
"The 'CCC+' rating on the matching fund notes reflects our view of USVI's persistent fiscal and liquidity pressures in the face of a continued inability to access the capital markets, as reflected in growing payables despite the adoption of its recent five-year plan," Ososami said in a statement.
"The rating agencies have just failed to look at the USVI separately from developments in Puerto Rico and that is not fair or accurate," government spokesman Lonnie Soury said in a statement after the downgrades.
The U.S. Virgin Islands has "never been late on a payment, much less defaulted on a bond or loan agreement," Mapp said during his State of the Territory address in January.
His claim was seconded by Sen. Neville James.
"We pay our debts. We address our debts consistently we have never missed a payment," James said during a Senate hearing in October 2016. "It has nothing to do with our ability and our history with respect to addressing our debt. It is simply because of our proximity to Puerto Rico based on what they are dealing with."
Missing payments or being late on payments would be partial default, which S&P's rating scale regards as a "D" rating – several below what the territory is at now.
Many financial experts have begun to suggest the USVI will eventually have to restructure its debts.
"A restructuring is very possible," Greg Clark, Debtwire's head of municipal research, told the Source in January.
On Aug. 2, Reuters highlighted the USVI's precarious financial condition and problems in a widely-printed article that said the territory has "the biggest per capita debt load of any U.S. territory or state – more than $19,000 for every man, woman and child scattered across the island chain of St. Croix, St. Thomas and St. John.
Along with this year's $110 million deficit, the USVI is facing ongoing structural deficits of around $170 million a year out of a locally funded budget of around $850 million. It has outstanding debt of more than $2 billion, not counting the debts of the government-owned V.I. Water and Power Authority, which is also facing financial problems. It is also facing a $3 billion unfunded pension liability and a pension plan projected to cease being able to pay full pensions by 2023.
"The territory is on the hook for billions more in unfunded pension and healthcare obligations. But how these islands will recover from years of budget deficits and a severe liquidity crisis remains to be seen," the Reuters article said.
Meanwhile, the V.I. Legislature has begun budget hearings on Gov. Kenneth Mapp's proposed Fiscal Year 2018 budget.
The proposed budget has $833.9 million in locally generated General Fund spending; an $11 million cut from his initial FY 2017 proposal. It is a larger, $67-million cut from the budget appropriations ultimately approved by the Legislature. The budget assumes 7.6 percent growth in revenues after the portion of gross receipts taxes set aside for debt service, according to Fitch.
The government increased alcohol, sugar, tobacco, timeshare and net property taxes this year, in hopes of increasing revenues and cutting the deficit.