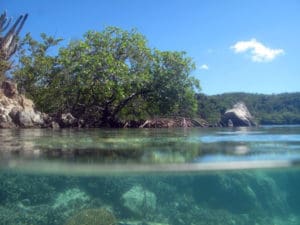 Electric Division — St. Thomas
o Work continued along the route of Feeder 9B Friday with the goal of energizing the Schneider Regional Medical Center, Lockhart Elementary School and a portion of the Charlotte Amalie High School campuses. Near the end of the day, plant personnel were working to start Generating Unit 14 to provide electrical service to those areas as well as the Cyril E. King Airport.
o Line department crews worked throughout the day on Friday to clear a long stretch of roadway on Raphune Hill that had been littered with broken utility poles, power transformers, other electrical hardware as well as both primary and secondary electric lines. Today's work should contribute to a better traffic flow as the road has become more passable.
o Damage Assessment Teams were out taking a close look at the damage inflicted upon WAPA's transmission and distribution system. Once the assessment is completed, WAPA will analyze the data and develop a restoration schedule.
o Once the restoration of service has commenced, WAPA will activate its emergency call center to accept reports from residents of service interruptions and other calls for service.
Electric Division – St. Croix
Work continued across the island by line department crews to restore service to additional customers across the electric system. Near the end of the workday, Friday, the following levels of restoration had been achieved:
Feeder 1A: 100 percent
Feeder 2A: 63 percent
Feeder 3A: 35 percent
Feeder 4A: 82 percent
Feeder 5A: 94 percent
Feeder 6A: 37 percent
Feeder 6B: 88 percent
Feeder 8B: 49 percent
Feeder 9B: 61 percent
Feeder 10B:10 percent
o Residents on St. Croix are encouraged to report any isolated service interruption they may experience, especially after service has been restored to their immediate area. Those reports can be called in to 773-0150 or e-mailed to communications@viwapa.vi.
o Residents are reminded not to tamper with, cut or otherwise destroy any downed WAPA lines they may encounter. Use precaution when traversing power lines and treat all power lines as if they are energized.
Potable Water
o On St. Thomas, potable water service is available in Savan and in the western sector including Kirwan Terrace housing community and the airport. East end areas (east of Donoe) are operational as well. Crews are working tonight to reestablish service from Sub Base to the de Lugo Federal Building and to restore service to the standpipe in Sub Base.
o On St. John, water tanks are intact and the water distribution system is in on line in Cruz Bay.