One of the men who oversaw New York City's response to the damage of Hurricane Sandy said the spirit of St. Johnians has has impressed him as he begins assessing the damage to St. John from Hurricane Irma.
The volunteers are "Amazing," said John Covell who is on St. John to coordinate FEMA's efforts. Covell was director of New York's Hurricane Sandy Recovery office.
"The groups who have stepped forward … They're stepping in and making things happen in a really wonderful way."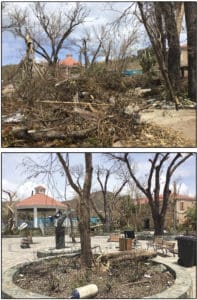 Covell said the first step is to take care of immediate needs.
"Our first priority is water and food security, which is now stable … but we're keeping a close watch, and other life sustaining operations like road clearance, distributing tarps so people have shelter."
Covell praised the cooperation and communication between the various operations in the relief effort, particularly FEMA and it's local counterpart, VITEMA, and the staff of the National Park Service.
The New Yorker said the logistics of bringing relief and recovery to a small, isolated island is challenging, but FEMA is committed.
Asked to compare Irma to Hurricane Sandy, the October 2012 storm that rampaged up the Atlantic Coast and slammed into New York and other eastern seaboard areas, Covell said the two cases are different, both as a storm (Category was a Category 1 when it hit New York. Irma was Cat 5 with 185 mile an hour winds when it tore into the U.S. Virgin Islands.) and logistically.
"Sandy was different," he said. "You could fly things in so quickly. But it's not a fair comparison. With Sandy, we had flooded subway tunnels, so much of the public infrastructure was damaged … The number of people affected, who are still affected, was so much greater. … However, in terms of flat out visual, there's nothing like this," he said, looking over the battered St. John landscape.
In other Irma Recovery news, from the daily community meeting at Mongoose Junction:
– Nurse Kristina Purdom at the Myrah Keating Clinic urged people not to go into the ocean for the time being. Purdom said amout of bacteria int he water makes it unsafe. She also urged people to use antibiotic ointments on any cuts.
The clinic is starting to see some nasty infections, she said, so people should take precautions.
Purdom also reminded people who are leaving St. John for any reason should carry a proof of residency so that they can prove they belong here on the return trip.
– Dr. Scott Hartshortn will be on duty from 9 a.m. to 2 p.m. Friday at Cruz Bay Family Practice.
– Atlee Connor of the Department of Public Works asked residents to "please respect the guys who are there to clear the roads." As traffic crawls across the island's clogged and cracked roads, sometimes held up periodically by road work, tempers can get short. Tomorrow the road crew will be trying to work its way up to Bordeaux, he said. "They're trying to get to Bordeaux Mountain to the transmission tower to get Viya going."
He also asked people to throw only household garbage in the trash bins, separating out metal, wood and debris.
– Ryan West from the volunteer group Love City Strong said said two restaurants, Longboard and Cruz Bay Landing, have been contracted by the Red Cross to provide two meals a day for 30 days. The two restaurants are feeding anyone who is hungry.
– People now can get a cell phone signal at Ronny's Pizza at Boulon in Cruz Bay, in the parking lot next to the tennis courts, and in front of Connections. But they were wanred not to stand in the road to use the communication hot spots, blocking relief traffic.
They also can get a signal from Gifft Hill School, which has a clear line of sight to St. Thomas.
– ATT has sent two workers to St. John to help reconnect the island. Arriving, the asked for directions to the Caneel Bay Resort. When they were shown the facility, which had siffered extensive damage, one gulped and said, "Omigod!I need 30 more guys!"
– The 6 p.m. to noon curfew is still officially in force, but during the morning hours it is being relaxed as people get breakfast and get to work volunteering to rebuild the island. People are cooperating and behaving themselves. The police apparently are much more vigilant in enforcing the curfew in the evening, from 6 p.m. on.
– Larry Wilson, who lives in Coral Bay, said the charter boat Adventure is still running between St. Ceroix and St John, offering rides to those who want to evacuate. They also are taking empty gas jugs from St. Johnians, filling them with gas on St. Croix, and returning them to St. John the next day when they return to pick up more evacuaees.
– FEMA Coordinator Linda Williams said an additional 50 tarps were distributed in Coral Bay Wednesday and 100 in Cruz Bay. More are coming.
– A woman was seen in Coral Bat Thursday leading a pig and carrying a sign that read, ""Pet A Pig, It Will Make You Happy."