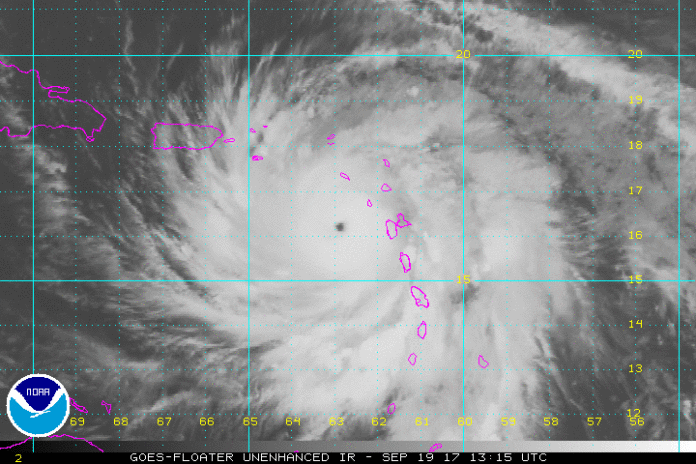 The National Weather Service issued a flash flood watch for the U.S. Virgin Islands and Puerto Rico Tuesday morning. The watch will be in effect through Friday afternoon.
Hurricane Maria is approaching the territory as a major hurricane, and is expected to bring "major to record flooding," the weather service warned.
"Rain bands from major Hurricane Maria will begin to spread heavy rain with thunderstorms across the U.S. Virgin Islands and then Puerto Rico. By early this (Tuesday) evening and continuing into Wednesday the very heavy rain of the core of the hurricane will spread extreme amounts of rain over the U.S. Virgin Islands and Puerto Rico. Showers and thunderstorms will continue even after the winds from Hurricane Maria have subsided."
Hurricane Maria continued intensifying Tuesday morning in an atmosphere abundant in moisture. It is moving relatively slowly and will linger over the local area for more than 24 hours, the NWS reported, spreading torrential downpours across the islands with even more intense rainfall in the mountains of the islands it encounters.
The weather service expects a total of 12 to 18 inches of rain, with isolated areas collecting as much as 25 inches.
"This flooding will lead to rapid rises in all streams and rivers in the U.S. Virgin Islands and then Puerto Rico. Low lying roads will be flooded first and many major highways will be made impassible during the passage of the storm," the NWS said. "Mudslides may also block roads not expected to flood. Any homes in low-lying areas near rivers and streams will be flooded and flooding may leave residents with no avenue of escape."