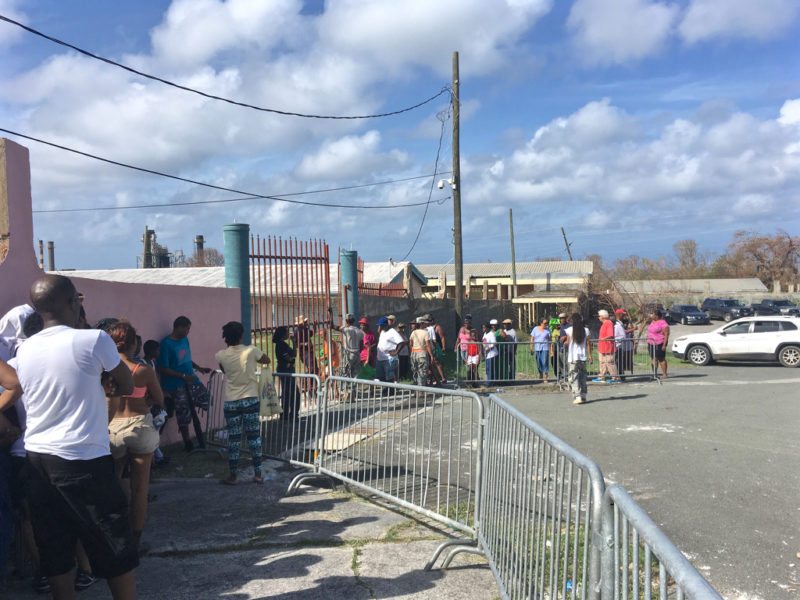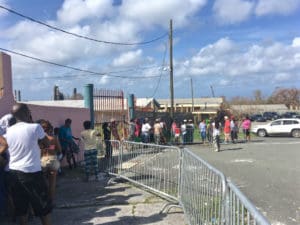 The inability to communicate and get information may be the single biggest frustration for many on St. Croix as of Saturday. More roads are clear, some stores are open, and power is even returning to a few locations in Christiansted and along the hospital's feeder line.
For many, the only source of information has been listening to Gov. Kenneth Mapp's evening address over the radio the past three days.
"We listened to the press conference last night. That's our only information," said Marina Leonard, who lives on the east end of St. Croix and writes for the V.I. Source.
"Nothing loads" on her phone when she tries to access the internet. "so whatever the governor says is what we know. Everyone is tuning into the press conferences," she said.
Phone calls rarely go through and text messages often deliver hours later, if at all, she said.
Worsening the communication problem, some group of people stole a generator that had been powering an AT&T cell tower.
Reached Saturday afternoon, Leonard was waiting in line at Juanita Gardine Elementary, one of St. Croix's relief supply distribution points. She said she was surprised to get a signal and that it was the first time since the storm that she's had a clear call. The signal around Juanita Gardine was much better than anywhere else she had been too, she said.
She had been waiting in line an hour and a half when the National Guard and Red Cross personnel at Juanita Gardine announced they were out of food and only had water.
Another truck was on the way, but it would be a little while, she was told. Ultimately, she was able to get food, after a two and a half hour wait.
"Yesterday they had a huge problem with supplies. And a lot of people had to wait for hours for water and MREs (military meals ready to eat)," she said.
The mood is not great but people are resigned, she said.
"We are very hopeful things will get better. The governor is reassuring when he speaks. But unfortunately the reality right now is there is not enough supply for the demand," Leonard said.
Friday, they arrived at a distribution point at 12:05 p.m. and it was already out of supplies.
Mapp addressed the shortages during his Friday address, saying supplies were delayed to Juanita Gardine when someone did not follow orders and that person would "be relieved of their duties."
Friday, the first day the curfew was lifted for a few hours, the roads were chaotically busy, with lots of cars on the road, but many obstacles required people to leave their lane to get around.
"It was the first day off curfew so everyone tried to go everywhere," Leonard said.
Roads are a mess but getting better.
"Most of the roads that were not clear are clear now. But there are a lot of electric lines on the ground that you have to drive over, hoping they are not live," she said.
Perhaps the worst impact of the storm may be the damage to Gov. Juan F. Luis Hospital. Employees report the roof is damaged and there is a lot of water infiltration. Mapp previously reported the hospital is being evacuated. This is proving a hardship for patients, some of whom were just recently evacuated from St. Thomas. Going to Puerto Rico is not a good option now either.
Pueblo, Plaza Extra and some convenience stores and gas stations are open.
Blue Water Terrace restaurant has been serving free meals to anyone who shows up during the limited curfew-free hours.
"We see federal vehicles clearing the road. We are seeing people in military fatigues. There is a lot of police presence at the grocery stores and convenience stores. Anywhere there is a line there is usually a lot of police presence. And the National Guard is at the distribution points," Leonard said.
The landscape is devastated.
"There are no leaves on the trees. It is so brown here," she said.
The boardwalk is damaged but not devastated. Docks that lead off the marina are wrecked and there are piles of broken timbers at the western end of the boardwalk.
Several store facades were badly damaged and some roofs lay in the street in downtown Christiansted.
Several places in Christiansted were looted. Cruzin Scooters, the scooter rental place and restaurant downtown, was sacked, with all their scooters stolen, multiple witnesses reported.
Several other Christiansted stores were broken into and looted too. But the more securely locked up places fared pretty well.
Angry Nate's Restaurant on the boardwalk, for instance, was largely unscathed, except for a little water inside and some damage to its patio. The owners got a generator in Saturday to run the freezers. But Saturday afternoon as manager Joe Williams, owner Brian Mika and staff were cleaning up and doing an inventory, suddenly the lights came on, as the Water and Power Authority restored power to parts of Christiansted.
"We were just in there sweating and working and suddenly the lights came on," Williams said.
Except for the curfew "we could open up," he said.
He too confirmed a number of jewelry stores and other places were sacked. Places with heavy wooden doors or heavy-duty cast iron bars did OK but places with glass windows and small bars were broken into, Williams said.
Some, but not all, boats in Christiansted harbor are damaged, he said. Williams said he could see two or three boats without masts; another 11 boats still on their moorings, and four "locked up" on Long Reef, probably sunk, he said.
But "there are maybe 15 boats piled up by WAPA," he said.
Out west, Frederiksted resident Melody Rames said the same as everyone else about lines, supplies and the difficulty with communications.
"Communications are so bad. People cannot get email," Rames said.
It seems there are several levels of communication, so that sometimes you can load, say, a Facebook page, using a cell phone, but you cannot see the comments. Sometimes you can send messages and sometimes not.
"Trying to make phone calls is very difficult. Most people say Sprint is not working at all. Others who have Viya say it seems to be working better," Rames said.
Radio is the best source of information. But a lot of people have no access to radio. The stores were cleared of handheld radios before Hurricane Irma and no batteries have arrived in weeks, according to Rames.
"Batteries are like gold," she said.
She too said the lines are difficult, saying "if you don't have patience you are not going to make it." she said.
But she had been to the store and there was food and water.
"I even got three bags of ice," Rames said.
The damage is bad. And Rames said it is disheartening to have the entire territory affected. A week ago, when St. Thomas and St. John had been hit hard, there was talk of sending students to St. Croix; of nurses, doctors and patients coming to St. Croix, "and in three days time St. Croix got wiped out too," Rames said.
But in several ways, it is not as bad as Hurricane Hugo, which devastated St. Croix in 1989, she feels.
"But I tell you what, I believe there are a lot more roofs on than off. There are a lot of telephone poles down, but there are a lot still up. So it doesn't look like after Hugo, with every single utility pole down. I think that will help with our recovery a lot," Rames said.
She too confirmed thieves had broken into a number of places.
Rames confirmed King Street Market in Frederiksted had been broken into, and thieves broke into the back of Sunshine Mall. Others have reported that Molly's By the Pier, a Federiksted gift shop, was also looted.
But overall mostly people are banding together and helping each other, she said.
"People are going around helping the elderly to clean out their yard, moving branches and limbs. People are out with chainsaws helping to clear the road. Everybody is working. We have a few groups who intend to make life hard for other people. But the majority are helping each other," Rames said.