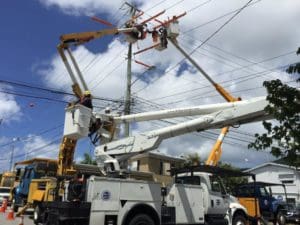 The Water and Power Authority estimated that St. Thomas has experienced about 15 percent electrical power restoration since Hurricanes Irma and Maria battered the territory, while St. Croix has seen restoration totals of approximately 10 percent.St. Croix has about 4 megawatts of electricity presently on the electric grid while St. Thomas has about 10 megawatts, WAPA reported in its Friday update of recovery work.
The restoration totals are based on present generation loads versus pre-storm load totals.
WAPA crews and on-island contractors on Friday began staging new utility poles at strategic locations across St. Thomas. The utility poles are part of an initial shipment of additional supplies needed to rebuild the transmission and distribution system. Convoys are being deployed from the cruise ship dock in Havensight, destined for the west end, north side and east end areas.
WAPA is requesting the cooperation of the motoring public during this undertaking – "Please yield the right of way to the wide-load trucks as they transport and position the poles. This operation will continue through the weekend."
While line department crews and contractors are working primarily on the "A" feeders in St. Thomas, work is also ongoing to energize WAPA's electrical substations in Donoe, Tutu and the east end, the news release said. Energizing the substations will bring service to Red Hook, affording WAPA the ability to test the undersea cables to St. John. Barring any unforeseen circumstances, WAPA should begin to energize portions of Cruz Bay within the next 10 to 14 days.
After several days of reconstruction work, WAPA expects to energize both the Alexander Farrelly Justice Center and the Ron de Lugo Federal Building this weekend, according to the news release. This will bring service to the U.S. District Court, V.I. Superior Court, Bureau of Corrections and the V.I. Police Department's Callwood Command. Crews planted poles on the paths of Feeders 6A and 10B, with work expected to commence on Feeders 7A and 8A in the days ahead.
On St. Croix, all underground portions of Feeder 1A have been energized. Crews planted the first of seven poles needed to energize a portion of Feeder 6A. Additional poles were planted along the route of Feeder 8B toward Frederiksted town. In addition, clean-up crews worked in several areas on St. Croix on Friday.
St. John crews continue to work in the Cruz Bay area planting new poles from the roundabout toward the Myrah Keating Smith Health Clinic.
Potable Water System
There are five days of emergency water storage on St. John. Water service is available throughout the Cruz Bay area.
There are four days of emergency water storage, or about 11 million gallons, on St. Thomas. Potable water service to the Hospital Ground area will be restored this weekend, WAPA said. Customers in Savan, Altona and at Contant Knolls will have their service restored when other pump stations are re-energized.
On St. Croix, storage at the Richmond tank has increased to a four-day water supply, or 8.9 million gallons. Water service continues to make its way slowly to Frederiksted, as the system becomes pressurized. WAPA is in the process of bringing a second pump on line at the Contentment Pump Station. This will also aid in getting water service to the island's west end.