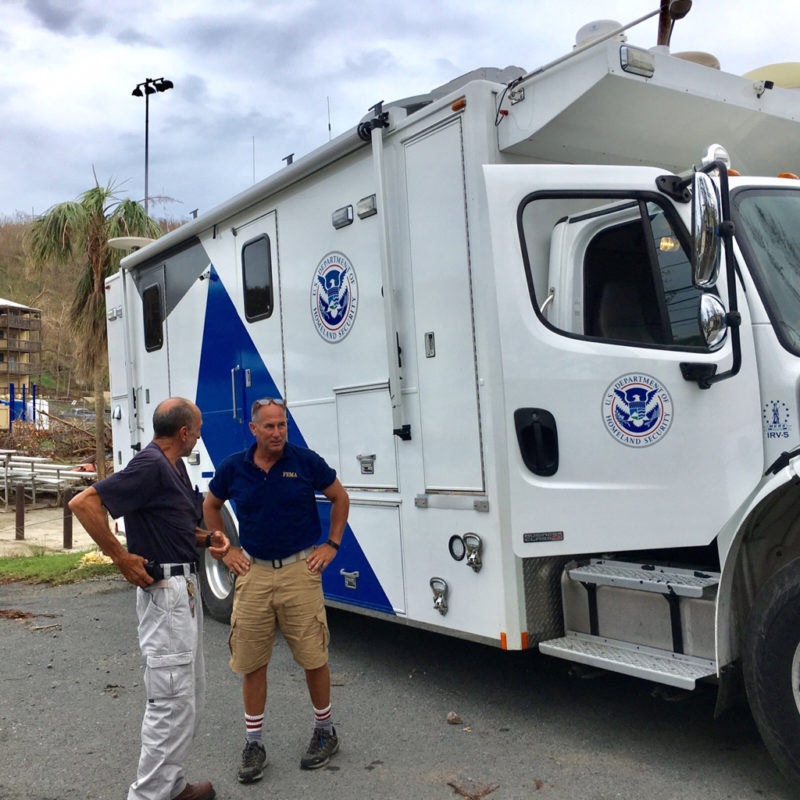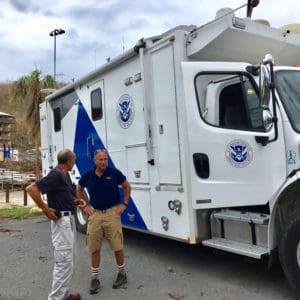 Progress is being made in recovering from the damage two category five hurricanes that struck St. John in September, but on a range of topics, relief officials said the key is to manage expectations.
It won't happen overnight, officials said at their early morning meeting.
Roofs
Several times at the early morning briefings given by VITEMA and FEMA, John Covell one of the senior FEMA officials St. John, talked about "expectation management." For example, just because a person registers for FEMA's Blue Roof Program, that doesn't mean someone is going to immediately sew up your home with a tarp and a set of tools.
A representative from the US. Army Corp of Engineers, which has been contracted by FEMA to repair roofs, provided further details when he announced that registration for the program would begin Wednesday morning. In order to register, he explained, people must be the owner of a single-family residence or obtain permission from the owner. Vacation homes are not eligible, nor are apartment buildings – although some exceptions can be made for multi-family dwellings that provide housing for local residents.
Roofs must be pitched, not flat, and must be made of wood or metal, not clay or tile. At least half the roof should be intact, and there must be enough secure structure to attach the roof using as many as 200 holes drilled to secure the tarp in place.
Further information on the program can be obtained by calling 888-ROOFBLU, or online at the Corps of Engineers' web-site.
Once "permission to enter" forms have been processed the Corps of Engineers will inspect a home to make sure it is eligible. Residents can sign up through Friday at Connections between 10 a.m. and 2:45 p.m. in Cruz Bay.
Next week, FEMA's roof repair program personnel will head out to Coral Bay to register people on the east end of the island. The actual roof repairs are still a couple of weeks away.
Job Fair
A job fair will be held at Mongoose Junction beginning at 11 a.m. Saturday for paid positions and volunteers. They are seeking able-bodied residents age 18 and older who will go house to house throughout the island to complete an assessment to assist FEMA in directing where aid is needed most.
All St. John residents are encouraged to apply, especially those that are bilingual and multi-lingual people who can work with non-English speaking people on the island.
Banking
Managing one's expectations concerning banking is a requirement.
St. John residents have not had a full day of full-banking services since Sept 1.
When a representative from FirstBank announced Tuesday that the bank would be open that day, someone at the meeting asked, "With money?" That brought a laugh. The line at the bank formed early but by that afternoon the ATM's screens flashed a green "We're Sorry'" message.
Wednesday, customers found the ATMs completely offline and the bank doors closed.
FirstBank was still closed Thursday and the ATMs were still offline Thursday afternoon.
Merchants Commercial, Bank which is about a half mile outside Cruz Bay near the Westin Resort, has not been able to open because of damaged power and telephone lines.
Restoring service to that part of the island is a high priority, according to Antonio "Pumpkin" Lewis, manager of plant operations for Viya.
Internet
The free Wi-Fi network set up by the V.I. Next Generation Network was not working up to speed Wednesday, Matt Gyuraki said. A networking expert who has been working with other St. John tech consultants and networking companies, Gyuraki said he and his team would have to take down part of the system in order to rebuild it with new equipment that had arrived on island.
What they didn't anticipate was that someone would accidentally cut a critical cable on St. Thomas which shut down all internet service on St. John. There have been a handful of reliable Wi-Fi hotspots on the island and people have clustered there to make contact with the rest of the world. But the system has become more robust, Gyuraki said.
Gyuraki of Love IT and Jason Monigold of Computer Express have been volunteering with Daryl Wade of viNGN since the day after Hurricane Irma to bring internet connectivity back to St. John. They have worked with Viya, ATT, the group DIRT (Disaster Immediate Response Team) and the military to establish internet connection for government and business as well as boosting cell phone reception thought the island.
Clayton Covel of Help.NGO's Global Disaster Immediate Response Team said Gyuraki and his team were now officially on the payroll, thanks to a consortium of donors including the Bloomberg Group, Kenny Cheney's Consultants, David Mugar (owner of the Marketplace,) and Donald Sussman.
In addition to getting critical businesses and government agencies online, Gyuraki said, the team is working to bring free Wi-Fi to Coral Bay.
The trick is getting permission from property owners to install equipment that would allow connections with no gaps in the signal on the eight miles between Cruz Bay and Coral Bay. The National Park Service has already granted permission for towers to be built.
The medical staff at the Morris de Castro Clinic in Cruz Bay now has Wi-Fi. They've set up a GATR – an inflatable satellite dish that resembles a large beach ball.
Evacuation and Other Things
With the opening of the Cyril E. King Airport on St. Thomas and the schedule of "mercy" cruise ships by the V.I. Department of Tourism, the volunteer coordinating group Love City Strong is no longer arranging evacuations. Since the onset of Hurricane Irma, Love City Strong arranged for almost 1,200 people to leave by private vessels.
Representatives from Tourism were on St. John Wednesday and Thursday at their near Frank Powell Park Thursday to sign up people for the 200 slots on the cruise ship scheduled to depart St. Thomas Saturday.
The Gifft Hill School announced that 79 children have been enrolled at the St. John private school and another 20 applicants are being tested each day. Fees for the "private school with a public purpose" are being deferred so that every child who wants to attend school can, according to Head of School Laurie Bottiger.