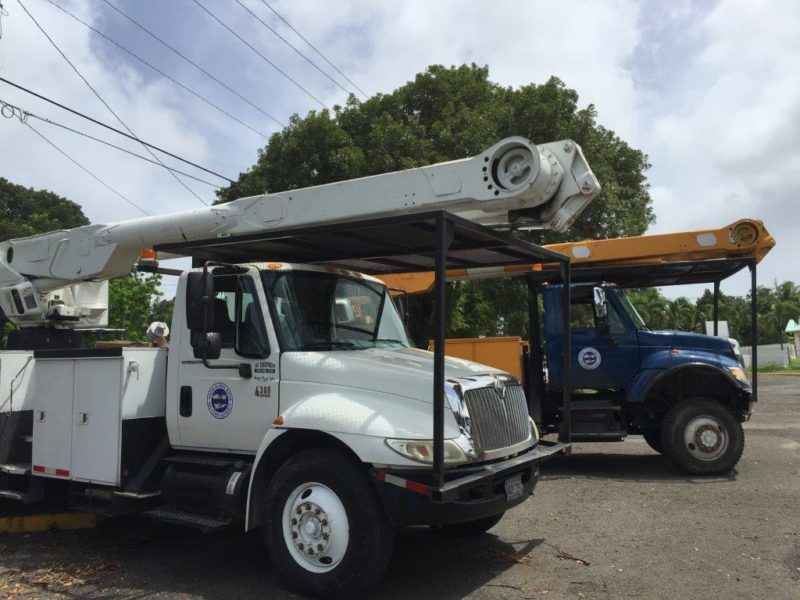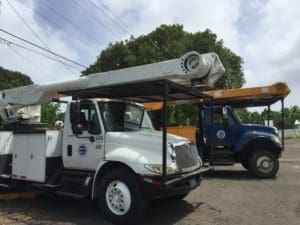 While most crews from the V.I. Water and Power Authority have been working their way through the territory restoring power, others have been removing connections to buildings that have been damaged by the recent hurricanes and might pose a danger if re-energized.
WAPA personnel have removed electrical meters at locations where damage was apparent to either an electrical meter base and/or the weather head, the weatherproof point where overhead power or telephone wires enter a building, the authority said in a news release Tuesday.
In those instances, the customer is responsible for all repairs, and WAPA will not re-install meters until repairs are made by a licensed electrician. A formal letter acknowledging the completion of repairs must be submitted to WAPA along with a request for service re-installation.
However, WAPA is waiving all fees usually associated with the re-installation during the restoration period.
WAPA advised customers to make repairs to damaged weather heads and meter bases as soon as possible. Once crews have reached your neighborhood those customers who have not had their weather head or meter base repaired will not have service restored until the second level of restoration work, according to the news release.
In other hurricane restoration news, WAPA said on Tuesday:
– Restoration crews worked Tuesday on St. Croix at locations including Hannah's Rest, Frederiksted Town, LBJ housing community, Golden Rock and Mount Pellier. Crews also prepared poles with hardware and equipment in final preparation for restoring service by this weekend to a portion of Feeder 6A from the Richmond Power Plant to Five Corners. Work also continues in Frederiksted on Feeder 8B.
– On St. Thomas, restoration crews continued work to energize a portion of Feeder 6A from the Harley Power Plant to the University of the Virgin Islands campus. Work also continues to restore electrical service to Gladys Abraham school in Lindbergh Bay.
Other areas targeted for restoration include portions of Feeders 8B and 7B. Sections of Bergs Home, Hospital Ground and Sugar Estate were energized over the last few days. Work also continued on a portion of Feeder 8A to restore both the Banco Popular and Scotia Bank's branches in Altona as well as Calvary Baptist Elementary School and the Ulla Muller Elementary School.
– On St. John, crews continued work in the Cruz Bay area planting new poles from Starfish Market along a route to Gina Hill.
– Emergency call centers on St. Thomas and St. Croix are operating daily from 9 a.m. to 5 p.m. The call centers are the primary means by which customers can advise the authority of isolated service interruptions once crews have carried out restoration work.
The call center operating hours will be adjusted as restoration into neighborhoods and communities takes shape. To contact the emergency call center on St. Croix, call 340-773-0150. On St. Thomas/St. John the call center's telephone number is 340-774-1424.
– WAPA continues to work jointly with Viya, the Virgin Islands Waste Management Authority, and the Department of Public Works on a clean-up initiative across the territory. The authority also is working alongside the Virgin Islands Next Generation Network, viNGN.
Potable Water
– A leak has been detected in a 24-inch water main on St. Thomas. While crews identify the location of the leak and make repairs, service has been redirected to a smaller main to provide service to the downtown area. Customers in the downtown area will experience lower than usual water pressure until repairs are completed.
– St. Thomas has four days of emergency water storage. WAPA expects to resume potable water service to Savan, Contant Knolls and Lindbergh Bay this week. Areas of Altona, Bergs Home, Government Hill, Estate Thomas, Lindbergh Bay and Havensight have all had potable water service restored.
– There is a total of three days of water storage on St. Croix. WAPA is pumping at full capacity at both the Contentment and Concordia pump stations. Water service is being provided to Frederiksted, however, the pressure remains low until more water can be pumped into the Kingshill storage tank.
– There are four days of water stored on St. John. Water service remains available throughout Cruz Bay.
Customer Service
Customer service offices in both districts will be functional beginning Wednesday. On St. Croix, customers can conduct business at the authority's office in Sunny Isle. In the St. Thomas/St. John district, a temporary customer service location will be available at WAPA's Port of Sale Mall office.
In both districts, customer service representatives will be available from 11 a.m. to 4 p.m. Self-service payment kiosks will also be available at both locations during these hours.
WAPA's office telephones are operational in both districts. St. Croix: 340-773-2250 and St. Thomas/St. John: 340-774-3552.