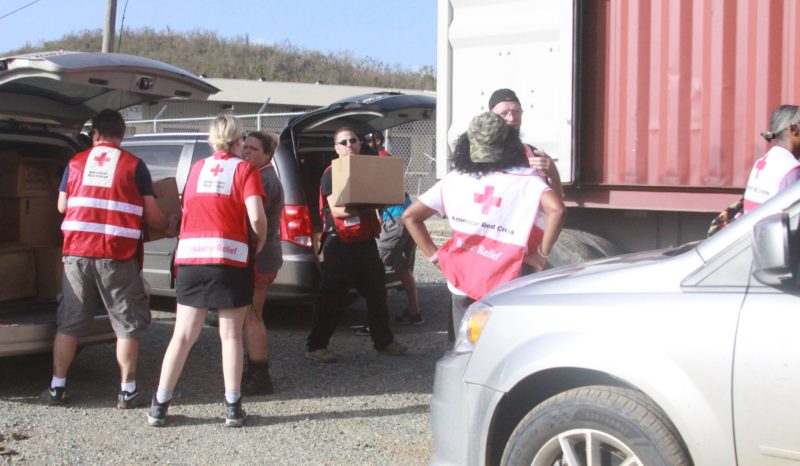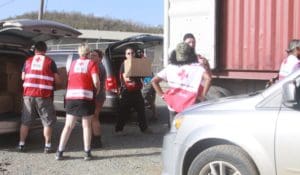 The Salvation Army Disaster Team has been working with Red Cross volunteers to develop a strategic system to efficiently deliver Federal Emergency Management Agency (FEMA) food boxes to residents on St. Thomas and St. John.
Two centralized sites on St. Thomas were created by the Salvation Army; one on the eastern end in Bovoni and one on the western end at Reichhold Center were established as staging locations for Red Cross volunteers in smaller vehicles to refilled and deliver food boxes to surrounding areas. This process has expedited the delivery process by allowing the smaller vehicles with a re-fill location close to where volunteers were making deliveries.
While this process required frequent trips back to the staging site for reloading, it also enabled Red Cross volunteers to reach a wider area of homes that due to the condition of the roads or the amount of downed power lines would not have been possible to get to in the larger trucks used elsewhere on the island. Red Cross volunteers from all over the country have traveled to the V.I. to help with the disaster effort.
Forty thousand (40,000) food boxes contained a wide variety of foods such as: tuna, saltines, peanut butter and jelly, tortilla flat bread, chips, Vienna sausages and snack bars. The boxes were put together by FEMA. The Salvation Army volunteers agreed to take responsibility for staging tractor trailer sites that Red Cross volunteers could use to refill smaller vans as delivered food boxes house to house throughout various communities on the island.
Salvation Army volunteers met with their Red Cross volunteer partners each morning around 7 a.m. to begin their 8-hour day of deliveries. The two groups worked together for four days delivering food to public housing complexes and homes in remote areas of the island.
On Oct. 4, the management of the Price Mart store on St. Thomas made a $2,500 donation of food items to the Salvation Army as part of its effort to help the community to recover from hurricanes Irma and Maria.
The food items included cases of frozen chicken; bunches of celery, yellow and red onions; grated and sliced cheeses; pasta, shelf-life boxed milk; various seasonings and a wide variety of canned goods.
The items were delivered by Salvation Army staff and volunteers to My Brothers' Workshop Café and Bakery on Back Street to be used as part of their free feeding program.