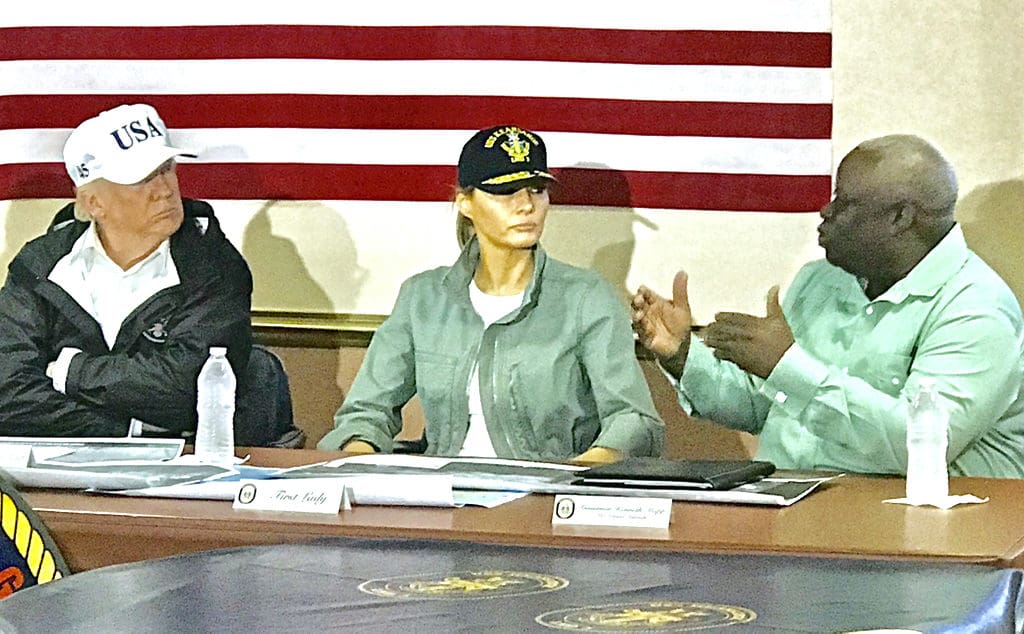 Gov. Kenneth Mapp met with President Donald J. Trump, first lady Melania Trump and FEMA Chief Brock Long, on Tuesday morning on the amphibious assault ship USS Kearsarge in Puerto Rico. Puerto Rico's Governor Ricardo Rossello also met with the president.
Mapp said he told the president the territory need funds for schools, roads, mitigation of the power grid and infrastructure repair.
According to Mapp, Trump responded favorably to helping the Virgin Islands obtain the federal funds it needs to restore a sense of normalcy.
Trump told Mapp that everyone will have to work together with the U.S. Congress for the funding to be approved. In his Tuesday evening news conference, Mapp said he was hopeful that all the funding requests would be successful as he goes to Washington D.C. and works with Congress on the funding issues.
"I expressed a deep appreciation and thanks to President Trump," Mapp said in summing up his meeting. "All hands are on deck and we're working towards a common goal."
Federal Coordinating Officer of FEMA Region II Bill Vogel was upbeat about the meeting between Trump and Mapp, and about finishing the assessment on the electrical needs of the schools in the territory. The generators that are needed will be in the territory within the next few days. However Vogel voiced concern about the cleanup that may be required in the schools before they can reopen and meet the safety standards for schools and students.
Mapp said the Department of Public Works will be responsible for cleaning up the schools before they open and said as many schools as are ready will open by the start-of-school date of Oct. 9 on St. Thomas, even if all schools cannot open due to electrical or other deficiencies.
Vogel also said 80 percent of the residents of St. Croix are without power and that he is working on a plan to restore the system. In terms of federal help, FEMA funds are essential to bringing linemen to fix the power in the Virgin Islands, as that agency advances the funds to the Water and Power Authority to do its work in the territory.
On Friday Vice President Michael R. Pence is scheduled to visit the territory.