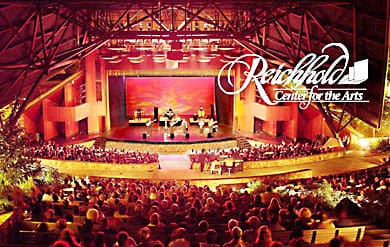 The Reichhold Center for the Arts, the Virgin Islands' premier performing arts venue, has suffered major damages by hurricanes Irma and Maria. The Reichhold Center, a 39-year-old structure, lost the roof over the stage and suffered massive flooding to the lower levels. The stage, rigging, lighting and sound systems have all been compromised. Due to Reichhold's current state, the 39th Season has been canceled.
"The Board of Directors for the Foundation for the Reichhold Center are working diligently with the university to assess the structure of the center and ensure the work the center's staff has been providing the Virgin Islands community will continue in the future," said Mitchell Neaves, vice president for Institutional Advancement and executive director for the Foundation for the Reichhold Center for the Arts. "Even though our operations have been severely impacted by these storms, we remain fully committed to serving our community."
The center's administrative operations have also been displaced. "As we work towards finding a temporary space as a base of operations we are still committed to serving our patrons," said Denise Humphrey, director of the Reichhold Center. The center will be issuing refunds for the following:
Season Subscriptions for the 39th Season
Oliver Samuels "Frenemies"
Rental Deposits for events after Sept. 6
The Reichhold Center grounds are not accessible to the public. Refunds for tickets purchased with cash for "Frenemies" will be issued from the Cashier's Office at UVI in the Administration and Conference Center Building between the hours of 10 a.m. and 2 p.m., Monday through Thursday, Oct. 16 through Oct. 26. The person must return the "Frenemies" ticket in order for Reichhold to issue the refund. This refund is for tickets purchased with cash only. All credit card purchases will be refunded to the card used for the purchase.
"All of us at the Reichhold Center extend our sincere gratitude to all of our sponsors, season subscribers, donors and patrons for their support and words of encouragement through this ordeal," said Humphrey. "We all have been affected tragically by these hurricanes, but where there is tragedy comes opportunity. Reichhold will rebuild and come back greater than ever."
For further information regarding refunds, contact Reichhold Center's Box Office Supervisor Jinell Industrious at 693-1559 and please leave a detailed voicemail with a name and phone number. Only the voicemail is now functional. People can also email jinell.industrious@uvi.edu or rcaboxoffice@uvi.edu.
For information on the Reichhold Center's "Rebound – Rebuild – Renew" efforts, contact Ian Turnbull at ian.turnbull@uvi.edu.