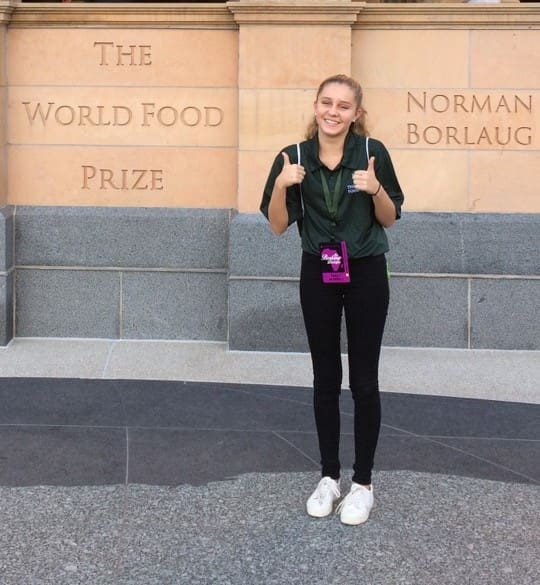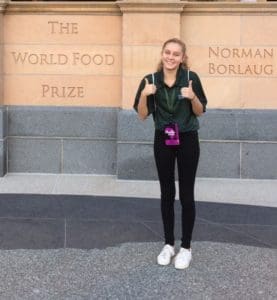 Emily Murrill, Class of 2020, was selected to attend the Global Youth Institute at the World Food Prize in Des Moines, Iowa. Last week, she joined Gifft Hill School (GHS) faculty member Christopher Dunlap in Iowa to represent the school at the prestigious event. The World Food Prize is the foremost international award recognizing the achievements of individuals who have advanced human development by improving the quality, quantity or availability of food in the world.
The World Food Prize annually hosts the Borlaug Dialogue international symposium and a variety of youth education programs to help further the discussion on cutting-edge global food security issues and inspire the next generation to end hunger.
Some 200 students from around the country were invited to attend the World Food Prize Global Youth Institute, where they participated in other World Food Prize events such as the Borlaug Dialogue International Symposium and the Laureate Award Ceremony.
This three-day event allows students to share their ideas with global leaders. Youth interacted with experts, participated in hunger relief programs and activities, and presented their research findings to peers and global leaders. Emily's research focused on solving hunger problems in the country of Niger.
While there, Emily and Dunlap were given a tour of Iowa State University by one of GHS's former service learners through the E.A.R.T.H. (Education and Resiliency Through Horticulture) program in collaboration with ISU.
As a member of National Association of Independent Schools, Gifft Hill School provides high-quality educational programming to students in preschool through 12th grade on St. John, U.S. Virgin Islands.
Please contact chrisdunlap@giffthillschool.org or mollymurrill@giffthillschool.org for more information.