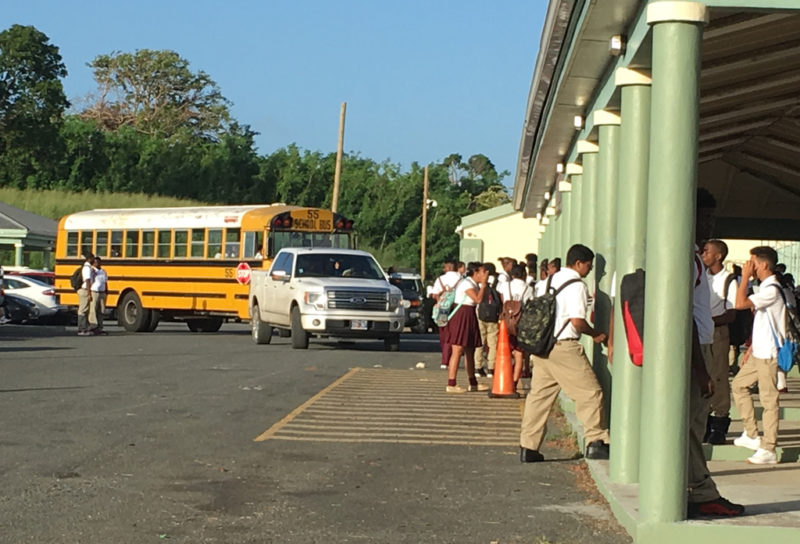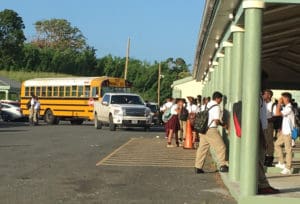 Schools reopened on St. Croix Monday amid a bevy of challenges for the Department of Education, including a delayed opening at St. Croix Educational Complex High School and concern from the American Federation of Teachers about the safety of the environment for teachers and students.
St. Croix students returned to class at two of the schools that were scheduled to open on Monday. St. Croix Central High School and Juanita Gardine Elementary School are now open for two 4-hour sessions per day to accommodate their own students in addition to those students whose schools have been condemned or have not yet been assessed.
St. Croix Educational Complex, Career and Technical Education and Arthur A. Richards Jr. High School openings were delayed until Wednesday. Shelter residents who had been temporarily staying in the facility had not yet been relocated at the end of the day Sunday. The Department of Human Services is working to find new temporary accommodations for the current residents as quickly as possible.
DOE spokeswoman Keva Muller visited schools on Monday to assess progress and stay on top of issues.
"This is still a work in progress," Muller said, "but we're definitely off to a good start with schools open and classes resuming. Although there are challenges and kinks to iron out, we're committed to making sure our schools are providing a quality education in a safe environment."
Prior to the first day of school, some teachers raised concerns about mold, mud and general unsanitary conditions in classrooms and restrooms, and about debris littering school grounds.
"Teachers want to see students who have been out since [September] 19th educated and are anxious to move forward," said St. Croix Federation of Teachers AFC Local 1826 President Rosa Soto-Thomas. "But we are concerned about unsanitary learning and working conditions due to continued flooding and mold."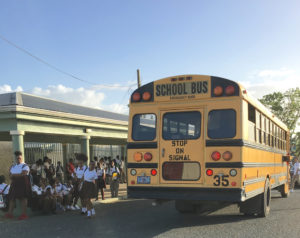 The Department of Education worked with the U.S. Army Corps of Engineers on the initial structural assessments of the schools. The Environmental Protection Agency and Department of Planning and Natural Resources assisted with the environmental assessments of water quality, mold, and safety of the school environment. Muller acknowledged that this is a huge task that will continue to present challenges as the department opens additional schools and normalizes the school schedule.
Soto-Thomas stressed that her organization is a solution-driven union. The union liaison in each of the schools will monitor school conditions on an ongoing basis, and the union will attempt to work with the Department of Education to ensure that proper ongoing cleaning takes place and that safety does not become an issue for teachers or students.
Jason Botel, assistant secretary of the U.S. Department of Education Office of Elementary and Secondary Education, visited schools in St Croix on Monday and will meet with Gov. Kenneth Mapp to discuss federal aid. The VIDOE is seeking federal and international assistance to supplement local resources as schools are assessed, rebuilt, and reopened.